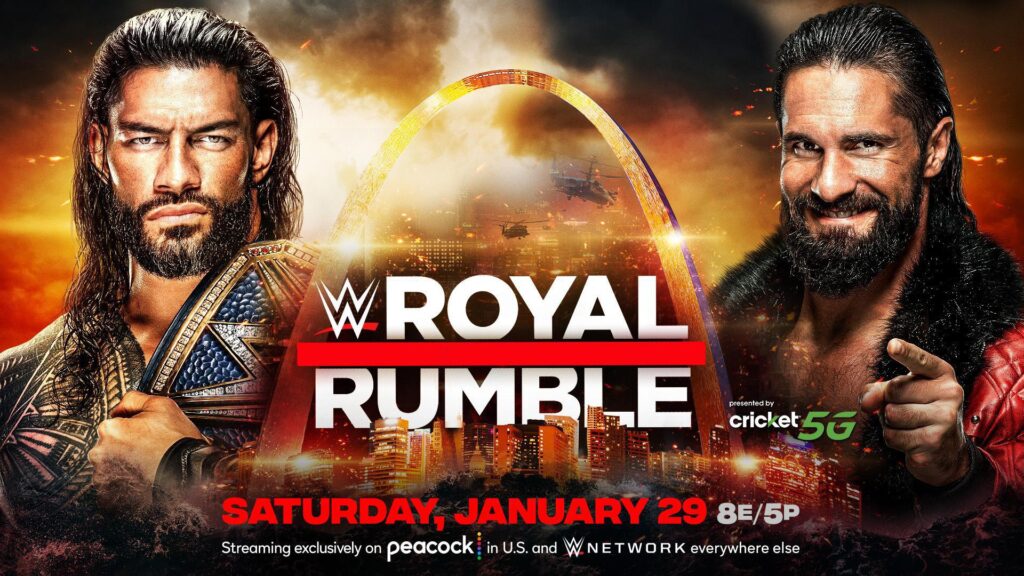 WWE Royal Rumble 2022 Results: Roman Reigns Disqualified Against Seth Rollins
Roman Reigns was disqualified in the Universal Championship opener against Seth Rollins at the 2022 Royal Rumble. The Dome at America's Center was infuriated with the result, chanting "Roman sucks!" During the aftermath, Reigns finished off Rollins by obliterating his former Shield brethren with a steel chair.
Rollins entered The Dome at America's Center accompanied by the classic Shield theme music, while wearing his vintage Shield tactical gear and entering through the crowd. The story of the match took on a Batman-Joker dynamic as Rollins laughed his way through Reigns' offense, much to the chagrin of the Universal champion.
The ongoing feud between Brock Lesnar and Roman Reigns opened the door for at least one of the world champions to lose at Royal Rumble. Despite both Lesnar and Reigns being favored to win their matches, each was also listed as a Top-5 favorite to win the 2022 Royal Rumble. This suggested bettors and fans alike anticipated one of them to cost the other their match, only for the losing champion to resurface in the Royal Rumble and win.
WWE teased fans with a Title vs. Title match between Brock Lesnar and Roman Reigns, one that was fit for any WrestleMania. A showdown between Reigns and Lesnar on the January 7, 2022 broadcast of SmackDown seemed to all but confirm that WWE's top feud was going to culminate in WrestleMania match for all the marbles. Backstage reports, however, put a damper on these hopes.
Roman Reigns' historic Universal Championship reign reached 516 days headed into the Royal Rumble, and though Rollins is a top star, he was certainly a surprising candidate to dethrone Reigns. After becoming No. 1 contender for the WWE Championship, Rollins appeared to be trending toward a loss to Big E at Day 1. Even when the match became a Fatal 4-Way, Big E was still listed as a favorite to retain at -138.
Contrary to that belief, not only did Brock Lesnar crash this match to become a six-time WWE champion, Seth Rollins was reportedly in line to win the title before plans were nixed.
Between WWE considering Rollins as champion and the dynamic of Roman Reigns being screwed by Brock Lesnar, Reigns' air of invincibility suddenly seemed legitimately threatened by Rollins, despite his oft-criticized "revolutionary" character.
Reigns and Rollins' feud does not appear to be over just yet, and with Elimination Chamber set to emanate at Saudi Arabia, a rematch could be imminent.