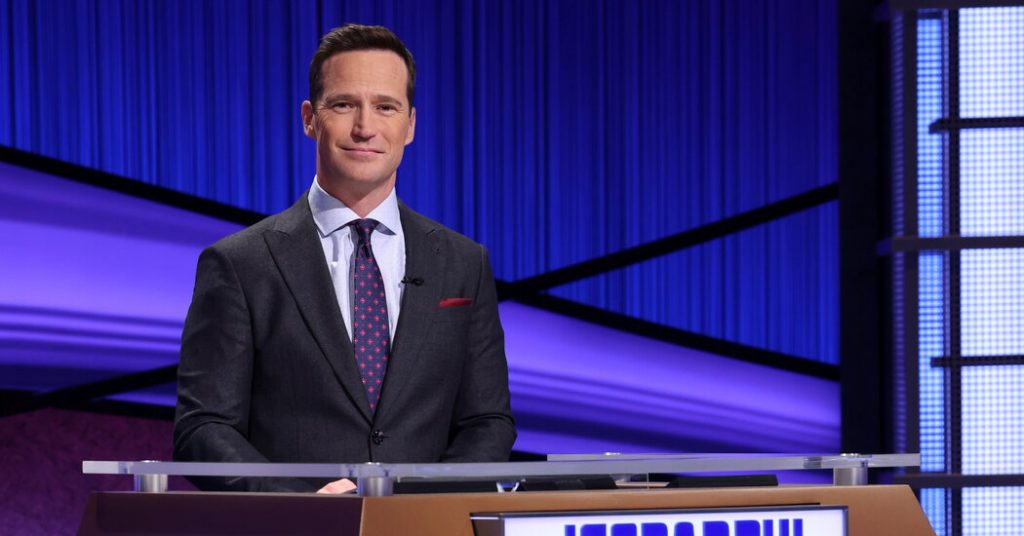 Mike Richards Is Out as 'Jeopardy!' Executive Producer
Sony said on Tuesday that Mike Richards would immediately exit his job as the executive producer of "Jeopardy!," completing a stunning downfall for a game-show impresario who just three weeks ago had secured one of the most coveted jobs in television as the replacement for the longtime host Alex Trebek.
"We had hoped that when Mike stepped down from the host position at 'Jeopardy!' it would have minimized the disruption and internal difficulties we have all experienced these last few weeks," a Sony executive, Suzanne Prete, wrote in a memo to staff on Tuesday. "That clearly has not happened."
Mr. Richards is also set to leave his role as executive producer of "Wheel of Fortune." He will be temporarily replaced at both programs by Michael Davies, a veteran game-show producer who developed the original American version of "Who Wants to Be a Millionaire?"
Sony had named Mr. Richards as the permanent host of "Jeopardy!" on Aug. 11, calling him a "unique talent." But Mr. Richards quit the hosting job on Aug. 20, days after a report by The Ringer revealed offensive and sexist comments he had made on a podcast several years ago, the latest in a series of scandals that tarred his brief tenure.
Top executives at Sony had initially signaled support for Mr. Richards to stay on as executive producer even after he stepped down as host. But they eventually came to believe his continued presence would be untenable, according to a person with knowledge of the matter, who requested anonymity to describe sensitive internal discussions.
Crew members confronted Mr. Richards on Aug. 19 in an emotional meeting, where they expressed dismay at his past behavior and said it had imperiled the show's reputation. An all-hands call last week that included Mr. Richards left some staff members demoralized. Some "Jeopardy!" fans also said they were confused as to why Mr. Richards was being allowed to stay on behind the scenes.
A final decision was made over the weekend, the person said.
Mr. Richards is in contact with the powerful Hollywood lawyer Bryan Freedman about negotiating his exit from Sony, according to a person familiar with the discussions. Mr. Freedman also represented the former NBC News anchor Megyn Kelly and Chris Harrison, the former host of "The Bachelor," after their own abrupt ousters.
Mr. Richards taped one week's worth of "Jeopardy!" episodes in a single day of filming before Sony announced that he had ceded the hosting job. (Those episodes are still set to air the week of Sept. 13.) The sitcom star Mayim Bialik is expected to remain as the host of "Jeopardy!" prime-time specials, but Sony has said it would resume the search for a replacement for Mr. Trebek's weeknight slot. Ms. Bialik will be the first guest host of the regular program in place of Mr. Richards.
The competition to replace Mr. Trebek, who died in 2020 after serving as the show's host for 37 years, captivated "Jeopardy!" fans and featured a parade of potential successors including the former contestant Ken Jennings and the actor LeVar Burton.
But it was Mr. Richards who won out, despite having virtually no name recognition among viewers and the fact that, as the show's executive producer, he had overseen elements of the replacement process. Old lawsuits also resurfaced from Mr. Richards's last job running "The Price Is Right" that included accusations of sexist behavior.
"Jeopardy!" first aired in 1964 and became a beloved TV institution that still draws millions of weekly viewers. The furor surrounding Mr. Richards pierced the show's above-the-fray reputation, long cultivated by the understated Mr. Trebek, and subjected it to intense debates about diversity, privilege and behavior in the modern workplace.
Sony's leadership was also facing scrutiny for the mess. "Jeopardy!" had been a reliable jewel in the studio's television portfolio, quietly earning tens of millions of dollars in annual revenue. But its messy succession drama roiled fans and raised questions about why Sony had not discovered Mr. Richards's past offensive behavior before naming him as the new host.
The report in The Ringer revealed offensive comments Mr. Richards made on a podcast, including a 2013 episode where Mr. Richards called his female co-host a "booth slut" because she once worked as a model at a consumer show in Las Vegas. He described women who wear one-piece swimsuits as looking "really frumpy and overweight" and referred to stereotypes about Jews and large noses, prompting outrage from the Anti-Defamation League.
Mr. Richards, in a memo to the "Jeopardy!" staff on Aug. 20 announcing he would step down as host, wrote that "it pains me that these past incidents and comments have cast such a shadow on 'Jeopardy!' as we look to start a new chapter."
He closed the memo by writing, "I know I have a lot of work to do to regain your trust and confidence."
One prominent former contestant, James Holzhauer, who first appeared on "Jeopardy!" in 2019, seemed to rejoice on social media after the news of Mr. Richard's exit, suggesting that he might not have even watched the show if Mr. Richards had remained involved.
Andy Saunders, who runs the website The Jeopardy! Fan, said on Tuesday that he was relieved and hopeful that peace might be restored at the game show.
"Its reputation has taken a bit of a hit over the past few weeks," he said in an interview. "I'm really looking forward to being able to move on from this. And I'm hopeful that the show has learned from what's happened."