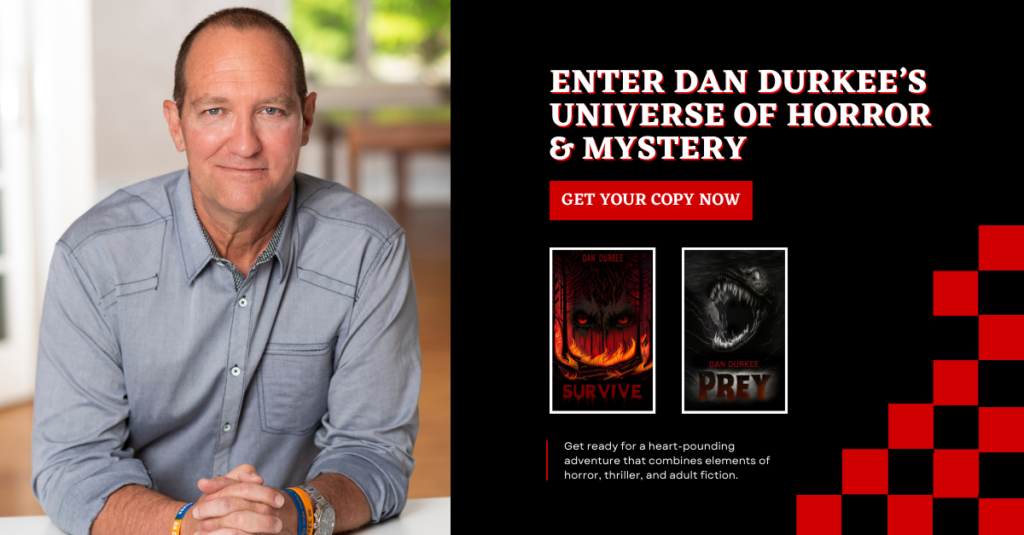 Firefighter Turned Author Dan Durkee Releases Second Book "Survive" Following the Success of "Prey"
Dan Durkee, a former firefighter, channels his professional expertise into crafting heart-pounding horror fiction, adding authenticity to fiction.
October 3nd 2023: Colorado Springs, CO — Dan Durkee, a 25-year veteran of the fire service, is making waves in the literary world with the release of his second book, "Survive." Following the success of his debut novel, "Prey," Durkee continues to draw inspiration from his firefighting career to craft thrilling tales of survival and suspense. "Survive" takes readers on a harrowing journey through the world of firefighting, where the line between life and death blurs.
In addition to his writing career, Dan Durkee is the co-founder of The Drake Durkee Foundation, a non-profit organization dedicated to promoting kindness and inclusion among children and in schools. The foundation, established in honor of Dan's late son, seeks to create a more compassionate and inclusive world.
Dan Durkee has always been fascinated by those who can spin a good yarn. With a passion for horror and mystery thrillers, he has developed his own skills in crafting compelling narratives. Despite a successful career in the fire service, Durkee now seeks to pursue his passion for writing, drawing inspiration from his life experiences to captivate a global audience.
Debut Novel: A New England Horror Story and Deep-Sea Thriller
Dan Durkee's debut novel, "Prey," is a unique blend of creature horror and small-town mystery thriller. It transports readers to the coastal town of Ft. Lupton, Maine, where a thriving fishing community is threatened by an unsettling mystery.
As fish and people vanish and eerie events unfold, Nick Traverse and his adopted son, Chris, confront a terror beyond imagination. In this suspenseful horror fiction, Dan Durkee crafts a gripping narrative of underwater horrors and relentless suspense, keeping you at the edge of your seat until the final page.
A reader reviews, "As someone who has always enjoyed creature horror with favorites like 'MEG' and '47 Meters Deep,' I was immediately sucked into Durkee's world of horror thriller. A must-read if you like your horror thrillers a little gruesome."
Latest Release: A Colorado Firefighter's Fight for Survival
"Survive," Durkee's latest release, delves into the world of firefighting as it follows Keith Wright, a courageous firefighter from Colorado Springs. When Keith and his team embark on a mission to battle a national wildfire in Washington, a tragic accident leaves them injured and stranded without supplies. As they struggle to survive, they discover they are not alone, plunging them into a terrifying fight for their lives.
Durkee dubs his latest release a reflection of his firefighting career told through fiction. The infusion of mystery into the narrative adds a compelling layer of complexity to our protagonist's challenges, intensifying the dangers of a firefighting occupation.
If you are a fan of mystery thrillers and horror fiction, you will feel right at home in Dan Durkee's Universe of Horror!
Don't miss out on these heart-pounding tales! Explore Dan Durkee's world of horror, mystery, and suspense today, and join us in celebrating his literary journey.
For more information and to get your copies, visit https://www.amazon.com/Survive-Dan-Durkee-ebook/dp/B0CJK4C4XW/ today!
Follow Dan Durkee on Social Media:
Facebook: https://www.facebook.com/dandurkee234
Twitter: https://twitter.com/DanDurkeeAuthor
Instagram: https://www.instagram.com/daniel.durkee/
Media Contact:
Dan Durkee
tel:+17203264413