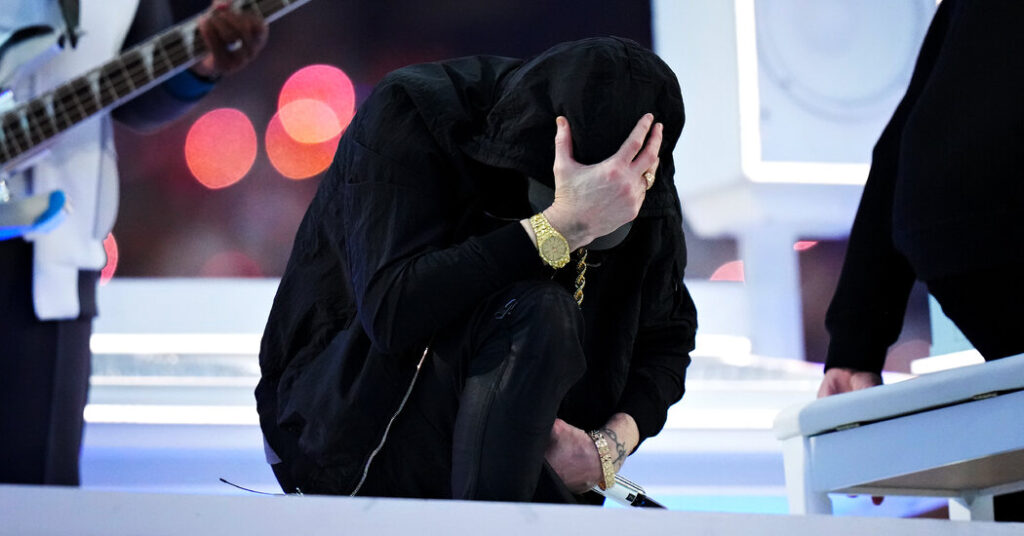 Dr. Dre, Snoop Dogg Headline Halftime Show As Eminem Takes a Knee
Dr. Dre, Snoop Dogg and Kendrick Lamar — three titans of Los Angeles rap — took the field at SoFi Stadium in Inglewood, Calif., along with Eminem (a superstar from Detroit), the singer Mary J. Blige and the special guest 50 Cent to deliver a halftime spectacular heavy on nostalgia and California pride.
This year's show was the third straight to be co-produced by Roc Nation, the entertainment and sports company led by Jay-Z, which partnered with the N.F.L. in 2019 as the league struggled to repair its relationship with artists who avoided the halftime show in support of Colin Kaepernick, the former quarterback who, starting in 2016, knelt during the national anthem as a protest against police brutality and racial injustice.
On Sunday, Eminem knelt and held his head in his hand after performing "Lose Yourself," his anthem about self-determination from the movie "8 Mile."
Dr. Dre, whose group N.W.A helped set the template for West Coast gangster rap with its 1988 album, "Straight Outta Compton," and went on to become an in-demand producer and businessman, last released an album of his own music in 2015. At halftime, he was the show's anchor, opening and closing the show with some of his most well-known productions. Dre, 56, took the stage first to the sounds of "The Next Episode," his 2000 single featuring Snoop Dogg.
Snoop Dogg's early career was intimately tied to Dr. Dre — his blockbuster 1993 debut, "Doggystyle," came out on Death Row Records, the label Dre helped found, and featured the producer's signature palate of slow-rolling G-funk. At 50, Snoop has continued to release music, but is also widely known as an affable pitchman and entrepreneur. (Last week he acquired the Death Row brand, but not yet its music rights, and released an album called "BODR," which stands for "Bacc on Death Row.") He joined Dr. Dre atop a white set designed to resemble Los Angeles buildings and the two performed "California Love," the 1995 Tupac Shakur single.
Artists from New York took a turn on the stage next: The unannounced guest, 50 Cent, arrived for a version of his 2003 smash "In Da Club," followed by Mary J. Blige, the 51-year-old singer who has earned legions of fans with her confessional, soulful songs about heartbreak and persistence. Blige, whose 14th studio LP, "Good Morning Gorgeous," arrived on Friday, sang two of her most beloved older anthems, "Family Affair" and "No More Drama," reaching deep for some powerful high notes and ending the set flat on her back.
Kendrick Lamar, at 34 the youngest performer in the show, is also one of the most decorated: In 2018 he received the Pulitzer Prize for music for his fourth album, "DAMN.," a commercial blockbuster that tackled race, faith and the burdens of commercial success. There has been scant word of its anxiously awaited follow-up and he didn't provide any hints about it at halftime, performing his 2012 track "M.A.A.D. City" and his 2015 song "Alright" with a troupe of carefully choreographed dancers.
Eminem, still an enduring rap star at 49 (his most recent album, "Music to Be Murdered By," opened at No. 1 in 2020), is also a protégé of Dr. Dre, who signed the rapper to his Aftermath label in 1998 and produced early hits like "My Name Is." "Lose Yourself" featured Anderson.Paak on drums, and as the song ended and he knelt beside his mentor as Dr. Dre sat at the piano and plunked out the chords to "Still D.R.E.," the 1999 song that closed the set and included one pointed line: "Still not loving police."
The first time a rapper joined a Super Bowl halftime lineup was in 1998: It was Queen Latifah, and she didn't rap; she sang as part of a Motown tribute. In the years since, hip-hop has landed a handful of moments on one of sports' and entertainment's biggest stages, but it hasn't held the full spotlight until Sunday evening.