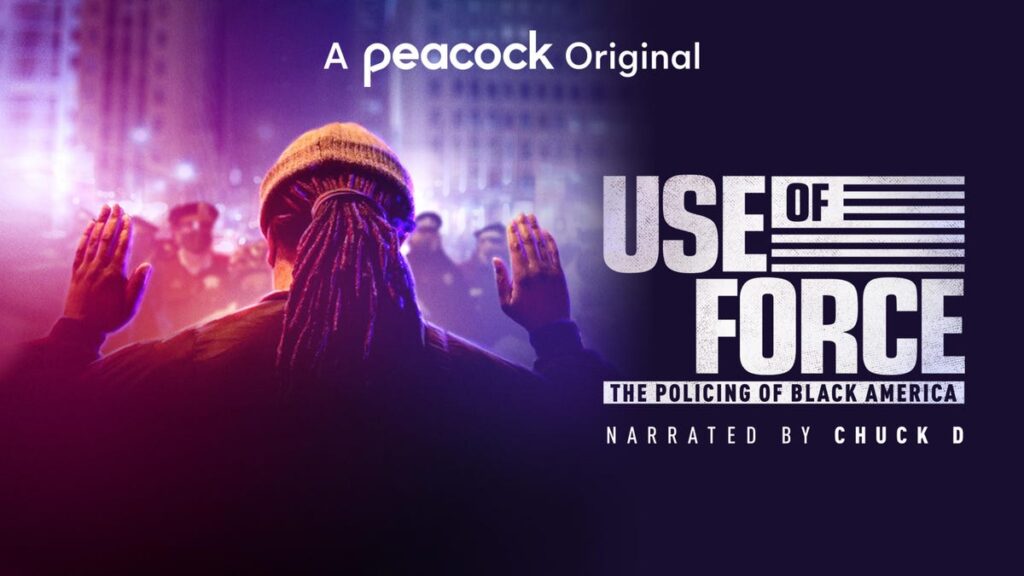 Chuck D On New Doc 'Use Of Force:' 'An Opportunity To Make The World A Better Place'
Fairly early in the new documentary Use of Force: The Policing of Black America, one of the interview subjects, a Black lawyer, gives voice to something many may have been thinking following the 2020 murder of George Floyd. "Enough is enough," he says, then notes, "but it's been enough."
Force aims to answer the question of how do you move the movement for social justice forward? The documentary, which was acquired this week by Peacock and debuts on the service today, lays out actionable solutions for moving forward.
Those include dialogue between people who may not always see eye to eye and insights from people using technology and new inventions to monitor police behavior and protect Black people during traffic stops that can escalate to appalling violence.
The result is a well-reasoned film focused on solutions that also doesn't shy away from showing the brutality of police use of force against the Black community. "I think it was really important for us to tell a broader story of not just what the problem is," says executive producer Cary M. Grant Jr., who began working on the film in 2019.
"You know, there's been so many conversations, interviews and dialogue about the history of police violence against communities of color, but they never really go into any details about the real solutions. A lot of great people out there are talking about many, many things, systemic change and all that, which is great. But at the same time, who are the individuals on the ground that are actually doing things?" This film introduces them, such as Jackie Carter, developer of the Not Reaching! ID holder, which lets drivers remain stationary in their cars when asked for their IDs at a traffic stop.
Narrator Chuck D brings his distinctive voice and unique perspective to the doc. He appreciates the hopefulness of the message, and he wants it to connect with younger viewers. "I'd want young adults, specifically, to get the message. People 30 and under," he says. "I want them to know that they have the opportunity to make the world a better place than it was before."
Chuck D notes the value of presenting something more than a soundbite. "So many people are fixated on screens that give them short bursts of information, especially the younger generations," he says. "We need to be taught the full details about what we're seeing, what goes on beneath those videos, how we got to this place, and what we should do with this knowledge."
To that end, Force culls from interviews with dozens of people, and it shows the full footage of violent encounters, more than you get from a quick look at social media. The film contextualizes police brutality but also does not dismiss the dangers facing law enforcement that impact decision-making.
"I felt it was super important to not vilify all police," Grant says. "There's been a lot of debate about defunding the police and the role of police and law enforcement. It's systemic. It goes all the way up to our laws, our policies—it's not just about police themselves.
"My brother is a police officer, and he's been on a local police force in Alabama for going on 13 years, I believe, now. And so I had a personal relationship with understanding what police officers go through on a day-to-day basis."
Force illustrates all sides. It cites instances of exemplary police conduct and includes an interview with an officer who was dismissed for assaulting a Black person. It underscores the importance of nuanced conversations.
"I don't buy the premise that they're just a few bad apples. This is a cultural issue. This is a policy issue. And it's about who you recruit, who you train, and how you train them. And the mindset of the people that you entrust to actually enforce the law and that are licensed to carry and license to kill," Grant says. "I felt like if we were going to tell the story, not only the police violence and the excessive use of force, we also had to talk about the risks they take. And you see parts of the film where we try to show that in them putting their lives on the line to protect innocent people."
Force includes interviews with Valerie Jarrett, former senior advisor to President Barack Obama; Valerie Bell, the mother of shooting victim Sean Bell; Black Lives Matter co-founder Alicia Garza; former Linden, New Jersey, Police Chief Jonathan Parham; and many others.
"I think if people could take away anything from watching this film is to know that there's still some families still looking for justice and still trying to recover from their loss, but also, they're trying to make changes in their communities in a positive manner," Grant says. "And that we don't have to put all police officers into one bucket as the main problem. It's more complicated than that."