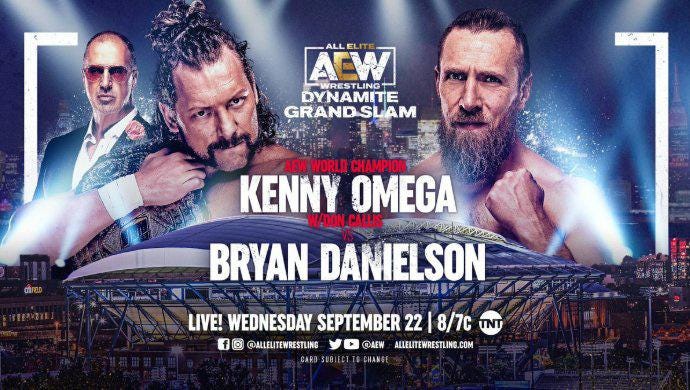 AEW Grand Slam Results: Winners, News And Notes From Night 1
AEW Dynamite Grand Slam featured AEW's biggest show in history with a record crowd of over 18,000 in attendance from Arthur Ashe Stadium. AEW announcer Jim Ross took to Twitter to announce an attendance of 20,177. Grand Slam, Night 1 advertised Kenny Omega vs. Daniel Bryan in a dream match that Bryan is calling the biggest of his career.
AEW Dynamite Grand Slam Match Card
Brian Pillman Jr. vs. MJF
Malakai Black vs. Cody Rhodes
Sting and Darby Allin vs. FTR (Cash Wheeler and Dax Harwood) (with Tully Blanchard)
Kenny Omega (with Don Callis) vs. Bryan Danielson
Dr. Britt Baker, D.M.D. (c) (with Rebel) vs. Ruby Soho
Last week's broadcast of AEW Dynamite garnered 1.175 million viewers and marked the first time in history AEW beat Raw in the 18-49 demo in back-to-back weeks.
September 15, 2021—1.175 million
September 8, 2021—1.319 million
September 1, 2021—1.047 million
August 25, 2021—1,172 million
August 18, 2021—975,000
AEW Grand Slam: Key Competition
AEW Dynamite YouTube Viewership Last Wednesday: 5,269,818
Most-Viewed: Team Taz Beats Down CM Punk (1,010,424 views)
Least-Viewed: Leyla Hirsch vs. Jade Cargill (94,633 views)
Median Viewership: 263,132 views
AEW Grand Slam Results: September 22, 2021
Bryan Danielson and Kenny Omega Battle to a Draw
Daniels and Omega bided their time, waiting for these fans to chant "you're going to get your [expletive] head kicked in!" and and fans rewarded them for it.
Nothing about the set decoration made me think "are they in New York?" as it was similar to any other Dynamite stage.
There were a lot of chops in this match in spite of all the Ric Flair backlash currently in wrestling.
Bryan Danielson integrated chops with his Yes Kicks, making me wonder whether Yes Kicks were WWE IP as well.
Kenny Omega's V-Trigger after running down the ramp was a thing of beauty.
Fans seemed legitimately caught off guard by the draw as Justin Roberts' one-minute warning was very hard to hear in the building.
This was an excellent match, but given its ceiling, it came well below that with fans booing the finish (by design).
CM Punk Appears Live
Fans singing along to theme music makes AEW events look like so much fun.
CM Punk asked these fans "how do you follow that?" and they ignored that and chanted his name.
In response to complaints about "happy to be here" CM Punk, CM Punk essentially foreshadowed a heel turn down the line. But, for now, these people need to enjoy the honeymoon while it lasts.
MJF def. Brian Pillman Jr.
Julie Hart looked better than ever in a uniform that featured the colors of the Green Bay Packers.
This match officially had the duty of following Bryan Danielson and Kenny Omega, and they followed it just fine.
MJF used old-school heel tactics to outsmart Brian Pillman every step of the way
Malakai Black def. Cody Rhodes
From the opening note of Cody Rhodes' music, this New York City crowd decided that Cody is the heel in this match.
The paint over Malakai Black's eye continues to spread, and part of it is now colored grey.
Rhodes brought out Brandi Rhodes in a welcomed sight as they prepare for the premiere of "Rhodes to the Top."
Arn Anderson tumbled while walking on the apron, and I'm not entirely sure it was a planned spot.
Though Cody Rhodes was working heel throughout parts of this match, Malakai Black won via black mist (or, as Excalibur pronounces it, "Corruption from within").
This feels like the beginning of a heel turn for Cody Rhodes, whom I fully expect to turn on Arn Anderson in the coming weeks.
Sting and Darby Allin def. FTR
Just like The New Day and so many wrestlers before them, FTR paid homage to the NWO logo with their ring gear.
At one point, Dax Harwood hid a steel chair behind him, and as Sting was going for the Stinger Splash, fans were pleading with him not to.
This was a great tag team match that was surprisingly almost all Sting.
Britt Baker def. Ruby Soho—AEW Women's World Championship
Fans were split between Ruby Soho and Dr. Britt Baker.
Britt Baker's gloves seem to get fancier and more bedazzled eery week.
Britt Baker hit an Air Raid Crash on Ruby Soho from the second rope and Soho landed very awkwardly on her surgically repaired shoulder.
There seemed to be a hitch or two early, but once Soho and Baker settled in this was a very good match that had an exciting finishing sequence.