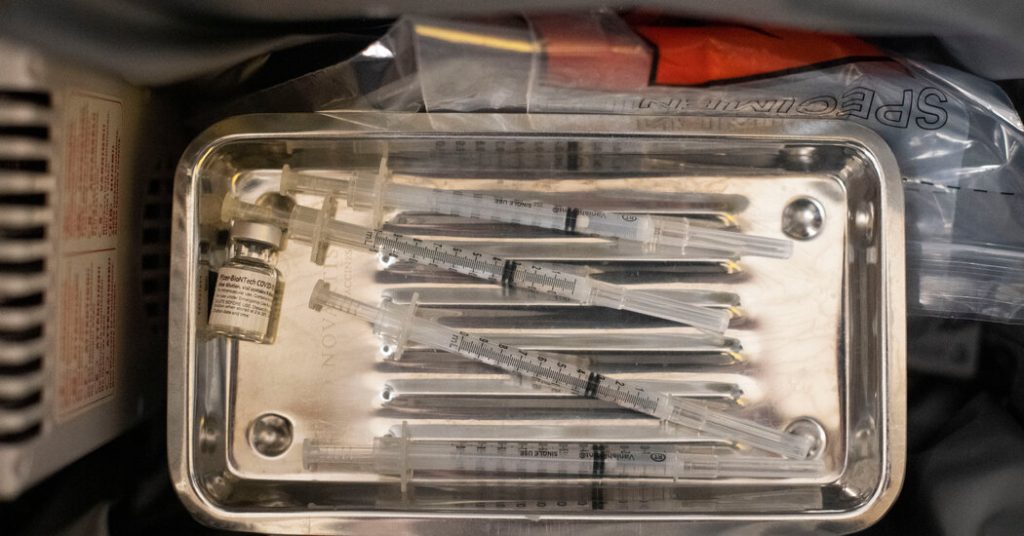 C.D.C. Director Defends Decision to Clear Frontline Workers for Pfizer Boosters
As President Biden cheered moves by federal regulators to allow for millions of Americans to get booster shots of the Pfizer-BioNTech coronavirus vaccine, the director of the Centers for Disease Control and Prevention defended her decision on Friday to recommend the shots for frontline workers, a highly unusual move because it overruled her agency's scientific advisers.
"I want to be very clear that I did not overrule an advisory committee," the director, Dr. Rochelle Walensky, told reporters at a White House briefing, saying she had listened to the panel's discussion. "This was a scientific close call. In that situation, it was my call to make."
She added, "it was a decision about providing rather than withholding access."
Dr. Walensky's pointed remarks underscored growing confusion around the start of the long-awaited booster rollout. Earlier on Friday, Mr. Biden appeared at the White House to hail the decision by federal regulators to clear Pfizer boosters for many Americans who had a second dose of that vaccine at least six months ago. He urged those eligible for a third shot to get one quickly to fortify their protection to the dangerous Delta variant that swept through the country this summer.
"My message today is this: If you've got the Pfizer vaccine, you got the Pfizer vaccine in January, February, March of this year, and you're over 65 years of age, go get the booster," Mr. Biden said. "Or, if you're in a have a medical condition like diabetes, or you're a frontline worker like a health care worker or a teacher, you can get a free booster."
Mr. Biden, who is 78 and began his Pfizer vaccination in December, is eligible for a booster and said he would get one "as soon as I can get it done."
On Wednesday, after weeks of internal strife, the Food and Drug Administration granted emergency authorization to the Pfizer booster for people who fell into three categories: those over 65 who had received their second dose of the vaccine at least six months ago; adults whose underlying conditions put them at high risk of becoming severely ill with Covid-19; frontline workers like teachers and health care workers whose jobs put them at risk.
But the C.D.C.'s Advisory Committee on Immunization Practices met on Thursday and departed from that recommendation. Like the F.D.A., it called for Pfizer boosters for a wide range of Americans, including tens of millions of older adults, and younger people at high risk for the disease. But the panel excluded health care workers, teachers and others whose jobs put them at risk.
Early Friday morning, Dr. Walensky stepped in and reconciled the differences by calling for frontline workers to get the shots, aligning C.D.C. policy with the F.D.A.'s endorsements over her own agency's advisers.
In his appearance at the White House, Mr. Biden did not address the criticism that his administration gotten ahead of the regulatory process after he announced a plan for Pfizer and Moderna boosters in mid-August, nor the internal disagreement in his administration about the need for boosters.
Over the weeks, many independent scientists and regulators had emphasized that there was little research on who might benefit from the extra shots. Eventually the plan to quickly provide Moderna boosters was dropped, to give the F.D.A. more time to collect and study data. And scientific advisers to the F.D.A. and C.D.C. wrestled over the last week with who should get Pfizer boosters and why.
Those advisers, however, have been not asked to judge whether people who received the Moderna and Johnson & Johnson vaccines should receive any additional doses. Booster shots for Moderna and Johnson & Johnson vaccine recipients have not been authorized by the F.D.A.
The advisers to the C.D.C. also wrestled with the practicalities of endorsing a booster shot for only Pfizer-BioNTech recipients, when close to half of vaccinated Americans have received Moderna or Johnson & Johnson vaccines.
Some global health experts have criticized the Biden administration for pushing booster shots when much of the world has yet to receive a first dose. But analysts noted that even if the United States distributes booster shots, there should still be considerable excess vaccine supply this year, and they urged the government to begin sending the extra doses abroad.
In his remarks, Mr. Biden complained again about the resistance to the vaccine.
"Despite the fact that for almost five months free vaccines have been available in 80,000 locations, we still have over 70 million Americans who fail to get a single shot," he said. "And to make matters worse, there are elected officials actively working to undermine with false information the fight against Covid-19."
"This is totally unacceptable," he said.
Dan Levin, Daniel E. Slotnik and Zachary Montague contributed reporting.