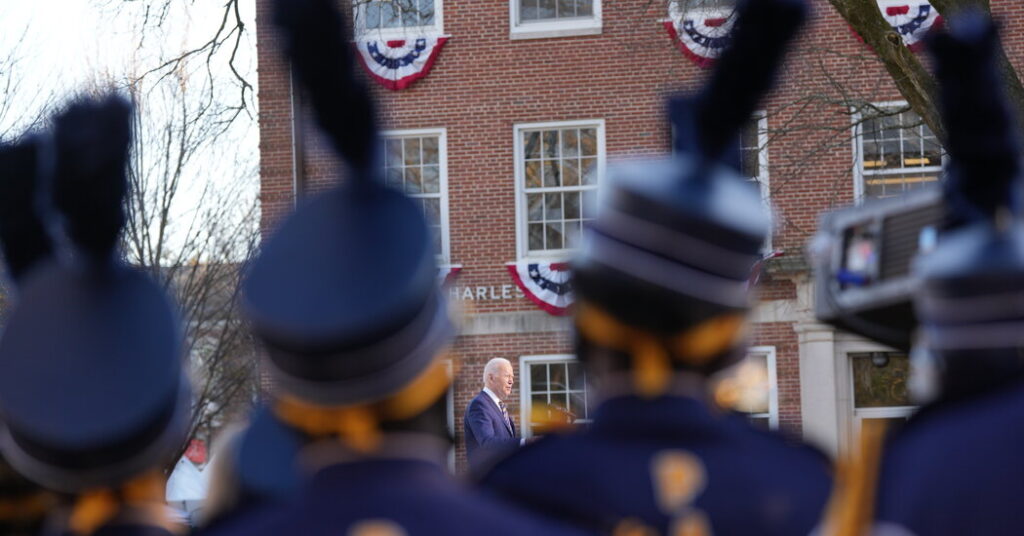 Biden to Endorse Changing Filibuster to Pass Voting Rights Laws
WASHINGTON — President Biden endorsed changing Senate rules to pass new voting rights legislation during a speech in Atlanta on Tuesday, warning of a grave threat to American democracy if lawmakers did not act to "protect the heart and soul" of the country.
Mr. Biden did not go so far as to call for full-scale elimination of the filibuster, a Senate tradition that allows the minority party to block legislation that fails to garner 60 votes, but said he supported "getting rid of" it in the case of voting rights legislation. Such a change in Senate procedures has only the slimmest of chances of winning the support of all 50 senators who caucus with the Democrats, which is needed to overcome universal Republican opposition.
Mr. Biden, a former senator and an institutionalist who had long been leery of whittling away at the filibuster, said such Senate traditions had been "abused."
"Sadly, the United States Senate, designed to be the world's greatest deliberative body, has been rendered a shell of its former self," Mr. Biden said.
During an at-times emotional speech delivered at a consortium of four historically Black colleges and universities, Mr. Biden laid out the principles he wanted to be associated with — providing access to the ballot, fostering racial equality, and keeping "the promise of America alive" — and made it clear that, win or lose, he wanted to be on the right side of history.
"I ask every elected official in America: How do you want to be remembered?" Mr. Biden said.
"Do you want to be on the side of Dr. King or George Wallace? Do you want to be on the side of John Lewis or Bull Connor? Do you want to be on the side of Abraham Lincoln or Jefferson Davis?" he asked, drawing a sharp line between men who fought for civil rights and others who fought to deny them, comparisons that at moments drew gasps from the crowd.
Equating opponents of Senate rule changes to slaveholders and segregationists is a political gamble for Mr. Biden, whose visit to Georgia was designed to invigorate a Democratic-led effort to pass new voting rights laws in the 50-50 Senate in the coming days.
One bill introduced by Democrats, the Freedom to Vote Act, would, among other provisions, block efforts to restrict mail-in or absentee voting, make Election Day a holiday, and stop state legislators from redrawing districts in a way that activists say denies representation to minority voters. Another, the John Lewis Voting Rights Advancement Act, would restore anti-discrimination components of the Voting Rights Act that were stripped away by the Supreme Court in 2013.
The reality remains: Even with Mr. Biden's new call for a filibuster exception, changing Senate rules would require the support of the entire Democratic caucus and the vote of Vice President Kamala Harris to break a tie and pass the legislation.
Senators Joe Manchin III of West Virginia and Kyrsten Sinema of Arizona, both Democrats, have expressed strong public opposition to changing filibuster rules. A handful of others have more quietly voiced concerns with the changes. Mr. Manchin said Tuesday that the Senate needs "some good rule changes to make the place work better, but getting rid of the filibuster doesn't make it work better."
Republicans, who have sought to point out that Democrats have in the past relied on the protection of the filibuster when in the minority, have been blunter with their critiques.
"There is also a reasonable chance Republicans will win both houses in Congress and that Donald Trump himself could once again be elected president in 2024," Senator Mitt Romney, a Republican of Utah, said on the Senate floor on Tuesday. "Have Democrats thought what it would mean for them, for the Democrat minority to have no power whatsoever?"
(Of Mr. Biden comparing opponents of rules changes to segregationists, Mr. Romney added, "So much for unifying the country and working across the aisle.")
Still, in an effort to apply pressure, Senator Chuck Schumer, Democrat of New York and the majority leader, said Republicans could have until Monday, Martin Luther King Jr. Day, to drop their opposition to debate and votes on the issue, or face the prospect of overhauling filibuster rules.
Mr. Biden traveled to Georgia with a major piece of his agenda, a large social spending plan, stalled. Pivoting to voting rights gives him a new issue to focus on, but he also risks failing to deliver on his promises.
But for the second time in two weeks, Mr. Biden went on the attack against former President Donald J. Trump, reminding Democrats of the stakes with the midterm elections ahead.
"The goal of the former president and his allies is to disenfranchise anyone who votes against them," Mr. Biden said. "Simple as that."
Mr. Biden's advisers have promised that he will continue to forcefully support two voting rights bills aimed at beating back a swath of restrictive voting measures passed through Republican-led statehouses around the country.
Back in Washington, multiple proposals to find ways to appease Mr. Manchin, Ms. Sinema, and other possible holdouts are circulating, including restoring the "talking" filibuster by requiring lawmakers to take the floor, Mr. Smith-style; reducing the number of votes needed to break a filibuster; and limiting its use altogether in some circumstances.
But finding bipartisan comity this time will be all but impossible for Mr. Biden, who spent 36 years in the Senate and views himself as a consensus builder. Republicans have argued that the bills would impede the rights of states to conduct their own election, and that Democrats are using the voting rights legislation to try to gain partisan advantage.
Activists say those critics ignore glaring examples of voter suppression. Voting rights groups in Georgia have already filed a federal lawsuit that accuses legislators of redrawing a congressional district to benefit Republican candidates and deny representation to Black voters.
Senator Mitch McConnell, Republican of Kentucky, promised a scorched-earth response should Democrats try to change the rule: "Since Senator Schumer is hellbent on trying to break the Senate, Republicans will show how this reckless action would have immediate consequences," Mr. McConnell said in a statement on Monday.
Mr. Biden's visit to Georgia was also intended to restore his relationship with some voting rights activists who are disappointed that he exhausted his political capital in his first year in office on other efforts, including a bipartisan infrastructure deal and a stalled social spending plan. Georgia, a state Mr. Biden won by only 11,779 votes, has seen some of the most sweeping attempts by Republicans to assert partisan power in elections, particularly through restricting mail-in, absentee or early voting.
Mr. Biden and Ms. Harris leaned heavily on the power of symbolism as he traveled to the former district of Mr. Lewis, the Georgia congressman and civil rights icon for whom the legislation is named. Mr. Lewis, a sharecropper's son, was bloodied in the Jim Crow South as he championed racial equity and the right to vote.
The pair visited the crypt of the Rev. Dr. Martin Luther King Jr. and his wife, Coretta Scott King. They also visited the historic Ebenezer Baptist Church, where both Dr. King and Mr. Lewis were eulogized. Senator Raphael Warnock, the state's first Black senator and a Democrat who is seeking a full term this year after a runoff victory, is a senior pastor there.
Understand the Battle Over U.S. Voting Rights
---
Card 1 of 6
Why are voting rights an issue now? In 2020, as a result of the pandemic, millions embraced voting early in person or by mail, especially among Democrats. Spurred on by Donald Trump's false claims about mail ballots in hopes of overturning the election, the G.O.P. has pursued a host of new voting restrictions.
Some activists offered tempered support before the president's speech, angered by what they said was a lack of attention as state-level restrictions go into effect.
Bee Nguyen, a state representative for Georgia and Democrat candidate for secretary of state, said that she has tried to stress to the White House that activists need to hear more than encouragement to simply out-organize voter suppression, one of the strategies Biden administration officials have encouraged in their engagement with activists.
"The burden should not be on the shoulders of Black and brown Georgians to simply exercise the right to vote," Ms. Nguyen said. "If we can't get this done it's going to be really difficult to climb out of what we're seeing."
Stacey Abrams, the voting rights advocate and Democratic candidate for governor in Georgia, declined to attend the speech and her campaign manager, Lauren Groh-Wargo, blamed a "conflict." Two Democratic officials familiar with the planning said Ms. Abrams had decided not to go in part because she was not invited to give remarks. But Ms. Groh-Wargo denied that, and said in a brief interview on Tuesday evening that there had been "no discussion" of a speaking slot. The Democratic officials spoke on condition of anonymity to discuss the private conversations.
One prominent family attended the event. Martin Luther King III, the oldest living son of the civil rights leader, and his wife, Arndrea Waters King, met privately with Mr. Biden in Atlanta before the president and the King family, who have planned a series of marches to pressure Democrats to pass the legislation, visited the civil rights leader's crypt.
During a private meeting with the president, the Kings said in an interview, they did most of the talking.
"We felt that the president cited his pedigree of deal making as a senator" while speaking about the importance of voting rights, Mrs. King said. "We know that he has the power and influence to do the same today as president. I have to say we'll be watching closely."
In his speech, Mr. Biden said he wants to "let the majority prevail."
"And if that bare minimum is blocked," he said, "we have no option but to change the Senate rules, including getting rid of the filibuster."
Earlier in the day, Mr. Biden was on his way into the Ebenezer Baptist Church when he was asked what he would say to activists who are concerned that his embrace of changing Senate rules may be too little and too late.
"Keep the faith," the president replied, before ducking into the church.
Nick Corasaniti in New York, Carl Hulse in Washington and Zolan Kanno-Youngs in Atlanta contributed reporting.