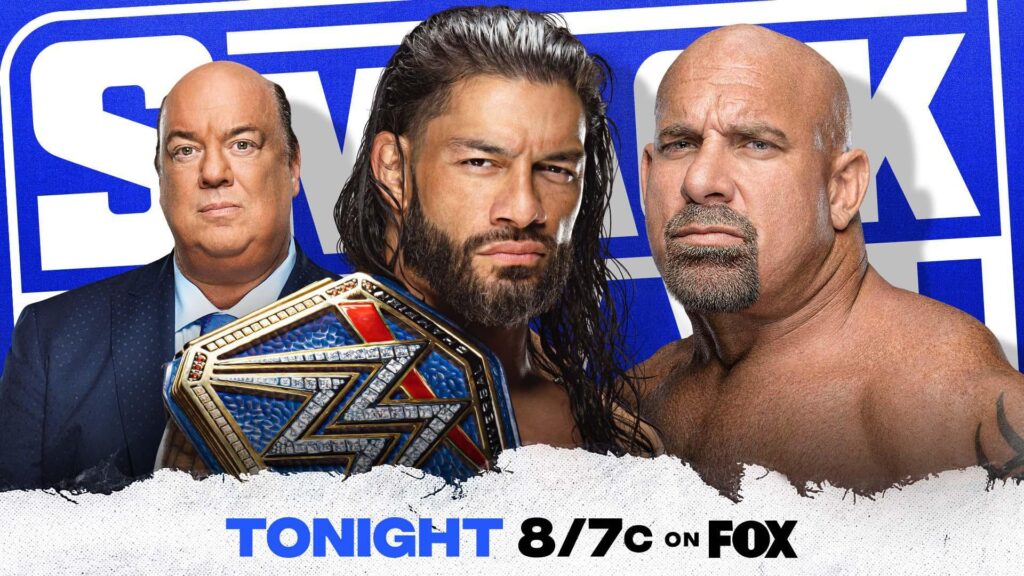 WWE SmackDown Results: Winners, News And Notes On February 18, 2022
WWE SmackDown advertised an Elimination Chamber Contract signing featuring Ronda Rousey, Naomi, Charlotte Flair and Sonya Deville. SmackDown also advertised Roman Reigns vs. Brock Lesnar face-to-face and Sami Zayn vs. Shinsuke Nakamura for the Intercontinental Championship.
Last week's broadcast of Friday Night SmackDown garnered 2,231 million viewers.
February 11, 2022—2.231 million
February 4, 2022—2.151 million
January 28, 2022—2.217 million
January 21, 2022—2.255 million
January 14, 2022—2.174 million
WWE SmackDown Venue: Smoothie King Center (New Orleans, La.)
Tickets Distributed: 6,169
Available Tickets: N/A
Cody Rhodes, Steve Austin to Swing Momentum from AEW to WWE (Pro Wrestling Bits)
WWE SmackDown Total YouTube Viewership Last Friday: 7,153,966 (Down from 8,905,371)
Most-Viewed: Vince McMahon Shuts Down Sonya Deville (1,819,061 views)
Least-Viewed: The New Day vs. Los Lotharios (251,493 views)
Median Viewership: 607,654 views
WWE SmackDown Results | Friday, February 18, 2022
Ronda Rousey and Naomi vs. Sonya Deville and Charlotte Flair Contract Signing
As was speculated, Ronda Rousey will have to wrestle her tag team match in Saudi Arabia with one hand tied behind her back.
Sonya Deville vs. Naomi will benefit from the Ronda Rousey rub, but their feud should payoff in a standalone match at WrestleMania.
WWE did a decent job editing Rousey slamming Charlotte's face on the table through the wonders of camera cuts.
Ricochet def. Sheamus
Ricochet has lost to Sheamus (and countless others) far too many times for a win over Sheamus to mean anything.
Following his rare loss to Ricochet, Sheamus shoved Ridge Holland to the mat as the two are already teasing tensions.
Ivar def. Jimmy Uso by Disqualification
Based on how poorly the Viking Raiders have been booked throughout this feud, this was the most "too little, too late" victory I've seen in quite some time. Sadly, it wasn't even a pinfall or submission victory.
Even though WWE punted on telling a story between the two teams, The Usos vs. The Viking Raiders should be a very good tag team match if given the time.
Drew McIntyre and The Happy Folks Appear Live
Madcap Moss is getting better at delivering bad jokes with every passing week.
Drew McIntyre already holds a pay-per-view victory over Madcap Moss, so if he's headed for a match against Happy Corbin, there's a possibility Moss beats McIntyre in Saudi Arabia.
Sami Zayn def. Shinsuke Nakamura—WWE Intercontinental Championship
With WWE doing everything to kill time on this show, this match spanned, not one, but two commercial breaks.
Sami Zayn's Jackass-inspired "Sami Zayn Forever" all but guarantees he'll have a match against Johnny Knoxville at WrestleMania.
When I heard Sami Zayn defeated Shinsuke Nakamura for the Intercontinental Championship, I though he had to have cheated, but he won clean by taking advantage of Nakamura's injured left knee.
Roman Reigns and Goldberg come Face to Face
It took a while, but these fans in New Orleans eventually got on board with acknowledging Roman Reigns by chanting "Roman."
It's good to see Goldberg stopped banging his head against the door before walking out.
Though WWE was piping in reactions during this segment, the loud "Goldberg" chants were very real.
By the time Goldberg stepped into the ring, these two only had three minutes of promo time.