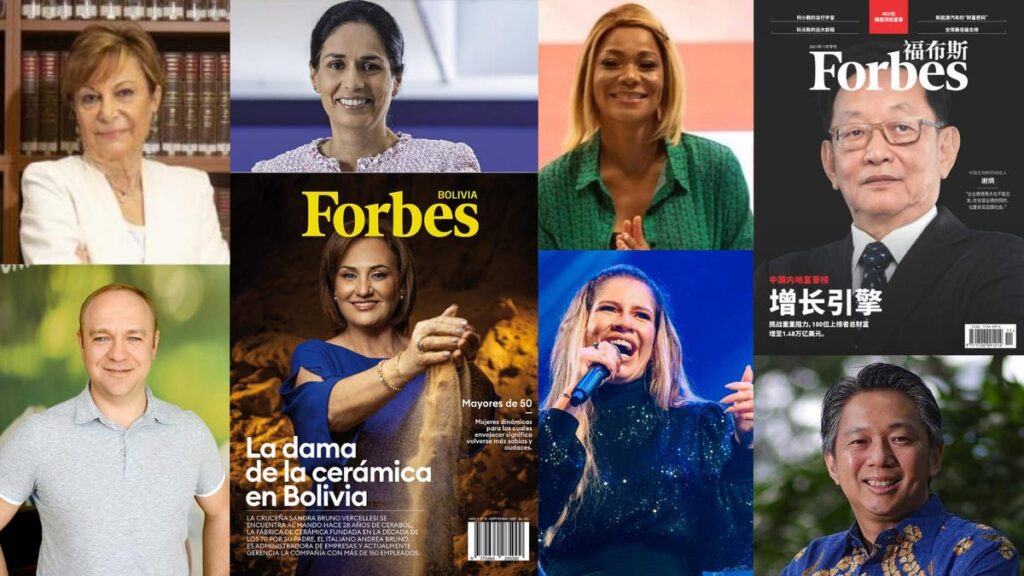 World Of Forbes: Stories Of Entrepreneurial Capitalism Across Our 37 International Editions
This story appears in the December/January 2022 issue of Forbes Magazine. Subscribe
Across the planet, the licensed editions of Forbes magazine span five continents, 25 languages and 13 time zones. They all share the same mission: celebrating entrepreneurial capitalism in all its forms. Here's a global perspective on the business landscape in real time.
ANGOLA
Beatriz Franck, a clothing entrepreneur who has three eponymous stores in Luanda, the country's capital, recently opened a $1.5 million headquarters and academy aimed at building up Angola's fashion industry and supply chain.
---
ARGENTINA
Pfizer's manager for Argentina, Nicolás Vaquer, negotiated for months with President Alberto Fernández, finally agreeing in July to deliver the country 20 million doses of its Covid-19 vaccine by the end of the year.
---
BOLIVIA
Sandra Bruno, 58, is the face of Forbes Bolivia's package spotlighting successful women over the age of 50. Since her father's death in 1993, she has run the family business, Cerabol, considered the country's pioneer in ceramic tile.
---
BRAZIL
Brazilian singer and Latin Grammy winner Marília Mendonça, who appears on the cover of ForbesLife Fashion, died in a plane crash after the magazine went to press. The 26-year-old was en route to a performance in Caratinga.
---
BULGARIA
Japanese investors have put about $30 million into Leno, an eight-year-old Bulgarian fintech lender with offices in Sofia and Plovdiv. Board chair Nikolai Poppalov is looking to expand abroad.
---
CHINA
Tse Ping fronts Forbes China's list of the country's 100 richest people. His $7.5 billion fortune comes from founding Hong Kong-listed Sino Biopharmaceutical, which gained FDA approval this year for an injection to fight chemotherapy nausea.
---
COLOMBIA
In October, President Iván Duque granted citizenship to Howard Buffett (pictured), the middle child of billionaire investor Warren. The 66-yearold philanthropist has contributed $160 million to Colombia since 2008, initially teaming up with singer Shakira to feed and educate kids.
---
CYPRUS
Justice Minister Stephie Dracos has a March deadline for establishing a fully operational Anti-Corruption Authority. A former insurance executive, she assumed the role from a predecessor who resigned in June, decrying the president's leadership in her resignation letter.
---
CZECH REPUBLIC
One of four women featured on Forbes Czech's ranking of 21 top CEOs, Ivana Tumová joined snack maker Mondelez International in 1997 and today oversees five factories and 3,100 employees across the Czech Republic, Slovakia and Hungary.
---
ECUADOR
Forbes Ecuador calls Isabel Noboa the country's most powerful businesswoman. Descended from a leading banana exporter, she founded conglomerate Nobis Consortium in Guayaquil in 1997 and remains CEO. Holdings include a sugar mill, hotels and a shopping mall.
---
FRANCE
Frédéric Jousset, cofounder of $2 billion (2020 revenue) Paris-based customer relationship management provider WebHelp, now focuses on making art accessible through his $5.6 million foundation, Art Explora, and $113 million investment fund, ArtNova.
---
GEORGIA
Oregon architecture firm ZGF is working with Georgian real estate developer m2 and CEO Nikoloz Medzmariashvili on a residential concept in Tbilisi. It will include more than 10 buildings encompassing 2,800 housing units, shops and more.
---
GREECE
Unicorn watch: Athens company Blueground recently raised $180 million in capital and debt at a reported valuation of $750 million. Cofounded by Alex Chatzieleftheriou in 2013, it rents out and manages furnished apartments in 15 cities.
---
HUNGARY
Bestselling author and retired physician Gábor Máté, who hails from Budapest and lives in Vancouver, has established a clinical theory and training program centered on uncovering childhood trauma that may correlate to long-term health problems.
---
INDIA
Forbes India's annual celebrity issue shines the spotlight on the film industry of South India—Telugu, Tamil, Malayalam and Kannada— whose box office revenue has leapfrogged that of Bollywood cinema.
---
INDONESIA
Dharsono Hartono worked as a New York associate for JPMorgan Chase and PwC before starting PT Rimba Makmur Utama in Jakarta in 2006. It manages the Katingan Mentaya Project, which conserves large areas of peat forest that naturally consumes carbon dioxide, equal to removing 2 million cars from operation each year.
---
ISRAEL
Moti Ben-Yosef and his family headline Forbes Israel's list of Small Giants. Their farm south of Tel Aviv produces rare Moroccan argan oil, rich in vitamins beneficial to skin care. Small bottles retail for $27; revenue is nearing $100,000.
---
ITALY
Ugo Salerno helms $570 million (revenue) RINA, a 160-year-old energy and shipbuilding conglomerate based in Genoa that recently announced it had signed a contract to help construct an offshore wind farm in Bulgaria.
---
JAPAN
At age 12, Kokona Hiraki became the youngest Japanese Olympic medalist, taking silver in park skateboarding at the Tokyo Games in July. Now, she tells Forbes Japan, she's mastering how to ride a bike.
---
KAZAKHSTAN
Kazakh entrepreneur turned venture capitalist Murat Abdrakhmanov, 58, has invested nearly $14 million in 25 startups. In 2016, he put $1 million into Almaty-based e-commerce company Chocofamily, which says it expects to finish the year with $300 million in revenue.
---
LATVIA
Brothers Sergey (pictured) and Andrey Beskhmelnitskiy have built their Baltic dairy business into a regional giant. Their Food Union, which sells at least 80 ice cream flavors, has opened two factories in China and does about $340 million in annual sales.
---
MEXICO
In October, Ritz-Carlton opened a luxury hotel and residential tower on the famed Paseo de la Reforma with stunning Chapultepec Park views. A 55th-floor home runs north of $1 million.
---
MONGOLIA
Enkhkhorvoo Dendev started one of Mongolia's early e-commerce subscription businesses, Beauty Secrets, which ships monthly boxes containing five leading skin care products and is now doing about $1.1 million in annual sales.
---
NICARAGUA
The U.S. has turned away or detained more than 49,000 Nicaraguan migrants this year, compared to 2,123 in 2020. The influx is expected to persist following the controversial election of President Daniel Ortega to a fourth term in November.
---
NIGERIA
Aliko Dangote (pictured far left) has amassed a $13 billion fortune from Dangote Group, his cement, salt and sugar conglomerate. The richest African appears for a sixth time on the cover of Forbes Africa, this its 10th-anniversary issue.
---
POLAND
Athletes from eight countries, including Serbian tennis star Novak Djokovic, sported 4F apparel at the Tokyo Games. Founded by Igor Klaja, the outlet behind the brand has been fitting Olympians since 2008. It makes the list of the 100 Greatest Polish Private Companies for the third time.
---
PORTUGAL
Web Summit, the annual global tech gathering in Lisbon, returned to an in-person format in November with 42,000 attendees, down from 70,000 before the pandemic. Next year, says the nation's president, Marcelo Rebelo de Sousa, he'd like to see 100,000.
---
ROMANIA
Bucharest native David Popovici, 17, is the world's fastest 100-meter freestyle swimmer under 18. He also ranks as the youngest honoree on this year's 30 Under 30 list from Forbes Romania.
---
RUSSIA
A onetime Russian insurance billionaire, Sergei Sarkisov earned a daytime Emmy nod last year in his second act as a movie producer at the Moscow- and Hollywood-based company, Blitz Films, which was started by his son.
---
SAUDI ARABIA
The first female executive at her family's Al Khobar-based holding company, Ahmad Hamad Algosaibi & Bros, Samah Algosaibi helped negotiate a $1.9 billion settlement in September, resolving a decade-long outstanding debt.
---
SLOVAKIA
Aneta Kondelová and her husband co-own a furniture and home-goods business, Tempo Kondela, started in northern Slovakia in 1992. Today, 21 stores dot the country as the couple eyes expansion to Romania and expects sales of $60 million this year.
---
SOUTH KOREA
Augmented-reality software from Seoul company Maxst powers 7,000 apps. One lets Hyundai Genesis drivers use a smartphone camera to see information about the car's features. CEO Jaewan Park expects $6 billion in 2021 sales after a recent IPO.
---
SPAIN
For its November issue and annual list of the 100 wealthiest Spaniards, Forbes Spain commissioned and auctioned an NFT magazine cover created by Barcelona surrealist pop artist Sergio Mora. Bidding started at 1.5 ether, or about $6,300.
---
SWITZERLAND
Racing Unleashed, based in the lakeside town of Cham, operates seven lounges in four countries where e-sport athletes or the general public can speed around a virtual circuit. India-born CEO Monisha Kaltenborn previously led Red Bull Sauber's Formula 1 team.
---
THAILAND
The transition to remote work has been a boon for SiS Distribution, a Bangkok-based IT equipment retailer and wholesaler. Managing Director Somchai Sittichaisrichart expects 2021 revenue just shy of $1 billion.
---
UKRAINE
Ten years ago, Dmitriy Zaporozhets began GitLab in a Ukrainian abode that lacked running water. In October 2021, the maker of the open-source-code collaboration tool began trading on the Nasdaq; its recent market cap was nearly $19 million.
---
VIETNAM
Chairwoman Truong Thi Le Khanh founded Vinh Hoan in 1997. The now public company, based in Đòng Tháp province, is a leading producer and exporter of Vietnamese catfish; it posted $31 million in net profit last year.
---