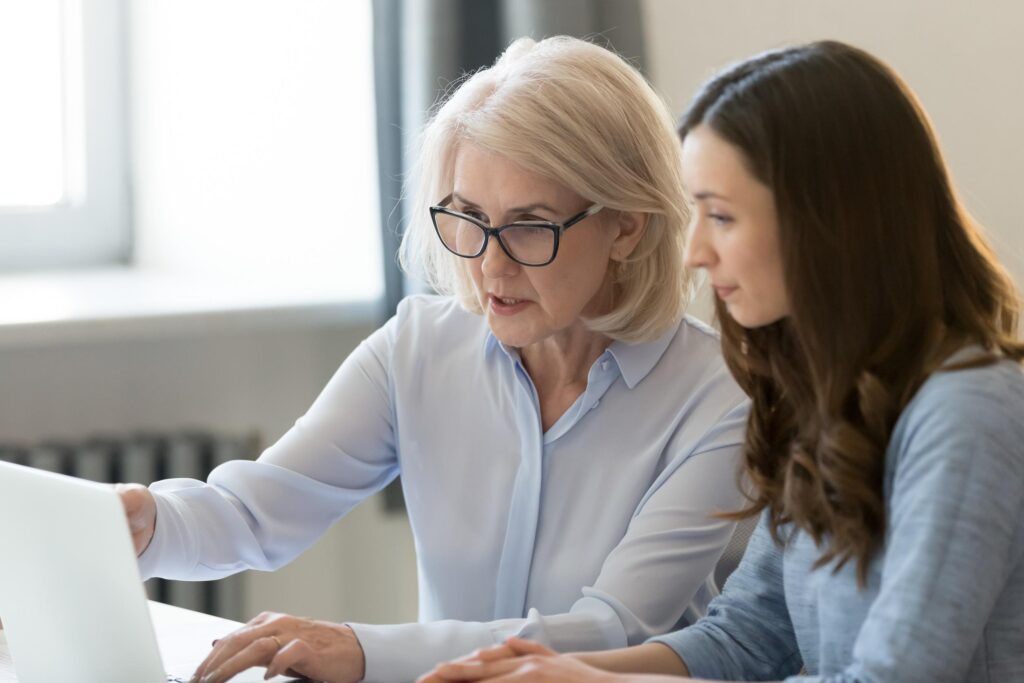 Why A Mentorship Program Can Help Your Organization Win The War For Talent
It's National Mentoring Month. Here's why meaningful mentorship programs are so necessary for employees to learn, connect and grow in a hybrid world.
Today, unemployment has dipped to levels we haven't seen in a generation. At the same time, workers continue to quit their jobs at record rates. The resulting dynamic, what some have called the War for Talent, has left many employers scrambling to fill open positions—while also searching for ways to keep their existing employees satisfied.
The challenge has been amplified by the introduction of hybrid work. It's not only becoming increasingly common for new employees to be hired remotely, but also to continue working without ever meeting any of their coworkers in person.
As a result, employees can feel detached from their colleagues from their very first day—which can put them at greater risk of jumping ship.
While some of these challenges can be addressed by rethinking your onboarding program, there's another often-overlooked tool that organizations can lean on to help employees feel connected and valued in the workplace: a mentor.
"Mentorships are critical in the modern workplace as they offer employees a way to learn, connect and grow alongside someone they might not get the chance to otherwise," says Todd Moran, chief learning strategist at NovoEd. "Especially for more junior employees or new hires to the organization, the lack of casual conversations at work poses a risk to their overall wellbeing, longevity and even career trajectory at the company."
"I believe that the practice of mentorship boils down to a conversation with someone with lived experiences that supports one's goals," says Chris Motley, CEO of Mentor Spaces, a community-driven mentorship platform designed to support the DEI efforts of companies while advancing the careers of underrepresented professionals. "A mentorship program can power relationship cultivation and employer brand building that makes it easier for companies to target internship and job opportunities to folks who have already warmed up to their brands."
In celebration of National Mentoring Month, I asked Moran and Motley to share some tips about why mentorship programs are win-win-win opportunities for employees, mentors and organizations.
(This is the first article of a two-part series.)
Getting employees off to a fast start
A survey from July 2021 indicates that younger employees entering the workforce fear being left behind as a result of working remotely.
That makes sense since they can't lean on a colleague working at the desk next to them to answer even simple questions about standard processes or best practices. They're also concerned that they won't be able to grow their professional network to advance their career without opportunities to run into more senior leaders in the kitchen or elevator.
But this is where an effective mentorship program comes into play, says Moran. "Not only can a mentor help an employee learn and grow at work," he says, "it also keeps them engaged with their coworkers and organization in a structured setting. Mentees can more quickly become ingrained in the business. The company's values and capabilities are also more easily acquired in a safe environment and in the context of the organization and each learner's specific role."
A mentor program, particularly a community-driven effort, can be especially valuable to help young, underrepresented employees begin their careers on a more equal footing.
Motley cites what's become known as "The Network Gap," where underrepresented professionals lack access to the kinds of social and professional connections that can often help jumpstart a young employee's career. Creating space for these individuals to have conversations and develop relationships with experts, on the other hand, helps them unlock what he calls "career currency."
"Community-driven mentorship bridges the 'Network Gap' by facilitating conversations with those that can provide the access underrepresented talent needs to get ahead," says Motley. "We want to empower underrepresented students and professionals to have those conversations with 'in the know' experts to give them the confidence and social capital necessary to advance in their careers.
"With community-driven mentorship, we are enabling a world where everyone can give mentorship, receive mentorship and grow professionally."
The upside of virtual mentoring
There is also real upside with virtual and hybrid mentorship programs since they expand the number of mentorships available for younger professionals. Hybrid mentorships, unlike their in-person counterparts, expand the pool from which mentors and mentees can connect.
"Using virtual tools like Zoom allows employees to go beyond their current team, department and geographic location to obtain career support and growth opportunities from mentors in different regions, on another team or in a new practice area within their company," says Moran. "There's less friction and obstacles for younger professionals to overcome to participate."
Virtual and hybrid mentorships also offer the opportunity for asynchronous learning, allowing mentees to complete prep work like reading articles or watching videos on their own time and then come together with their mentor to discuss and learn from each other.
"Offering hybrid and virtual mentorship programs is a great way to level the playing field and ensure all employees, regardless of where they are choosing to work, have the same opportunities for growth and development," says Moran.
Continuing the conversation
At a time when it's so critical and difficult for organizations to keep and attract talent, mentoring presents a big opportunity to use your existing leaders to help build the kind of diverse, inclusive and engaged culture that sets you apart from everyone else.
In the second part of this article, I'll share Moran and Motley's insights into how an effective mentorship program serves the career goals of mentors as much as it does those being mentored. I'll also cover some of their tips on how to make a mentorship program work for your organization.