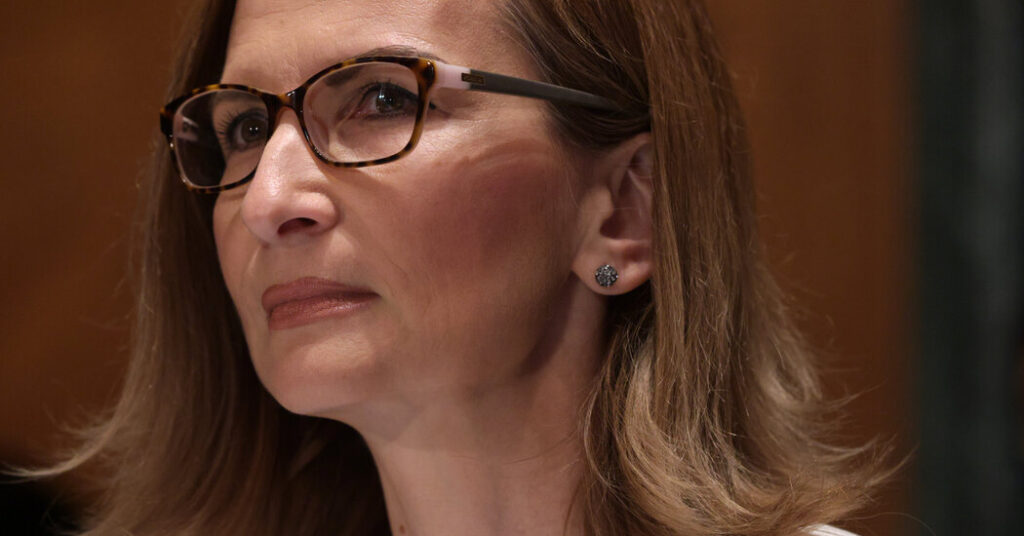 Trump Appointee Resigns After Fight With Democratic Bank Regulators
The Republican chairwoman of the Federal Deposit Insurance Corporation, who was appointed by former President Donald J. Trump, said on Friday that she was cutting short her term after a clash with Democratic banking regulators.
Jelena McWilliams, who started a five-year term as chair in June 2018, will resign effective Feb. 4, she wrote in a letter to President Biden. She is also stepping down as a director of the F.D.I.C.'s board. Ms. McWilliams is the only Republican currently on the five-member board, and her departure will add a second vacancy.
"Throughout my tenure, the agency has focused on its fundamental mission to maintain and instill confidence in our banking system," she wrote. "Today, banks continue to maintain robust capital and liquidity levels to support lending and protect against potential losses."
Her exit came after Rohit Chopra, a member of the F.D.I.C. board and the new director of the Consumer Financial Protection Bureau, complained earlier this month that Ms. McWilliams had refused to recognize attempts by Democratic regulators to review rules about bank mergers. Ms. McWilliams called the conflict a "hostile takeover" by other board members in an essay in The Wall Street Journal.
Ms. McWilliams has mostly adhered to Republican ideological lines during her tenure. That made her something of a barrier to President Biden's agenda, which involves shifting the federal government's stance on big issues like climate change and income inequality.
The Democrats on the board of the F.D.I.C., which is chiefly known for backing consumer deposits but has a hand in overseeing all of the nation's banks, contended that Ms. McWilliams was stonewalling attempts by the majority to set policy.
The partisan fight atop the sleepy bank regulator, believed by some experts to be part of an effort by Democrats to unseat Ms. McWilliams, spilled into public view in early December. Mr. Chopra and two other Democrats on the board — Martin J. Gruenberg, a longtime member, and Michael J. Hsu, the acting comptroller of the currency — voted over email to request public comment on the issue of bank mergers. A statement on the request was posted not on the F.D.I.C.'s site but on the site of the consumer bureau that Mr. Chopra leads. The F.D.I.C. soon released a statement saying it had not approved such a request for comment.
A week later, after a meeting on Dec. 14, Mr. Chopra said in a statement, "This approach to governance is unsafe and unsound." In refusing to recognize the vote by other board members, he wrote, Ms. McWilliams had made "an attack on the rule of law." She fired back the next day, accusing other board members of trying to "wrest control" from the head of an independent agency. Banking industry groups urged calm and transparency.
Pat Toomey, a Republican who sits on the Senate Banking Committee, issued a statement on Friday criticizing the Democratic board members for ending the bipartisan cooperation that has endured during the F.D.I.C.'s 88-year history.
"The recent, reckless effort by Director Chopra and Interim Director Gruenberg to take over the F.D.I.C. board leaves a dark mark on both the F.D.I.C. and their own personal records," Mr. Toomey wrote. "I am deeply troubled to see the administration support this extremist destruction of institutional norms and unprecedented action to undermine the independence and integrity of our financial regulators."
The C.F.P.B. did not immediately respond to a phone message and email requesting comment.