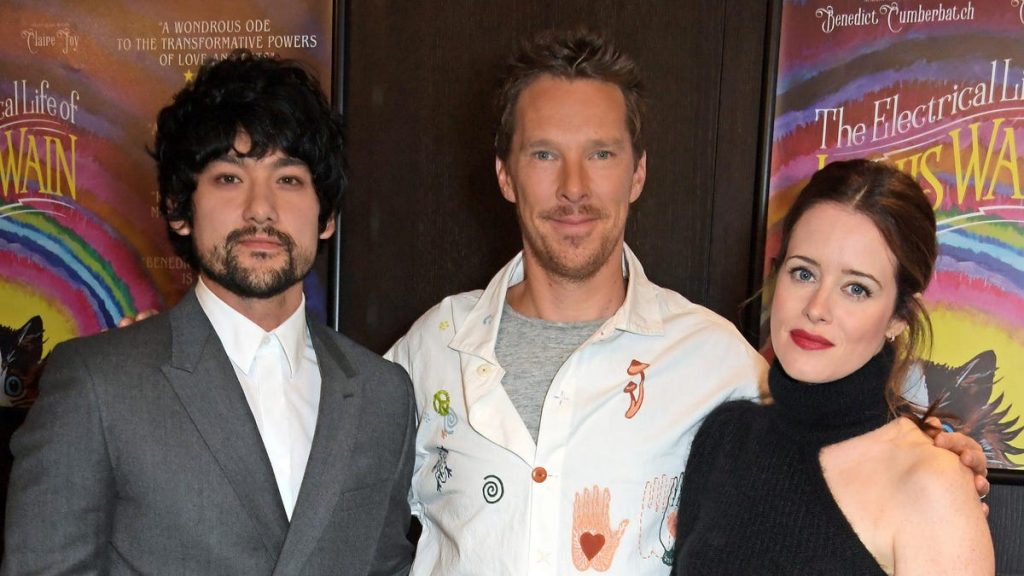 'The Electrical Life Of Louis Wain': New Biopic Starring Benedict Cumberbatch Full Of Quirk
The Electrical Life of Louis Wain is now streaming on Prime Video in the U.S. from October 5. Benedict Cumberbatch plays eccentric British artist Louis Wain in this playful biopic full of pathos.
Louis Wain is known for his humorous drawings of cats. He became hugely successful in the early 1900s, and is considered to have helped popularize the idea of cats as pets in Britain. The film tells Wain's story from the moment he met his wife Emily, played by Claire Foy, to his later years when committed to a mental hospital, still drawing cats in an almost psychedelic style.
An Amazon Studios with Studiocanal and Film Four, Shoebox Films and Sunnymarch productions film, The Electrical Life of Louis Wain is directed and co-written by Will Sharpe (Flowers), from a script by Simon Stephenson that appeared in the 2014 Brit List. The film also stars Andrea Riseborough, Toby Jones, brief appearances from Nick Cave, Taika Waititi, Richard Ayoade, and with Olivia Colman as the narrator. This is a quirky and heart-warming period drama with some great performances.
The Electrical Life of Louis Wain is a whimsical film, reflecting the perceived eccentricity of the artist it is portraying. The film perpetuates the cliché of the troubled and mad artist that pervades biopics of famous artists. But, clichés have their roots in some kind of distant truth. We, as a society, view artists as always teetering between sanity and madness, misunderstood geniuses, whose "imbecilic behaviors" need to be curbed, as Toby Jones's editor of the Illustrated London News, Sir William Ingram, puts it in the film.
Cumberbatch's Louis Wain lives in his own world, a bubble of his mind. With disheveled hair and unkempt attire, Wain is often shown dashing somewhere or sketching away, unperturbed by the chaos around him, especially the one depicted in his own home. The chaos, instead, lies within, as the film tells us, his restlessness a way to manage his frantic mind going all over the place. The only son in a family of five sisters and a widowed mother, Louis is the sole provider, but is far from being the responsible adult.
Meeting his sisters' new governess, Miss Emily Richardson (Claire Foy), brings Louis focus. A sudden calm appears in the film, as Louis stares—the threshold between endearing and creepy being rather thin here—at Emily from across the dinner table. She offers an escape, however temporary, from the chaos of his family home. Claire Foy is perfectly cast as Emily. Her big round eyes resemble those of the cats Wain drew.
Louis Wain's life is told like a story from a fairytale, as narrated by Olivia Coleman, resembling the style of Jean-Pierre Jeunet's Amélie. Arthur Sharpe's beautiful soundtrack also adds to this sense of otherworldliness the film instils. The music of the film perfectly captures the mood, a little strange, whimsical and full of pathos. Will Sharpe made the decision to tell this story visually through Wain's perspective. Meowing cats suddenly have subtitles translating what they are saying. People's heads suddenly turn into cats. This is perhaps why the film feels at times uneven and all over the place. The film makes us experience Wain's world in the unique way that he saw it.
This isn't really a film about a man who found success drawing cats. The Electrical Life of Louis Wain is at its core a love story. It is about Wain's love for his wife, whose loss, the film suggests, drove him to draw anthropomorphized large-eyed cats.
The Electrical Life of Louis Wain was released theatrically in the U.S. on October 22, and is now on Prime Video. Studiocanal will be releasing theatrically the film in the U.K., France, Australia and New Zealand in early 2022.