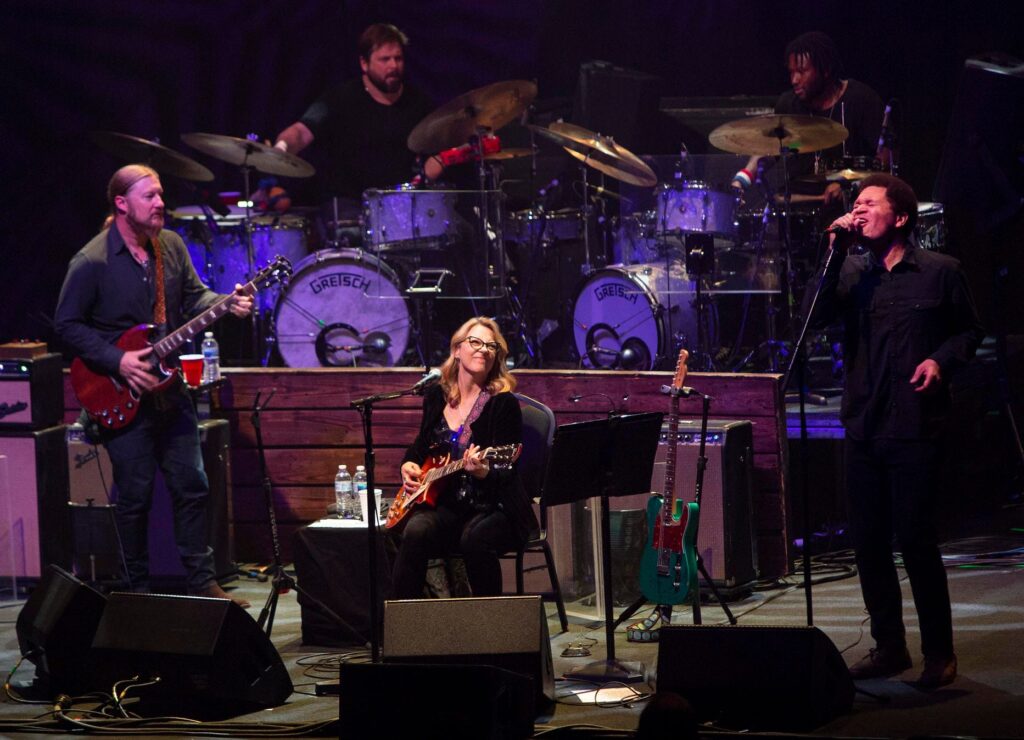 Tedeschi Trucks Band Drill Down On The Blues As Chicago Residency Returns
"To work with a big, large band… that's an undertaking," says guitarist Derek Trucks in the new documentary/concert film Learning to Live Together: The Return of Mad Dogs & Englishmen. "The thing that hit me about it the most was you have to really want to do something like this to do it. It doesn't just happen."
Mad Dogs & Englishmen was an undertaking, a massive band put together by legendary session musician and bandleader Leon Russell to back Joe Cocker on tour in the spring of 1970, a group Trucks refers to in the new film as "a rock and roll circus."
While a 1971 film chronicles that tour, the new documentary drills down deeper into the band itself, focusing on the fascinating inner workings of an ensemble group while revealing conflict between Russell and Cocker and the juggling of personalities necessary to keep it all together.
Following their initial two month run, the Mad Dogs & Englishmen band never performed together again. Trucks came closest to putting it back together, reuniting a dozen members, including Russell, for a performance on stage at the LOCKN' festival in Virginia, a concert which took place in September of 2015 about a year before Russell's death.
With the Mad Dogs band joined by Tedeschi Trucks Band and guest vocalists like Traffic's Dave Mason and Chris Robinson of the Black Crowes, the group tops out over 30, a captivating performance captured in the concert film.
While the new project, directed by Jesse Lauter, masterfully examines Mad Dogs & Englishmen, it also lays out the group's influence on Tedeschi Trucks Band, a 12 piece group led by Trucks and blues guitarist/singer songwriter Susan Tedeschi which, like Cocker's group, mixes up its own diverse musical stew on stage each night.
"Watching the Mad Dogs & Englishmen documentary certainly played into it," says Trucks in the new film of the group's impact on his own. "We tried to expand on that idea – this sense of extended family and traveling circus."
"Taking our band on the road is similar to Mad Dogs because you have so many people involved," Tedeschi says in the movie. "And people know when we're coming to town. Because they see two buses and see all these crazy people coming out and we kind of take over every town we go to. It's a really unique experience to have a band that's a 12 piece working together as one mind."
MORE FROM FORBESDerek Trucks Talks About The Impact Of Residencies On The Tedeschi Trucks Band Live ExperienceBy Jim Ryan
Last week, Learning to Live Together screened just outside Chicago at The Venue in Aurora, Illinois following the first two nights of Tedeschi Trucks Band's annual winter residency at Chicago Theatre.
Returning from last year's hiatus, the group kicked off the Chicago run with a Beatles cover ("I've Got a Feeling"), going on to put its own spin upon a diverse array of cuts by artists ranging anywhere from Crosby, Stills, Nash & Young to The Wood Brothers last Friday and Saturday.
"They really re-imagined a lot of really great tunes," says Trucks of Cocker and company in Learning to Live Together. "A lot of times it kind of became the version."
Known to roll out their version of Cocker's take on "The Letter" by The Box Tops, Tedeschi Trucks closed night two of the Chicago run with that single's B-side, taking on the Matthew Moore-penned "Space Captain." Moore sang backup as a member of the Mad Dogs & Englishmen band and a 1976 Cocker album of live covers bears the Space Captain name.
Early in the Chicago residency, TTB tailored setlists to their temporary home, rolling out John Prine's "Angel From Montgomery" on night one and Junior Wells' "Little By Little" on night two, with Susan Tedeschi taking a moment to name check Wells' longtime musical co-conspirator Buddy Guy.
"You have to do a little Buddy Guy when you're in Chicago! He's one of the last great blues guys," she said on stage at Chicago Theatre of the 85 year old bluesman, holding court just south of Chicago Theatre during a month-long residency of his own at blues club Buddy Guy's Legends. "You should check him out while you still can. He's still very handsome too!"
While the group's own "Learn How to Love" kicked off the second set Saturday night at Chicago Theatre, "Little By Little" took things to a new level. Suffering a leg injury while in town, Tedeschi was forced to sit for the majority of the performance, but soldiered on nevertheless during a soaring masterclass in old school Chicago blues. "Come on, Derek!" she screamed to her husband as Trucks fired off a solo, a stripped down version of the group sans horn section working through the deep cut.
The group also tackled Chicago bluesman Elmore James Saturday, an incendiary slide guitarist who recorded for Chicago-based blues labels like Chess, Checker and Chief before his death in 1963. "Done Somebody Wrong" found Trucks right at home on the slide, on stage just two miles north of the Chess Records building, famously still standing at 2120 South Michigan Avenue.
In the Learning to Live Together film, Rolling Stone critic David Fricke refers to Tedeschi Trucks Band as "uniquely American." And thanks to the depth in which they're able to explore the American songbook via these multi-night residency runs, the next of which is scheduled for six nights between February 1 and 18 at Washington, D.C.'s Warner Theatre, the group continues to stake its claim as one of the best live acts in the country.
With the Chicago residency set to resume this weekend, one moment in particular from last Saturday's performance really encapsulates just what the full band is capable of in the live setting. Dr. John's "I Walk on Guilded Splinters" saw vocalist Mike Mattison trade verses with Tedeschi, the rest of the group chiming in on the sing-along chorus.
Touring a 12 piece group safely and affordably is no easy task under the best circumstances, let alone amidst pandemic. But as Tedeschi Trucks Band plows ahead, it's wholly necessary.
"You live together. You are in the trenches together. Real musical and personal trust is built from seeing people when the sh-t hits the fan," says Derek Trucks in the new film, reflecting on his band. "We're still trying to figure out what it's gonna take to keep it together for a long time. But it's a healthy group."