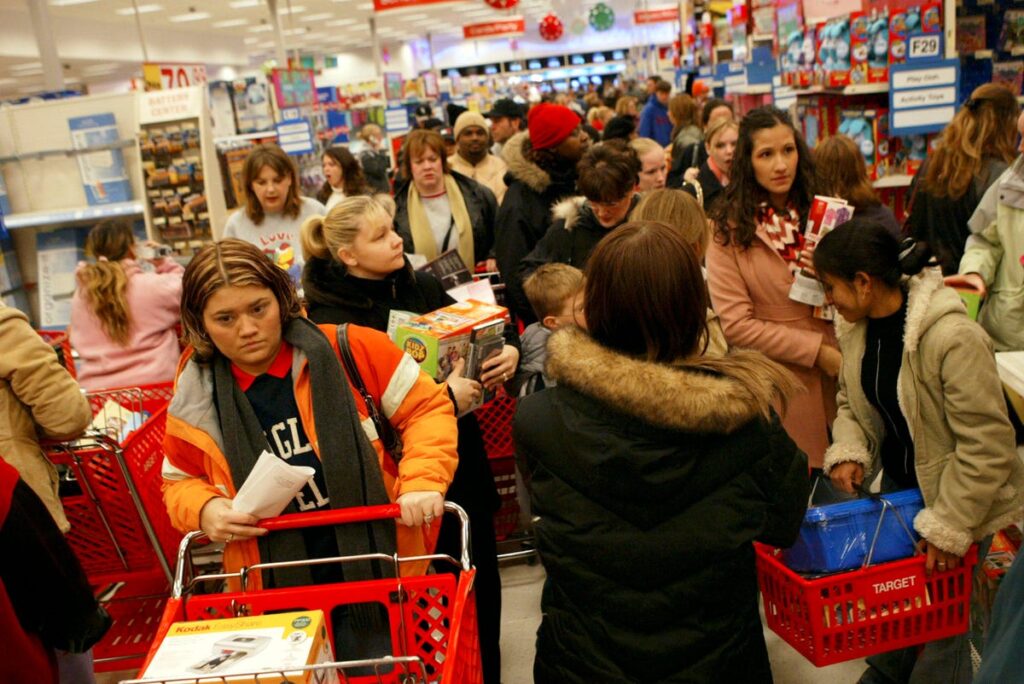 Target Leads Holiday Season Growth As Macy's Holds Off Store Closures
Whisper it quietly, but could stores be back? After a decade or more of being battered and bruised by online retailers, there were signs this Fall that shoppers might just have fallen back in love with the mall and Main Street.
It's early days but research from a variety of sources is pointing towards a possible store renaissance as the holiday season gathers pace.
First of all, retail as a whole is being boosted by strong holiday spending. Indeed, if there is one thing that U.S. retailers have always been able to rely on, it's the willingness to spend of the good old American consumer. And, despite omicron heralding a fresh wave of the pandemic and enormous economic uncertainty, the holiday season shopper is back.
This November, American consumers spent 18% more than in November 2020 and this holiday shopping season is on track to see the highest spend on record.
The increased spending seen over the last year – driven in part by stimulus checks, low unemployment and a lack of social and work spending – appears to have revived the presence of bricks-and-mortar stores in many locations.
Big-box chain Target TGT is the early frontrunner, having grown sales approximately 10% in November, well above rivals Walmart WMT and Amazon, with Target entering the holiday season with its stock having doubled in value since Covid hit in March 2020. The chain benefited from being demarked an essential retailer, allowing it to remain open throughout the pandemic.
Target Boosts Holiday Season Sales
Investments in its stores estate and in Target's e-commerce offer, including bolstering its curbside pickup service, has helped the retailer boost sales by about 17% over the past year. Store visits for the most recent period available, from 1 Nov. through 6. Dec., were up about 12% compared with a year ago, according to location analytics expert Placer.ai.
And Target is not alone. According to research and advisory firm IHL Group, more retailers are opening stores than closing them. The firm found that for every retailer that closed a store in 2019, five more have been opening stores in 2021.
It's a far cry from the end of 2020, when a record 12,200 stores closed in the U.S. Now, foot traffic to stores across the U.S. this year is just 0.8% below 2019 levels, according to Placer.ai., and overall, U.S. store visits compared to two years ago are up 5.7% in October and 0.1% in November.
Department Stores See Higher Footfall
Nordstrom, Macy's M and J.C. Penney have been among the beneficiaries, seeing a surge in footfall, though gains to date have largely benefited the big chains because more than 440,000 small U.S. companies in the retail and hospitality industries shuttered during the pandemic, according to IHL Group.
As a result, an estimated $125 billion in sales shifted from this group to the country's major chains in 2020, and this trend has continued through 2021.
One example is the perennially troubled Macy's, which announced last month that it will likely delay a number of prospective closures, with the company citing the symbiotic relationship between its brick-and-mortar stores and its e-commerce business.
Macy's chief financial officer Adrian Mitchell told an analyst call: "The delayed closure of certain stores allows us to maintain a physical presence in the market, which is critical to our top line growth. Digital performance is stronger in the markets where we have stores."
In November, the company said that it was reconsidering when it will close the approx. 60 remaining open stores out of a group of 125 that were slated to shutter by 2023. That said, it still plans to announce 10 closures in January, with those locations to be confirmed in the near future.
Macy's has been trialling smaller format and off-mall sites, as it closes its larger anchor locations at traditional malls. Mitchell said those openings have boosted sales beyond the company's expectations and that it now sees a "clear path" with off-mall.
Activist investor Jana Partners, which has taken a stake in the business, is also pressing Macy's to spin off its e-commerce operations from its stores, hoping to boost the total valuation of the Macy's business.
Macy's CEO Jeff Gennette said last month that the company is working with consulting firm AlixPartners to consider all options for its digital operations and will share more details after AlixPartners' review