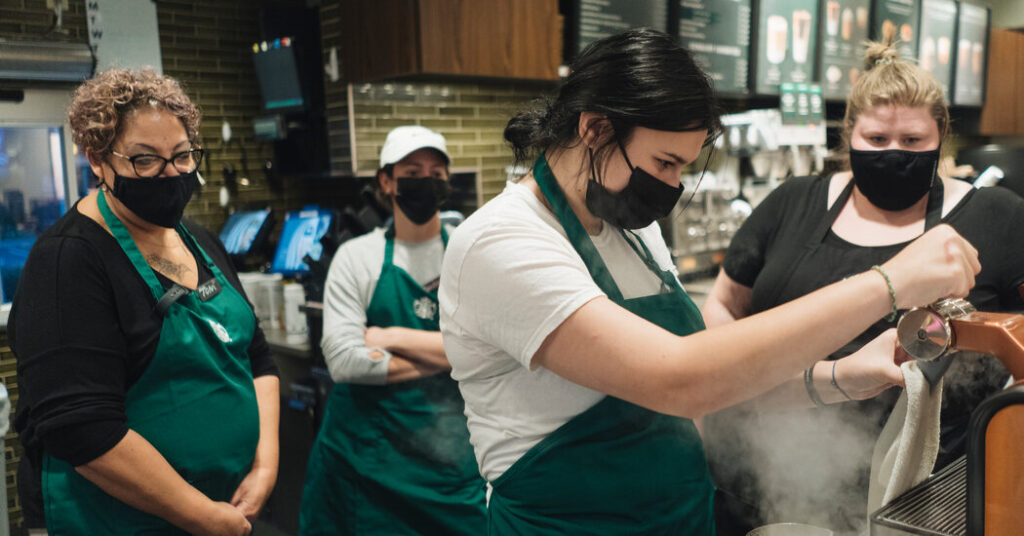 Starbucks Ends Its Plan to Require Worker Vaccination and Testing
"It was not our own independent policy," said Reggie Borges, a spokesman for the company. "We knew OSHA was requiring it, the Supreme Court hadn't ruled on it one way or the other and we needed to make sure our partners were supported and prepared to be in compliance."
Some major employers, including Walmart and Amazon, had held off on issuing broad vaccine requirements while OSHA's rule was entangled in legal proceedings. Others, including United Airlines and Tyson Foods, made their own rules. A November poll of 543 companies by the consulting firm Willis Towers Watson found that 57 percent either required or planned to require Covid vaccines, including 32 percent that would do so only if OSHA's rule took effect.
"It's pretty divided in corporate America," said Amanda Sonneborn, a partner at the law firm King & Spalding. "There's those that have chosen to do mandates on their own, those that were following the government's mandate and those that challenged it."
Companies weighing vaccine requirements have grappled with a number of factors, according to Ms. Sonneborn, including concerns about labor shortages, the political perception of mandates and the need to keep workers safe.
Starbucks said this month that workers would have to disclose their vaccination status by Jan. 10.
"It made me feel a little bit better knowing I was working with people who were vaccinated," said Kyli Hilaire, 20, a barista who participated in the unionized store's walkout over safety concerns.
"You see people every day, you work closely with them, there's not much of an opportunity for distancing," Ms. Hilaire said. "The number of customers coming into the space makes you cautious. I try to double mask, but sometimes it can be difficult to breathe." Starbucks "strongly recommends" customers wear facial coverings in stores, and requires them where mandated by local laws.
Starbucks also announced a variety of new Covid-19 safety protocols on Tuesday. Workers are now required to wear three-ply medical grade masks, which the company said are available in stores, and isolation guidelines have been expanded to cover anyone who has been exposed to Covid-19, even if they are fully vaccinated.
The company continues to encourage its employees to get the vaccine and booster, and offers two hours of paid time off for getting the shots.