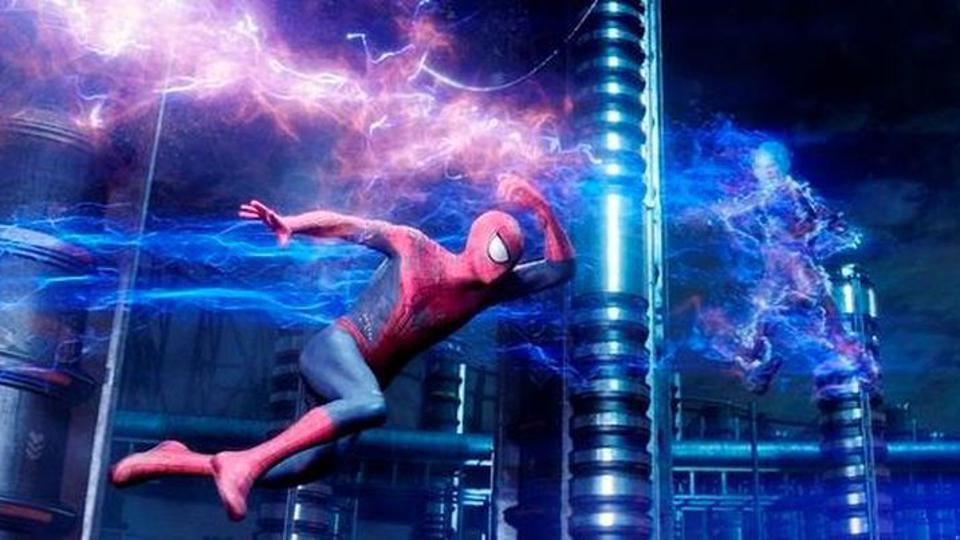 'Spider-Man: No Way Home' Spun Sony's Biggest Fumble Into A Retroactive Touchdown
Spider-Man: No Way Home spoilers in the final three paragraphs, but I'm guessing if you're clicking on this you've already seen the film.
Barring a Christmas Eve drop (before a Christmas Day rebound), Sony's Spider-Man: No Way Home will swing past Spider-Man's unadjusted $402 million domestic gross to become the biggest Spider-Man ever in North American box office. It will zoom past Spider-Man 3 ($890 million in 2007) to become the second-biggest Spider-Man movie worldwide behind Far from Home ($1.131 billion, including $199 million from China in 2019). As No Way Home passes $900 million worldwide, what is most impressive about the film's global theatrical success is how Sony turned its most high-profile mistakes concerning the Spider-Man franchise into monetizable assets. Like Fast & Furious, No Way Home used past-tense failures to generate manufactured nostalgia. Moreover, they used the film's multiverse-hopping plot to finally achieve their end game with the last doomed Spider-Man franchise. But just because No Way Home is a hit does not retroactively make Amazing Spider-Man into a success.
It was a sad day in Hollywood in January 2010 when Sony announced they were canceling Sam Raimi's Spider-Man series and rebooting it with what was supposed to be a cheaper, more youth-skewing franchise. This was different from Warner Bros. cutting bait after Joel Schumacher's ill-received Batman & Robin (poor reviews, poor audience reception and just $235 million on an alleged $160 million budget) and eventually letting Chris Nolan do a grounded origin-story reboot. At best, this was like when the Broccolis looked at the record-high box office for Die Another Day ($160 million/$437 million in 2002) and decided to not just drop Pierce Brosnan but reboot the series for something closer in spirit to the Bourne films. That arguably "worked," as Daniel Craig's more grounded post-9/11 spy tales took the 007 series to new box office heights ($3.965 billion on a combined $1 billion budget).
Sure, some fans were not huge on the campy and cartoonish Spider-Man 3 (including Raimi himself, who was forced to include Venom), but the $260 million-budgeted film had still earned $336 million domestic and $890 million worldwide, more than either of Sam Raimi's prior two (better-received) Spider-Man movies. Sony just rebooting their biggest franchise just "for the heck of it" meant that studio-artist tensions could be resolved by just scrapping the current iteration of a given IP and starting over. As I frankly feared, the once rare notion of rebooting an existing property became par for the expected course in Hollywood. The irony is that most of these reboots (Man of Steel, Fantastic Four, Ghostbusters: Answer the Call, Resident Evil: Welcome to Raccoon City, Bumblebee, Hellboy, Snake Eyes, etc.) have not worked in terms of jumpstarting a successful new franchise. Nor did The Amazing Spider-Man.
Even if there was initial value in the idea of making a much cheaper and more teen romance-skewing drama (it was pitched at the time as "Twilight with webs"), that is not what happened. The Amazing Spider-Man morphed into a $235 million, 140-minute origin story reboot, modeled less on Twilight and more on Chris Nolan's Dark Knight trilogy. And there was deep cynicism in how Sony sold, and the media accepted, the film's many similarities to Sam Raimi's Spider-Man movies (an emphasis on young love, the notion of the villain being a friend and mentor to Peter, a climactic "regular citizens save the day" scene, etc.) as new and different from what had come before. Never mind that Raimi's trilogy was a romantic melodrama between Toby Macguire and Kirsten Dunst, this new film was totally different because… uh… it featured a quippy romance between Andrew Garfield and Emma Stone.
The Amazing Spider-Man earned $262 million domestic (well below the $336-$402 million likes of Raimi's Spider-Man movies) and $760 million worldwide (below the $784-$890 million grossing prior trilogy) on a budget pretty much equal to Spider-Man 2. However, while the reviews were halfway decent and the film opened with $137 million over its Tues-Sun Independence Day weekend, it did not inspire a deluge of excitement for whatever came next. The Amazing Spider-Man 2 went further in terms of crafting a dense MCU-like mythology, turning Peter Parker into "the special" and selling the sequel as a backdoor pilot for an eventual "Spider-Man versus Sinister Six" movie. The film was, save for nonsense involving Peter's parents, a pretty conventional stand-alone Peter Parker passion play, but it was sold as Sony's attempt at an MCU-like universe and thus was perceived as expected to pull Dark Knight ($533 million/$1.004 billion) grosses.
The Amazing Spider-Man 2 earned mixed-negative reviews and grossed just $202 million domestic and $709 million worldwide on a $255 million budget. Sony's dreams of a Spidey-centric cinematic universe were dead. In Sony's short-sighted pursuit of their own Dark Knight and then their own Avengers, they had capsized their own blockbuster franchise, a franchise without which the likes of The Dark Knight or The Avengers would not exist. Oh, and in appealing to a minority of hardcore fans, they dropped the reboot's most popular character (Emma Stone's Gwen Stacy) down a bell tower, ensuring that a theoretical Amazing Spider-Man 3 would be missing one half of its marque duo. It was a deeply cynical attempt by a major studio to dump something that was currently successful and unique unto itself and turn the IP into something approximating that which already existed in the marketplace.
None of this is the fault of any of the films' stars, nor even "plucked from indie success" director Marc Webb (500 Days of Summer and eventually Gifted). There is indeed validation in seeing Andrew Garfield steal the third act of Spider-Man: No Way Home, not unlike how Brandon Routh got a chance to play his own version of Superman (as opposed to being forced to mimic Christopher Reeves in the ill-received Superman Returns) in CW's Crisis on Infinite Earths miniseries. However, No Way Home only exists in its crowd-pleasing form because Sony kept screwing up with the Spider-Man series. Had Sony not canceled Sam Raimi's Spider-Man 4, had they not tried to pretzel The Amazing Spider-Man into Batman Begins and then pretzel The Amazing Spider-Man 2 into The Avengers, they might not have had to team up with Marvel to bring us Spider-Man: Homecoming.
The aftershocks are with us even today. The marketing campaign showed Hollywood tell the media that (for example) Halloween was totally different from Halloween: H20 and the press would just print the quotes. The poor reception of Amazing Spider-Man 2 was one reason Captain America: The Winter Soldier (strong reviews and $714 million worldwide on a $175 million budget) and Guardians of the Galaxy (rave reviews and $773 million on a $175 million budget) cemented Marvel as king of the blockbuster mountain. Nonetheless, Amazing Spider-Man signaled an open season for rebooting or remaking any remotely recognizable piece of IP. The eventual "get it right on the second try" success of Spider-Man: Homecoming ($334 million/$881 million on a $170 million budget in 2017) doomed Hollywood to endless reboots by showing them that even a failed attempt was not a sign to stop trying (see Salvation, Genisys and Dark Fate).
There is a grim irony in how Sony has used manufactured nostalgia for their ill-received Amazing Spider-Man series to make No Way Home into more of an event. To be fair, Universal did likewise with Fast & Furious, with the fourth film finally bringing the entire quartet (Vin Diesel, Paul Walker, Jordana Brewster and Michelle Rodriguez) back and selling manufactured nostalgia after two quasi-spinoffs to The Fast & the Furious. No Way Home provided a redemption narrative for Andrew Garfield akin to Ryan Reynolds redeeming Wade Wilson's X-Men Origins: Wolverine portrayal in Deadpool (or how Force Awakens was sold as a course-correction after the Star Wars prequels). The use of the five previous Spider-Man villains gave Sony what they wanted all along, a "Spider-Man versus the Sinister… uh… Five" spectacular. Sony has taken the fruits of their high-profile fumble and turned them into elements for a retroactive touchdown.