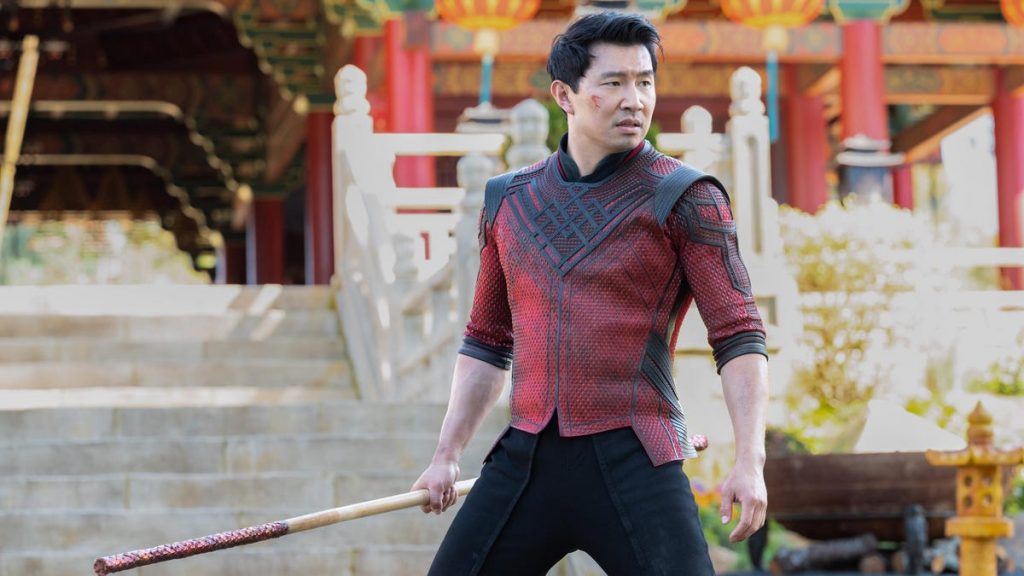 'Shang-Chi' Could Break Two New Contradictory Box Office Records
By this time tomorrow, we'll be dissecting the Thursday preview numbers for Disney and Marvel's Shang-Chi and the Legend of the Ten Rings (review). Fingers are crossed that Destin Daniel Cretton's MCU action fantasy can notch something approximating a solid opening weekend (over/under $100 million worldwide would be nice) as it launches over the Fri-Mon Labor Day frame. With solid reviews, strong buzz, presumably decent word-of-mouth (I can't imagine general audiences not somewhat enjoying it) and a month before No Time to Die on October 8, the film has some room to breathe even if it doesn't set the box office on fire this weekend.
And yet, even noting the obvious Covid curve (and climate change-related variables) at play, this "only in theaters" release has a skewed shot at setting two contradictory box office records. It could score both the biggest Labor Day weekend launch of all time while also nabbing the lowest opening ever for an MCU movie. If it opens above $31 million over the Fri-Sun frame, it'll set a new Labor Day weekend milestone. If it opens below $55 million over the Fri-Sun portion of its Fri-Mon debut, it'll nab the lowest MCU opening weekend yet recorded. All parties would rather achieve "option A" while avoiding "Option B."
Labor Day is easily the slowest holiday weekend of the year. In normal circumstances. Labor Day usually marks the end of the summer movie season, with a B-movie opener (or a star-driven thriller aimed at adults) doing its thing alongside the last biggies of the summer. Just seven movies have opened above even $15 million on this "end of summer/start of school" weekend, namely Jeepers Creepers, The American, Jeepers Creepers 2, One Direction: This is Us, Transporter 2, The Possession and Halloween.
Rob Zombie's Halloween set the Labor Day record in 2007 with a $26.5 million Fri-Sun/$30.5 million Fri-Mon opening weekend. The critically-panned horror movie remake (which still had plenty of interest and a killer teaser trailer) earned $57 million domestic, a Labor Day release benchmark that was barely passed last year by Tenet. Chris Nolan's would be multiplex-revival flick (think jumping a car battery) that wasn't opened with just $20.2 million over an 11-day Labor Day week debut (including $9.4 million over the Fri-Sun frame). It only topped Halloween's $57.25 million cume after finally opening in Los Angeles on its 30th weekend in late March 2021.
When factoring inflation, the top Labor Day weekend domestic releases are Fast Times at Ridgemont High ($27 million in 1982 and $83 million adjusted for inflation), Dead Again ($38 million in 1991/$82 million adjusted), Halloween ($57 million in 2007/$73 million adjusted) and Tenet ($58 million in 2020). I'm guessing Shang-Chi and the Legend of the Ten Rings, which is aiming for a Fri-Mon debut on par with Ant-Man's $58 million Fri-Sun debut (and could nab a four-day debut closer to Black Widow's $80 million launch), will easily pass all of these benchmarks to become the undisputed (by default) Labor Day weekend champ.
Meanwhile, the lowest Fri-Sun opening weekends (sans inflation) for any Marvel Cinematic Universe film remain the $55 million Fri-Sun launch of The Incredible Hulk in June of 2008 ($72 million adjusted for inflation) and the $58 million Fri-Sun debut of Ant-Man in July of 2015 ($64 million adjusted). The Incredible Hulk earned just $132 million domestic and $267 million on a $155 million budget, remaining Marvel's only unmitigated flop. Ant-Man earned 3.15x its opening weekend. The $130 million Paul Rudd flick would notch $180 million domestic and $520 million worldwide. Both MCU "low marks" provide context for the Simu Lui/Awkwafina/Tony Leung fantasy epic.
The failure of The Incredible Hulk (a "general audiences" revamp after Ang Lee's arty Hulk which then earned near-identical grosses) was barely a bump on the road to The Avengers. The Universal flick opened a month after Iron Man, which was itself such a success ($318 million domestic/$585 million on a $140 million budget) that nobody cared about Hulk 2.0. Thor still earned $449 million worldwide in summer 2011 (a then-record for a non-Iron Man/Batman/Wolverine/Spider-Man comic book superhero movie) and The Avengers (with Mark Ruffalo replacing Edward Norton as Bruce Banner) still earned a game-changing $623 million domestic/$1.5 billion worldwide in summer 2012.
Even if Shang-Chi outright tanks this weekend and doesn't leg out, the enterprise is not without value. Ant-Man earned "just" $519 million in 2015, but Paul Rudd's winning Scott Lang earned cheers when he showed up in Captain America: Civil War and when he starred in Avengers: Endgame. Ditto Benedict Cumberbatch's Doctor Strange, which "just" $677 million worldwide. The Sorcerer Supreme had a very funny Thor: Ragnarok cameo and starred alongside Robert Downey Jr. in Avengers: Infinity War. Simu Liu and Awkwafina's cheerful protagonists are engrossing enough to win over fans who will be more than happy to see them in either Shang-Chi 2 or somebody else's MCU movie.
Shang-Chi absolutely would have been a solid commercial hit had it opened sans Covid. And it's good enough and crowdpleasing enough to further the "Marvel is still doing okay after Endgame" narrative. It is possible that the Simu Liu actioner will open just high enough to avoid situational infamy. Like Tenet, Wonder Woman 1984 and In the Heights, a demographically-specific event film (starring a "not a white guy" protagonist") has been shouldered with the burden of essentially saving theatrical movies, or at least the current slate of late-2021 releases. That is both bitterly ironic and entirely unfair, but it is true nonetheless.