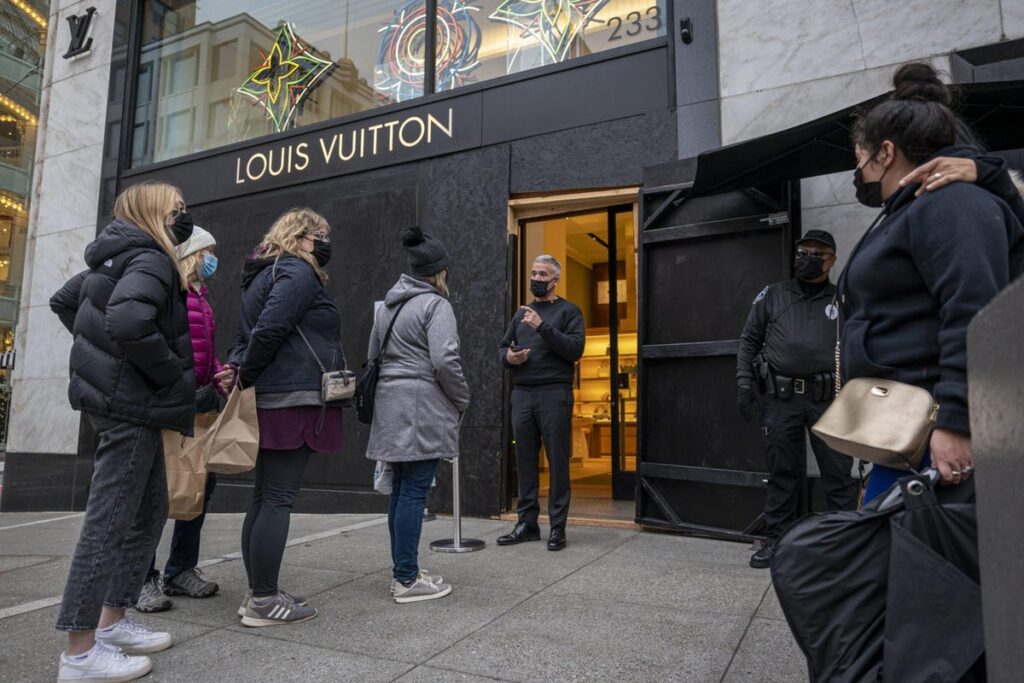 Retailers Caught Unaware By Smash-And-Grab Theft Have Few Tools To Combat It
We've all seen the videos on the news where hoards of masked thugs descend upon a store, grab whatever they can in a few minutes and make off with the stolen loot. Allegedly social media platforms and instant messaging apps are being used to coordinate the flash-mob attacks.
San Francisco was an early epicenter of what officials describe as organized retail crime (ORC), but it is rapidly spreading to other cities as well. High-profile instances have been recorded in Los Angeles, Sacramento, Lakewood and Monterey, CA, Chicago, Minneapolis, Miami and New York City where thieves made off with over $80,000 of merchandise from a Givenchy store.
No particular type of retailer is safe either, with drug stores, home improvement stores, department stores, specialty retail chains and small businesses being victimized.
But luxury retailers have emerged as prime targets recently. As notorious gangster Willie Sutton explained his reason for robbing banks "because that's where the money is," retail thieves are after the most valuable merchandise they can swipe in a hurry. They find that in luxury stores.
Not just crimes against property
The National Retail Federation (NRF) conducted a study and found the cost of ORC amounted to $700,000 per $1 billion in sales in 2020. Three-fourths of the retailers NRF surveyed reported an increase in ORC in 2020 and 65% said ORC gangs are exhibiting greater levels of violence and aggression than before.
Gathering historical data from major retailers, the Retail Industry Leaders Association (RILA), in association with the Buy Safe America Coalition, estimated organized retail thieves made off with nearly $70 billion worth of products in 2019, before the pandemic.
Both associations call out the threat to public safety posed by increasingly violent criminals.
"As these crimes have become more organized and brazen, they have also led to more violence. These crimes are not just property crimes. They impact the safety of everyone in the store," Ben Dugan, president of the Coalition of Law Enforcement and Retail, said in the RILA statement.
Both organizations also acknowledge the ease with which criminals can off-load stolen merchandise through various e-commerce platforms.
The NRF statement notes how criminals are using online channels not just to organize crimes sprees but to liquidate their ill-gotten gains. "It's all about supply and demand. The demand for product online skyrocketed and so too did the demand for stolen product," said Tony Sheppard of loss-prevention company ThinkLP.
And RILA's Michael Hanson, senior executive vice president of public affairs said, "Professional thieves and organized criminal rings are building a business model by stealing and reselling products, increasingly online thru marketplace platforms like Amazon AMZN or Facebook. The lack of transparency online has made it easy to hide behind a screen name and fake business information to peddle stolen products."
Congress called to act, but it may not be enough
With pressure mounting to make it harder for criminals to sell stolen products through online marketplaces, the RILA and Buy Safe Coalition have called on Congress to pass the INFORM Consumers Act, introduced in the Senate by Senator Dick Durbin and in the House by Congresswoman Jan Schakowsky and Congressman Gus Bilirakis.
The bill aims to make it "difficult for retail theft rings to peddle stolen goods on leading e-commerce platforms." Some twenty leaders from major retailers call for passage of the legislation, including Best Buy BBY , Kroger KR , Targe TGT t,CVX, Dollar General DG , Home Depot HD , Neiman Marcus, Nordstrom JWN , Ulta, Walgreens WBA , Petco and others.
But under pressure from Amazon and the Coalition to Protect America's Small Sellers (PASS), which includes Ebay, Etsy, Poshmark, OfferUp and Mercari, much of the teeth in the bill has been removed.
Claiming that the original drafted bills favored big-box retailers and presented burdensome disclosure requirements on small sellers, Amazon and PASS got the final bills to require marketplaces to only verify "high-volume third-party sellers, defined as vendors who have made 200 or more discrete sales in a 12-month period amounting to $5,000 or more."
That requirement seems like an easy workaround for groups of thieves who can anonymously set up multiple online accounts to get rid of stolen merchandise.
Online marketplaces' accountability
The online marketplaces widely believe the safeguards they already have in place are doing an adequate job.
Facebook and Poshmark prohibit the sale of stolen items and will terminate accounts if a user violates their policies. They also work with law enforcement agencies if potential criminal activity is called to their attention. But the onus seems to be on the victims to bring potential stolen items to their attention.
Ebay is a bit more proactive, sharing in a statement: "We have zero tolerance for criminal activity on our platform. We have programs and policies in place to monitor our marketplace for stolen items. We also collaborate with government agencies and law enforcement to help prevent the sale of stolen goods on eBay."
Saying it "uses a range of tools and filters to protect the site from criminal activity as part of its multi-step security infrastructure," Ebay participates with LeadsOnline that supports law enforcement agencies to recover stolen merchandise and prosecute offenders.
The RealReal REAL , the luxury resale marketplace, also works with LeadsOnline. "Through LeadsOnline (the country's largest online investigation service), we give police departments nationwide full visibility into our inventory, including details like serial numbers, photos, data and location of consignment that can help prevent the sale of stolen goods."
All this is well and good, but a review of LeadsOnline retail theft "success stories" detail recovery from more old-fashioned retail crimes, not these new style flash-mob retail robberies. LeadsOnline did not respond to a request for comment.
Technology solutions
Having relied too long on law enforcement and traditional security measures, retailers and mall owners realize they need to step up with more technology to protect their stores, their staffs and their customers from the smash-and-grab threat.
Allied Universal, a global security and facility services company, is arming retailers and mall owners with advance technology using high-resolution video cameras to record activities throughout stores, malls and parking areas, to help identify suspects and record license plate numbers. It uses video analytics to gauge people's behavior in order to provide instant alerts to authorities for suspicious actions. And social media platforms can be monitored using specific keyword analytics to assess potential organized attacks.
Brian Neimeyer, Allied's senior vice president of its retail division, doesn't discount the value of uniformed security officers to deter crime, but says more is needed.
"Integrating technology with risk/social media monitoring is a growing trend to keep retail environments safe," he said. "The best security solution is combining technology and security personnel to support and complement each other in a cost-effective and intelligent way."
Brands can help too, especially high-value luxury brands which are a favored target for theft. The recently formed Aura Blockchain Consortium uses blockchain technology to track luxury goods ownership and product history information and validate authenticity of a product's provenance.
Daniela Ott, Aura's general secretary, says that the Aura blockchain certificate of ownership is a tool ideally suited to protecting against stolen luxury goods getting into secondary marketplaces.
"When brands put the product on Aura blockchain, then there is a certificate of authenticity and ownership. Thieves have real trouble getting rid of the product because they are missing that certificate," she shares.
Noting that participating luxury brands have already registered double-digit millions of products with Aura, she says some high-end watch brands use blockchain to validate not just the watch itself but watch movements because brands have experienced unscrupulous characters bringing back watches with fake movements.
Time is ticking
However, it will take time for the advanced technology to catch up with the criminals. But retailers better move fast because these enterprising thieves are moving even faster.
"You need capital, systems to integrate with, people to train. It's not a quick turnaround. It can be like turning an ocean freighter," Gail Morris, director of investigations at Williams-Sonoma WSM , shared in the NRF statement. "You need to start with the tools you have and lead your people to react quickly to emerging trends."