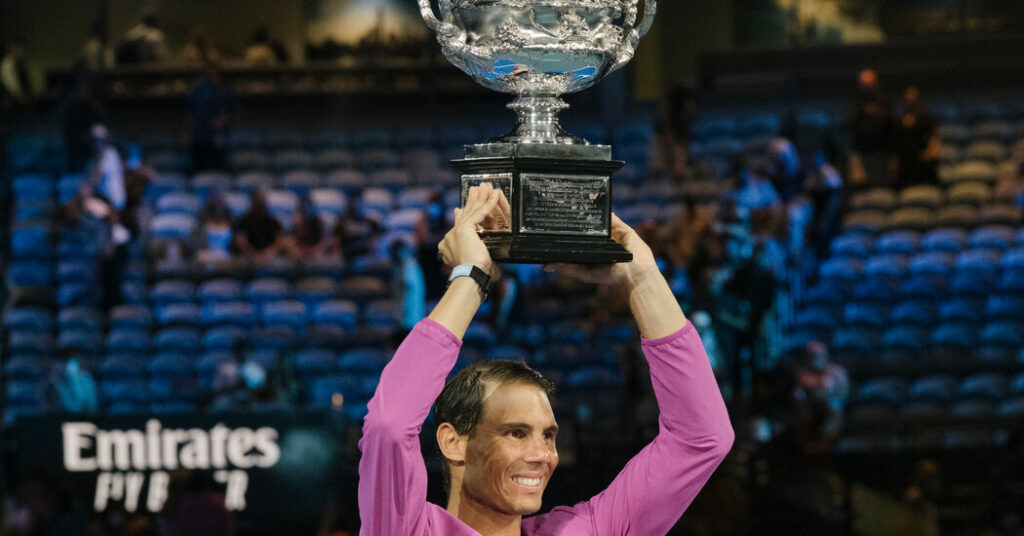 Rafael Nadal Wins the Australian Open, His 21st Grand Slam Title
Nadal made certain of that.
"This has been one of the most emotional nights of my tennis career," he told the cheering crowd, and later said: "If we put everything together, the scenario, the momentum, what it means. Yeah, without a doubt probably have been the biggest comeback of my tennis career."
Nadal, 35, returned from a chronic foot injury that had him considering retirement late last year and then came back on Sunday in a match he trailed by two sets to win, 2-6, 6-7 (5), 6-4, 6-4, 7-5.
Though Nadal sprinted to the players' box to embrace his father, Sebastián, he struggled to walk in the aftermath of his victory, collapsing to the floor of the players' gymnasium and hobbling up the steps to give a postmatch news conference that began at 2:42 a.m. on Monday in Melbourne.
"I was not ready physically for these kind of battles, honestly," Nadal said. "I am super, super tired in all ways. I even can't celebrate. But it was the day to give everything, no? I enjoyed it. I enjoyed the fight. I enjoyed the emotions. At the end to have this trophy with me means everything."
The trophy also meant a lot to Barty. On the 100th anniversary of the first women's event at the Open, Barty's match drew huge local television audiences on Saturday as she became the first Australian to win the singles title since Chris O'Neil in 1978, striking a chord on the court as she embraced the former champion Evonne Goolagong Cawley, who, like Barty, is of Indigenous Australian heritage, and who has become a friend and mentor.
Another woman became a focus early in the tournament, when protesters concerned about Chinese tennis star Peng Shuai, who has mostly disappeared from public life after she accused a former top Chinese leader of sexual assault, wore T-shirts bearing the slogan: "Where is Peng Shuai?" The shirts were banned, but after criticism from the 18-time major singles champion Martina Navratilova and others, the Open reversed its policy, and a thousand of the shirts were given to fans at the women's final.