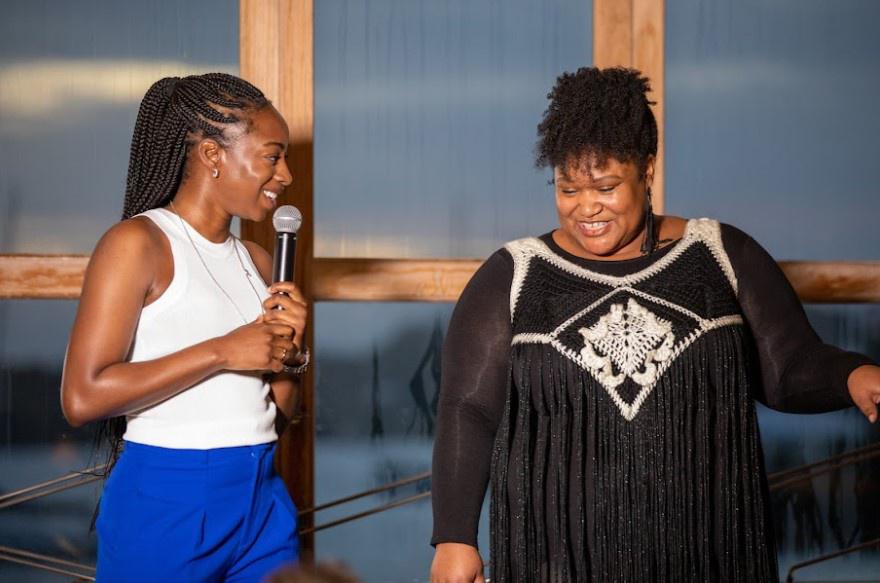 Our Month In Bermuda, 5 Under 30s Who Raised $100 Million & Reimagining Movie Theaters
The Forbes Under 30 newsletter is your weekly digest of all things young movers and makers. Sign up here.
Greetings! I've spent the last 13 days in Bermuda, helping to lead content for the month-long Under 30 residency for a group of Forbes 30 Under 30 Listers and their guests. This is the first time we've done such a residency, and it's been an electric and inspiring learning experience. The members of this cohort hail from as close to me as New York City and as far as Singapore, with representation from the many other regions touched by our global Forbes 30 Under 30 lists.
Here's a photo from our stint, featuring Forbes Under 30 Tobi Ajala and local entrepreneur Samantha Smith, taken by my colleague Juliet Muir:
In my normal life, I'm the reporter and community lead for Forbes Under 30. This makes my life's work about telling stories of young trailblazers around the world. And I'll be taking over writing this newsletter from my dear former colleague Alexandra Wilson.
But back to Bermuda. Last week, I moderated a panel on making career pivots and featured three founders: Jasmine Lawrence of Eden BodyWorks, ClearMask's Aaron Hsu and Tobi Ajala, who started TechTree. Other highlights included Under 30s mentoring local entrepreneurs (like Tobi and Samantha above), a food tour and trash cleanup and more.
Take a look at the recap of Week 2 see how it went down.
The Pandemic Crushed Most Movie Theaters—But This 27-Year-Old's Chain Doubled In Size
Now with 16 locations, 148 screens and 108 bowling lanes, Roberts expects more than $125 million in sales this year for his Evo Entertainment cineplex company. And he's still tweaking his pandemic-era model. "We're experimenting with pods," he says. That's a loveseat for two, with distance and privacy from fellow moviegoers, be it for Covid-19 protection or other benefits.
This Week's Money Moves
As inflation leads to higher grocery prices, American consumers seem to have passed through the stages of grief and settled on acceptance—even though the numbers are higher than anybody expected, including executives behind the U.S.'s biggest household brands.
Call center AI company Uniphore announced Wednesday that it had raised $400 million at a $2.5 billion valuation, making it the largest financing round for a company of this nature.
Zilingo, a 2019 Forbes Under 30 Asia fashion technology startup backed by Singaporean state-owned investor Temasek Holdings, is seeking to raise between $150 and $200 million at a valuation of more than $1 billion, according to insiders.
London-based Heygo—a platform like Twitch for travel—secured a $20 million Series A from investors at a $120 million valuation to connect guides who livestream city and market tours to an audience of travel-hungry at-home viewers.
Meet the 2022 Forbes Blockchain 50, our definitive list of the biggest movers of companies using distributed ledgers.
Longtime Under 30 alum Stripe leads a $75 million investment round into payroll infrastructure startup Check, propelling the three-year-old company to a $725 million valuation.
The Inside Scoop: Exclusive Under 30 News
Call them the $100 million marvels. For the latest print issue of Forbes, we talked with five Under 30s raising nine figures.
Fenco Lin, 29
Cofounder, Cider
A Chinese native, Lin has fetched $140 million to sell fast fashion to Gen Z. Top VC shops including Andreessen Horowitz have valued the TikTok-beloved brand at $1 billion.
Sam Aarons, 29, and Matt Marcus, 27
Cofounders, Modern Treasury
Modern Treasury raised some serious coin ($133 million) building software to help entrepreneurs manage cash flow, payments and receivables as easily as they can Venmo a pal for last night's pizza.
Alex Bouaziz, 28
Cofounder, Deel
Build a global company without jet lag: Deel's software handles the headaches of hiring international employees. Last year it raised an additional $581 million ($630 million total). Valuation? $5.5 billion.
Roey Eliyahu, 29
Cofounder, Salt Security
The former Israeli army sergeant once fought cyberterrorists. He has since collected $131 million to develop AI software to defend critical infrastructure against hackers.
Recommendations From Beyond The Newsroom
2022 For(bes) The Culture Culturally Accountable Summit
Join us on Wednesday, March 2, for the 2022 For(bes) The Culture Culturally Accountable Summit as we focus on cultural accountability as it relates to building wealth within Black and Brown communities. Sign up to gain Insights from Monique Idlett, Percy (Master P) Miller, Antonio Mackey and more. Don't miss your chance to register for free today.
Should you stick with the crowd and avoid individual shares entirely? Or do they pose unique advantages that many are missing out on? Here we discuss.