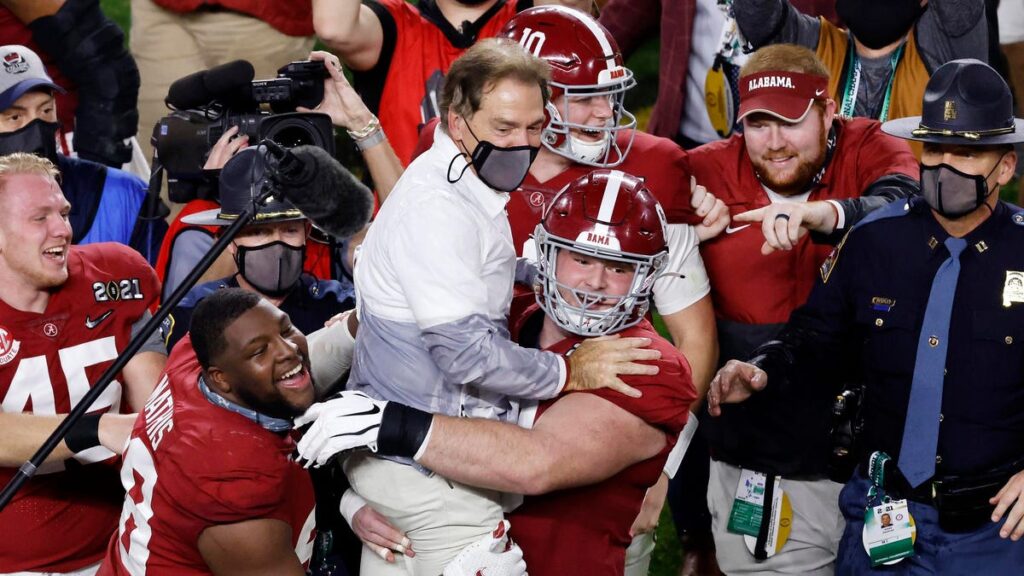 Next College Football National Champion Could Come Via Forfeiture With New Playoff Rules
Topline
If any of the four colleges competing for the 2021 college football title has a severe Covid-19 outbreak, the school will have to forfeit its playoff game, the committee that oversees the College Football Playoff said Wednesday, raising the possibility that the national champion could be the last team standing amid the omicron outbreak.
Key Facts
The committee outlined a number of forfeit scenarios should one of the four participating teams – the University of Alabama, University of Cincinnati, University of Georgia and University of Michigan – have an "insufficient number of athletes" due to Covid-19 in a Wednesday statement.
If a team can't play its December 31 game, it will forfeit its contest and its opponent will advance to the national championship.
If both teams in one of the semifinals are unable to participate due to respective coronavirus outbreaks, then the other semifinal will immediately become the national championship game.
If three teams in the semifinals can't play, the remaining team will be immediately crowned national champion.
Should two teams reach the January 10 national championship game and one team is suffering from a Covid-19 outbreak, it will be given the chance to postpone the game by no more than four days or will need to forfeit.
Tangent
The new policies came shortly after another announcement raised the alarm on Covid-19 ruining college football's lucrative bowl season. Texas A&M University said Wednesday it would pull out of the Gator Bowl December 31 due to Covid-19 and injury issues. Texas A&M head coach Jimbo Fisher said, "We just don't have enough scholarship players available to field a team."
Key Background
The highest division of college football is the only sport governed by the National Collegiate Athletic Association without an NCAA-sanctioned national championship, though the College Football Playoff winner is widely considered the football national champion. Both Alabama and Georgia are already dealing with positive tests in the programs nine days before their semifinals games. Alabama announced Wednesday that its offensive coordinator and offensive line coach tested positive for Covid-19 and that the team is returning to stricter masking and social distancing policies, while Georgia's second-string quarterback JT Daniels reportedly tested positive for the virus Tuesday. Michigan offensive lineman Andrew Stueber said that Michigan will get a "full team booster shot" on Wednesday and that the team has instituted stricter protocols similar to Alabama's. College football is hoping to avoid the rash of Covid-19 cases hitting professional sports leagues. The National Hockey League put its season on a four-day pause this week due to coronavirus concerns, while about 200 National Football League players and about 100 National Basketball Association players have been sidelined due to Covid-19 over the last week.
Further Reading
Texas A&M unable to play in Gator Bowl vs. Wake Forest due to COVID-19 outbreak (The Athletic)
College Football Playoff champion can be crowned via COVID-related forfeit, new policy states (ESPN)