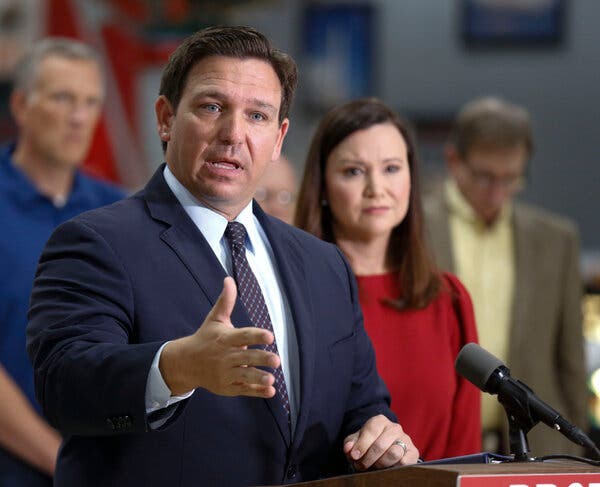 Mental Health Conditions Can Heighten Covid-19 Risk, C.D.C. Says
Calling a rule that federal contractors must show proof of Covid-19 vaccination or submit to weekly testing a "heavy-handed mandate," Gov. Ron DeSantis of Florida announced on Thursday that his administration was suing the federal government to challenge the requirement.
The lawsuit, filed in U.S. District Court in Tampa, seeks to block a Dec. 8 deadline imposed by the Biden administration for federal contractors to get vaccinated.
Legal experts say the federal government has broad authority to address a public health crisis like the pandemic with measures like vaccine mandates and that such suits have little chance of succeeding. The Supreme Court has turned away legal challenges to vaccine mandates at Indiana University and for health care workers in Maine.
Mr. DeSantis, a Republican, spoke at a news conference at the Florida Air Museum in Lakeland, in a nod to the state's aerospace contractors. Among the named defendants in the lawsuit are NASA and its administrator, Bill Nelson, a former U.S. senator from Florida.
"We've got a very big footprint of companies that do contracting work for the federal government," Mr. DeSantis said about his state. "There's a lot of folks that will be in the cross hairs on this."
Joining Mr. DeSantis at the news conference were the state's attorney general, Ashley Moody, and several contractors and their relatives. One contractor who provides vending machines to federal and state buildings said that he had not yet gotten a shot because he was "waiting for more information" on vaccinations.
Information about Covid vaccines has been issued by vaccine makers, the Food and Drug Administration, the Centers for Disease Control and Prevention and many news organizations.
Mr. Biden told would-be litigants against his vaccine plan to "have at it" after he announced it in September. And several Republican governors have vowed to do just that.
Lawrence O. Gostin, a Georgetown University law professor who specializes in public health, wrote in an email that "DeSantis will almost certainly lose this lawsuit."
Mr. Gostin said he expected that Biden's order to vaccinate federal workers and contractors would stand, even in states that have banned vaccine mandates, because under the Constitution's supremacy clause federal rules pre-empt state and local dictates.
"The president is the head of the federal workforce," Mr. Gostin wrote. "Just like any business or employer, he has the clear power to set reasonable, evidence-based rules to ensure a safe and productive workforce."
Lawsuits like Mr. DeSantis's are politically motivated, and are damaging because they feed public doubts about vaccination, Mr. Gostin said.
Mr. Gostin said that he thought mandates that do not include religious exemptions, like one for health care workers in New York State, could be more legally vulnerable.
"I feel strongly there is no legal requirement to offer religious exemptions, but the Supreme Court is highly sensitive to religious claims," Mr. Gostin said.
Mr. DeSantis faces re-election next year, and is considered to be a leading hopeful for the Republican presidential nomination in 2024 in the absence of a bid by former President Donald J. Trump, who won the state in the last two elections. For months, Mr. DeSantis has been a forceful opponent of all Covid vaccine requirements.
This year, the Florida Legislature and Mr. DeSantis prohibited businesses from requiring customers to show proof of vaccination. Mr. DeSantis has said he intends to call a special legislative session to ban employers from requiring employees to be vaccinated. He also vowed on Thursday that Florida — which requires that students at both public and private schools get at least six kinds of vaccinations, including those for diphtheria, measles and hepatitis B — would not require schoolchildren to get Covid shots.
On Thursday in Lakeland, Mr. DeSantis stood behind a lectern with a sign that read "Protect Florida Jobs," and warned of a wave of attrition if federal vaccine mandates are allowed to take effect.
"We are not going to deny people their ability to make a living based on their decision about an injection," he said.
The Centers for Disease Control and Prevention has amended its website to add mental health illnesses, including depression and schizophrenia, to its list of health conditions that make people of any age more likely to become severely ill from Covid-19.
The change, which the agency's website registered as having occurred on Oct. 14, makes about 85 percent of the adult U.S. population eligible for booster shots, said Dr. Paul Offit, a professor at the University of Pennsylvania and a member of the Food and Drug Administration's vaccine advisory panel.
"The door just keeps getting wider and wider," he said.
The C.D.C. recommends boosters for people 18 or over with certain underlying health issues. According to the National Alliance on Mental Illness, about one in five American adults experience some form of mental illness each year.
Preliminary research has shown an association between mental health disorders and hospitalization and severe sickness from Covid. A study published in January in JAMA Psychiatry found that Covid patients with schizophrenia were nearly three times more likely to die from the virus, although people with mood and anxiety disorders were not at an increased risk of death from coronavirus infection.
Research published in The Lancet Psychiatry last November suggested that "a psychiatric diagnosis might be an independent risk factor" for contracting the virus.
"Not only would it increase the risk of Covid," said Maxime Taquet, the lead author of the study and a psychiatry researcher at Oxford University, "it would increase the severity of Covid once you have it."
Chronic mental health conditions can exact a physical toll and "wreak havoc on the body's immune system," making people who suffer them more vulnerable to diseases like Covid, said Dr. Christine Crawford, an associate medical director at the National Alliance on Mental Illness.
"They're at increased risk, just because of the impact the stress response has on the body," Dr. Crawford said.
Even before the pandemic, people with mental health conditions were generally at an increased risk of potential adverse health outcomes, said Dr. Arthur C. Evans Jr., the chief executive of the American Psychological Association.
"If you have a major mental illness, your life expectancy is 10 to 25 years less than people who don't," he said. "We need to think about and treat mental illnesses in the same way we treat physical illnesses."
City officials are bracing for the possibility that thousands of essential workers — including police officers, firefighters and sanitation employees — could be placed on unpaid leave starting Monday, when the city's sweeping mandate requiring that almost all municipal workers receive at least one dose of a coronavirus vaccine takes effect.
With just over one-third of the workers in the Fire and Sanitation Departments, and one-quarter of the police force, yet to prove that they had been vaccinated as of Thursday morning, city agencies were putting in place an array of contingency plans, including mandating overtime for vaccinated workers and canceling vacations to fill staffing gaps.
Mayor Bill de Blasio, a Democrat in his second term who issued the mandate, predicted on Thursday that many city workers would get a shot at the last minute, as happened just before similar mandates took effect in recent months for health care workers and school employees.
"I am not having second thoughts," Mr. de Blasio said, adding that he was confident the city would not face serious disruptions. "We expected that a lot of the vaccinations would happen toward the end of the deadline."
But defiance of the mandate is running high among some workers. In a protest outside the mayor's residence, Gracie Mansion, on Thursday, many demonstrators wore sweatshirts and shirts bearing Fire Department engine and ladder company numbers from across the city. Union leaders led chants of "Hold the line!" and took aim at Mr. de Blasio for ordering vaccinations on what they said was too short a timeline.
New York is one of the first major American cities to require that its entire work force receive the vaccination — without the option of getting regular coronavirus tests instead. San Francisco set a similar vaccine mandate for its 35,000 city workers, which goes into effect on Monday, and Los Angeles and Chicago have been pushing public workers to get vaccinated. Among states, Washington and Massachusetts are requiring state employees to be fully vaccinated.
Dire predictions of job loss also preceded each of the last two vaccine mandates — one for the tens of thousands of Department of Education employees, which went into effect on Oct. 4, and again for over a million health care workers across the state, which went into effect around the same time.
In each case, thousands of holdouts appeared for shots at the last minute — and in some cases, after the deadlines — boosting vaccination rates among health care and education employees to around 95 percent, the city said.
Mayor de Blasio said he was counting on the same thing happening again with the city's remaining unvaccinated workers, who numbered 46,000 as of last week. The official deadline for their first dose is Friday at 5 p.m., but unvaccinated workers can work though the weekend before being put on unpaid leave on Monday.
Employees at meatpacking plants are considered essential workers in the United States, so when others stayed home early in the pandemic, they kept working, often standing elbow to elbow in processing lines with little room for social distancing. And meatpacking workers are known to have been among the hardest hit by the coronavirus of any occupation.
But lawmakers now say the impact was far worse than previously believed, with triple the number of infections and deaths at five of the country's largest meatpacking conglomerates, where some major facilities became major hot spots early in the pandemic.
A congressional report, based on newly obtained documents from the nation's five largest meat processing companies, found that between March 1, 2020, and Feb. 1, 2021, roughly 59,000 workers contracted the coronavirus, nearly three times the 22,700 infections estimated over a longer period, between April 2020 and September 2021, by the Food and Environment Reporting Network, a nonprofit news organization whose data on the industry has been widely cited.
The House Select Subcommittee on the Coronavirus Crisis, which published the report on Wednesday, said that 269 deaths were recorded among plant workers in that time, triple the reporting network's earlier estimates.
The group based its data on publicly available information from the five companies that control more than 80 percent of the U.S. market for beef and more than 60 percent of the market for pork: JBS USA, Tyson Foods, Smithfield Foods, Cargill, and National Beef.
The lawmakers said the companies could have taken more steps to keep coronavirus infections and deaths at bay in their plants.
"Instead of addressing the clear indications that workers were contracting the coronavirus at alarming rates due to conditions in meatpacking facilities, meatpacking companies prioritized profits and production over worker safety, continuing to employ practices that led to crowded facilities in which the virus spread easily," the report said.
The committee identified plants where the virus spread the most in the pandemic's first year, including a JBS plant in Hyrum, Utah, where 54 percent of employees contracted Covid-19. Half the workers at Tyson's plant in Amarillo, Texas, contracted Covid-19, the report said, as did 44 percent of workers at the National Beef facility in Tama, Iowa.
The industry operates largely in rural areas, and depends disproportionately on Black and Latino immigrants to do the low-wage work of cutting, deboning and packing the chicken, beef and pork that reaches American dinner tables.
Meat processors faced criticism last year for a lack of worker protections. Many workers died as the virus swept through processing plants, some of which were forced to close temporarily. Workers staged walkouts over concerns that they were not being properly protected.
Some plants installed dividers between work stations and slowed their production lines in order to widen the space between workers. A few companies also offered financial incentives to keep workers on the job.
Tyson said it had spent more than $700 million on Covid safety measures and on introducing on-site medical services to its plants. The company announced this week that 96 percent of its workers were vaccinated.
Public school students in Oakland, Calif., who are 12 or older and have not been vaccinated against Covid-19 by January will either be transferred to an independent-study school or dropped from enrollment entirely, under a plan the district's Board of Education approved on Wednesday.
Students who are not vaccinated by the Jan. 1 deadline and do not have a valid exemption will be offered a transfer to Sojourner Truth, the district's "long-term independent study school," according to a memorandum published by education officials in Oakland on Wednesday.
Unvaccinated students who do not agree to be transferred to that school will be unenrolled "after having been provided with sufficient information and opportunities to access the Covid-19 vaccine as well as progressive warnings," the memorandum said.
Oakland's Board of Education voted on Sept. 22 to require students aged 12 or older who attend school in person to be vaccinated against the coronavirus. The mandate allows exemptions for medical reasons, personal beliefs, and some others as required by law, according to the memorandum. The board required Superintendent Kyla Johnson-Tramell to make recommendations by the end of October on how to enforce the mandate.
Educators around the country are eager to preserve in-person instruction and school activities, after more than a year of remote and hybrid learning, as health officials expand vaccine eligibility for younger people.
Since September, educators in Los Angeles, Piedmont, San Diego and Berkeley have approved vaccine mandates for students aged 12 or older, according to the memorandum. Gov. Gavin Newsom of California said this month that students of all ages throughout the state could be required to be vaccinated to attend school next fall, once the F.D.A. gives full approval for vaccinating them.
Some parents and students in California have welcomed vaccine mandates, saying the requirements will make schools safer. Other parents have argued that students and their families should be free to decide for themselves whether to be vaccinated, and that the mandates would be debilitating for unvaccinated students.
There are more than 35,000 students in the Oakland Unified School District. More than 44 percent are Latino, 22 percent are Black and 6 percent are multiracial, according to the district's website.
Based on current vaccination rates, the Oakland memorandum said, African American, Latino or multiracial students are more likely than others to be unenrolled under the vaccination policy.
In a letter published on Monday, the district estimated that about 60 percent of its students aged 12 or older were partially or fully vaccinated, based on state data from mid-October.
"We are currently reaching out to each family with a student who is at least 12 years old, whose vaccination status could not be confirmed by the state, so we can share information about where they can get vaccinated, and to update our records about students' vaccination statuses," the letter said.
The district adopted the enforcement plan after considering two other options. One would have allowed unvaccinated students to attend classes but would have barred them from participating in activities like sports, field trips, proms or in-person graduation ceremonies. The other would have effectively delayed the deadline for student vaccination until August 2022.
global roundup
Only days before South Korea plans to implement its phased recovery plan to "live with Covid," the country recorded 2,111 daily new cases, a record in almost three weeks. The uptick of several hundred has been alarming to some citizens, but an increase in available hospital beds for severely ill patients compared to earlier in the year indicates that the country is still on the right track in battling the pandemic.
While the local cases have increased, intensive care units in hospitals are much emptier than they were before, says Jerome Kim, director general of the International Vaccine Institute in Seoul, who added on that earlier in the year nearly all of the ICU beds were full. "Now, they are not."
At a live briefing session earlier this month, Lee Gi-il of the Korean Central Disaster and Safety Countermeasure Headquarters said in a press briefing that "the medical response system remains somewhat stable," adding on that 52 percent of hospital beds were available to treat critically ill patients.
President Moon Jae-in announced earlier this week that the country had reached its vaccination goals of 70 percent and would be starting the gradual return to normal life "in earnest" starting next month, allowing for businesses to operate past 10 p.m. and people to gather in certain regions up to groups of 10.
While a spike of several hundred cases might not have even garnered much attention in the United States, which has recorded over 740,000 deaths from the virus compared to South Korea's 2,808, such an increase in cases could potentially shift quarantine and social distancing regulations as it has in the past.
"South Korea has had a very graded approach toward the coronavirus," said Dr. Kim. He also mentioned that the government has changed its social distancing regulations based on the changes in numbers. He added that South Korean people are affected by these numbers, as such changes in regulations directly impacts their daily lives.
The nation, which has faced four waves of the virus since the beginning of last year, is in its worst surge, which started in July. Despite this, Dr. Kim says that the country has done "very well" in terms of handling the pandemic, mentioning the country's low death rate and its ability to grow its economy throughout the past year. According to the Bank of Korea, the nation's central bank, the South Korean GDP saw a 4 percent year-on-year growth as of this month.
While an easing of restrictions will allow for business owners and consumers to enjoy an opening up of the economy, health care experts urge the public to use personal discretion in preventing the possibility for further outbreaks. "Living with Covid is going to be complicated," said Dr. Kim. "There is no one answer key."
Here's what else is happening around the world:
The pandemic dealt a serious setback to global efforts to immunize children against diseases like measles and polio, the Centers for Disease Control and Prevention reported on Thursday, reducing worldwide coverage for some vaccines to levels not seen since more than a decade ago.
The proportion of eligible children who received a polio vaccine fell to 83 percent in 2020 from 86 percent the year before, as did coverage with the third dose of the diphtheria-tetanus-pertussis vaccine, known as DTP3. Coverage with the measles vaccine also dipped slightly, to 84 percent last year from 86 percent in 2019.
Those setbacks, while seemingly small, meant that millions more children missed out on routine immunizations during the pandemic, putting them and their communities at risk.
Globally, nearly 23 million children targeted for the DTP3 shot were not vaccinated in 2020, compared with 19 million in 2019, the C.D.C. said. The vast majority of those had not received a single dose of diphtheria-tetanus-pertussis vaccine. Not since 2009 had coverage with that vaccine been so low.
The C.D.C. scientists involved in the report called for action to be taken to address the immunity gaps of preventable diseases in countries already saddled with Covid outbreaks. Scientists from the World Health Organization and UNICEF also were co-authors on the study.
The decline in vaccinations follows a decade of stagnant immunization levels. In 2019, measles deaths swelled to their highest levels in 23 years, a consequence of what public health experts described as insufficient vaccination coverage. Scientists said that the pandemic had hampered the tracking of measles outbreaks.
The pandemic also disrupted immunization programs, the C.D.C. report said, interrupting the supply of basic vaccines and making it more difficult to administer them.
Immunization levels for diphtheria-tetanus-pertussis and measles were lowest in much of Africa, the report said. The W.H.O. also said on Thursday that only five of Africa's 54 nations were expected to reach a year-end goal of vaccinating 40 percent of their people against Covid. UNICEF, a United Nations agency working to distribute coronavirus vaccines, warned of a shortfall next year in syringes for both Covid and routine vaccinations.
This week, after tracking every movement of a couple of retirees who tested positive after visiting Gansu Province, Inner Mongolia and Xi'an, China locked down a city of four million, as well as several smaller cities and parts of Beijing. The aim was to contain a new outbreak that has infected more than 240 people in at least 11 provinces and regions.
The no-holds-barred response is emblematic of China's "zero Covid" policy, which has served the country remarkably well: China has reported fewer than 5,000 deaths since the pandemic began. The scale of the new outbreak, while tiny compared with many other countries, is large for China.
The policy has also, increasingly, made China an outlier. The rest of the world is reopening, including New Zealand and Australia, which also once embraced zero tolerance.
"Every locality should firmly adhere to the policy of 'Defend externally against importation, defend internally against rebound,'" Mi Feng, a spokesman for the National Health Commission, said at a news conference on Sunday. "The current control measures cannot be relaxed."
The strict strategy is the product of a uniquely Chinese set of calculations. Thriving exports have helped to keep the economy afloat. The ruling Communist Party's tight grip on power enables lockdowns and testing to be carried out with astonishing efficiency. Beijing is set to host the Winter Olympics in February.
For many Chinese, the low case numbers have become a source of national pride. But experts — both in China and abroad — have warned that the approach is unsustainable.
"The regime thinks it needs to maintain a 'zero Covid' policy to maintain its legitimacy," said Lynette Ong, a political scientist at the University of Toronto. "At a huge cost, though."
As countries across Africa struggle to vaccinate 1.3 billion people, the continent faces another obstacle besides a lagging supply of doses: the looming likelihood of a shortage of syringes.
"Early next year, Covid-19 vaccines will start pouring into Africa, but a scarcity of syringes could paralyze progress" Dr. Matshidiso Moeti, the W.H.O.'s regional director for Africa, said at a news briefing. "Drastic measures must be taken to boost syringe production, fast. Countless African lives depend on it."
Rwanda, South Africa and Kenya have already reported delays in receiving supplies of syringes, according to the W.H.O.
Covax, a global vaccine-sharing initiative that is working to supply many African countries with doses, is now seeking agreements with syringe manufacturers and trying to plan to keep vaccine deliveries from outpacing the availability of needles.
Africa has the lowest vaccination rate of any continent, and the W.H.O. estimates that about 59 million of the continent's population have been infected with the coronavirus since the beginning of the pandemic, though only somewhat more than eight million cases have been officially recorded.
Unless "drastic measures" are taken to accelerate vaccinations, the organization said, only five African countries are projected to meet the target set by the W.H.O.: fully vaccinating 40 percent of their populations by the end of the year. Most of Africa's more than 50 countries already missed the W.H.O.'s target of vaccinating 10 percent of their populations by the end of September.
Wealthier countries have monopolized vaccine supplies, creating global inequities in distribution. Those inequities are only likely to be deepened as those same wealthier nations, including the United States, roll out booster campaigns.
By contrast, vaccine deliveries via Covax ground to a halt after India imposed export restrictions on doses as it dealt with its own resurgence this year. In September, regional health experts said that the unpredictability of the limited supply of doses reaching African nations added more obstacles. Some shipments, they said, were within two or three months of expiring — a shelf life too short for some health systems to reliably deploy, and one that many ordinary people interpreted as a signal of poor quality, contributing to vaccine hesitancy.
This week, as Saudi Arabia held its annual investment conference in Riyadh, a boisterous event that attracts business leaders and political officials from around the world, the big mystery was what happened to the host.
Yasir al-Rumayyan, the public face of the kingdom's increasingly global network of investments, was missing from the annual conference he typically presides over.
He did not deliver opening remarks in the conference ballroom, as he had been scheduled to do, and he did not show up at a panel discussion with the chief executives of Goldman Sachs and the money management company BlackRock.
He was even absent from the week's signature evening get-together: an opulent dinner for scores of event speakers at his home in Riyadh, the capital.
The organizers of the event, the Future Investment Initiative, referred questions about Mr. al-Rumayyan's absence to the Saudi government. Kevin Foster, the Public Investment Fund's global head of communications, did not respond to a request for comment.
There is a likely explanation. Four attendees with close ties to Mr. al-Rumayyan said that he had been diagnosed with Covid-19, an account that was widely whispered about in sideline conversations at the conference. The New York Times could not confirm those reports.
But the lack of an official explanation inadvertently highlighted one of the biggest concerns investors have with the kingdom's $450 billion sovereign wealth fund.
By not acknowledging Mr. al-Rumayyan's sudden absence, the fund only reminded investors that it still operates according to its own rules — under which transparency is not always a priority.
Brescia is an industrious northern city midway between Milan and Verona that is bypassed by most international visitors and whose considerable charms most Italians need reminding of, too.
It is known for an ancient Roman sculpture that for nearly 200 years has been a symbol of the city's resilience in times of trouble. Now the artwork, "Winged Victory," is returning to public view after a long restoration. The statue's return — celebrated in a national TV advertising campaign — couldn't have come at a more apt time for a city, and a region, devastated by the coronavirus.
"Life is returning to normal," but people "still need a little nudge," when it comes to traveling, Stefano Karadjov, the director of Brescia's municipal museums, said of the national ad campaign.
Thousands died here, and few Italians will forget the image of army trucks transporting coffins from Bergamo to remote cremation sites or cemeteries when the city's morgues were overwhelmed just weeks into the outbreak. At one point that spring, Brescia's hospitals had more coronavirus patients than any other place in Europe.
It was a time of "real terror," recalled Brescia's mayor, Emilio Del Bono, as just about everyone had a friend or a relative or a neighbor who died or ended up in intensive care. The coronavirus had completely infiltrated people's lives; "you sensed it close by," the mayor said.
Now, as contagions wane nationwide because of the government's aggressive vaccination drive, and as coronavirus restrictions on social activities increasingly loosen, Brescia is experiencing a moment of "postwar euphoria," Mr. Del Bono said.
Coronavirus cases may be falling in much of the world but they are on the rise again in Europe, where pandemic restrictions have been relaxed and cold weather has moved into some northern and eastern countries.
From Oct. 18 through Sunday, more than half the world's new confirmed cases were reported in Europe, a World Health Organization report said, and it was the only region that reported an increase in both new infections and coronavirus deaths.
Low vaccination rates in Eastern Europe are partly to blame for the grim numbers.
Although several Western European countries have reported a rise in cases, they have fully immunized the majority of their adult populations, and have seen relatively low numbers of deaths and hospitalizations.
The picture is starkly different in the East, where vaccinations are readily available, but many people remain hesitant to get shots, mainly because of widespread mistrust of the authorities.
"The global number of reported cases and deaths from Covid-19 is now increasing for the first time in two months, driven by an ongoing rise in Europe that outweighs declines in other regions," Dr. Tedros Adhanom Ghebreyesus, the W.H.O. director general, said in a briefing on Thursday. "It's another reminder that the Covid-19 pandemic is far from over."
Europe recently overtook the United States in daily cases per capita, with nearly 29 cases per 100,000 people, compared with about 22 in the U.S., according to Our World In Data.
The countries hit hardest now are concentrated in Eastern Europe, and there are serious concerns that another surge could shatter their underfunded and understaffed health care systems.
The Baltic nations — Estonia, Latvia and Lithuania — are each averaging more than 100 new daily cases per 100,000 people, according to a New York Times database.
Latvia became the first E.U. member to institute a general lockdown on Oct. 21, and Estonia has also put new restrictions in place. Latvia's vaccination rate is among the lowest in the European Union, with just under half its population fully vaccinated; the figure across the bloc as a whole is around 64 percent.
In Romania, where only 30 percent of residents are fully immunized, the situation has become so dire that this month the government asked for emergency help from other European Union countries. On Oct. 19, as hospitals were running out of beds, the country recorded its highest death toll since the beginning of the pandemic.
And in Poland the health minister said last week that the country was facing "an explosion of the pandemic," after it recorded 85 percent and 100 percent weekly increases in new cases.
The picture grows grimmer beyond the E.U. borders. In Russia, which recorded the highest death toll in Europe, the Kremlin this week issued a stay-at-home order for workers until Nov. 7. And in neighboring Ukraine, only 16 percent of the population has been fully immunized.
But the recent spike in cases isn't limited to Eastern Europe. In Germany, cases have doubled since Oct. 1. Britain is averaging 66 new daily cases per 100,000 people, and its positivity rate has been persistently high since the Delta variant swept through the country over the summer.
And in Belgium, the government reimposed restrictions on Tuesday that had been removed only weeks ago, with cases steadily increasing.