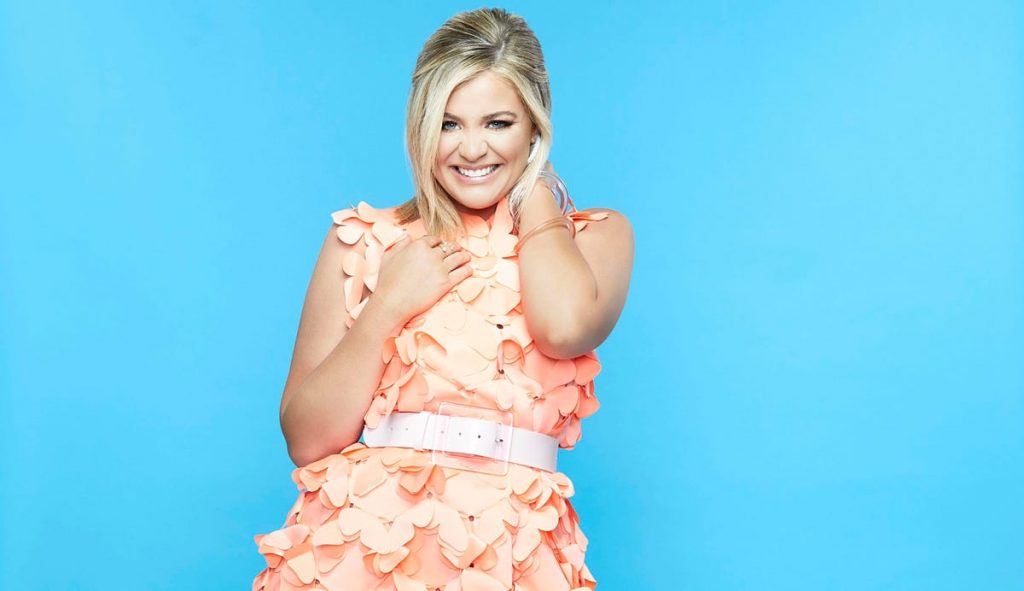 Lauren Alaina Finds Herself On 'Sitting Pretty On Top Of The World'
Lauren Alaina hasn't let the pandemic slow her down. The country singer, who was runner-up on Season 10 of American Idol at age 15, continues to expand her brand in 2021 as an artist, actress and author.
Alaina, 26, releases her third album, Sitting Pretty on Top of the World, today via Mercury Nashville. On Saturday, Sept. 11 her film Roadhouse Romance premieres on the Hallmark Channel and on Tuesday, Nov. 23 her book, Getting Good At Being You, debuts. She credits juggling her many ventures to having a strong team around her.
For Alaina though, it is her unwavering faith and passion for music that has kept her going through difficult times. The best business advice she's learned is don't ever give up. "If there's something inside you telling you that you're supposed to do something, you probably are," she tells me.
MORE FROM FORBESDolly Parton Teams With Bestselling Author James Patterson To Pen First Novel 'Run, Rose, Run'By Annie Reuter
After placing second on American Idol, Alaina moved to Nashville. Things didn't connect immediately for her, and Nashville was expensive for the teenager from Rossville, GA. Times were tough, and she had to make the difficult decision to sell the Shelby Cobra Mustang she won while on American Idol.
"I was famous, but I wasn't successful," she says of the years following American Idol. "I didn't have money and in order to survive I had to sell it. It was the hardest decision. I couldn't make ends meet so I sold that car, but I couldn't go home. Something in me was like, 'You can't go home. You've got to stick this out.'"
Around the time she sold her car, Alaina got new management and her manager, Trisha McClanahan, gave her $10,000 and an opportunity with Cracker Barrel. Through her partnership with Cracker Barrel, Alaina received gold meal cards and could eat at the restaurant for free.
MORE FROM FORBESAfter Years Of Writing Hits For Other Artists, Niko Moon Releases Debut Album 'Good Time'By Annie Reuter
"Trisha helped transform my life," she says. "I started writing and I wrote 'Road Less Traveled,' which earned me my first number one song on country radio, and I've kept trucking along. I kept pushing forward and I kept trying to figure out how to make ends meet."
She'd garner another No. 1 song with childhood friend and classmate Kane Brown on his single "What Ifs" and Hardy and Devin Dawson with "One Beer." She eventually paid her manager back and last year her family tracked down her old Shelby Cobra Mustang and she bought it back as well as a new home.
"I've been really fortunate and really blessed," she adds, "but I had to go through some really hard times of uncertainty to get there. My biggest piece of advice is, if something is telling you it's meant to be it's probably meant to be. You're just going to have to be willing to stick it out and see what that is."
Much like her early years in Nashville, Alaina went through some heartbreak ahead of releasing Sitting Pretty on Top of the World. After going through two public breakups, losing her stepfather and learning to adapt to the Covid-19 pandemic, Alaina channeled these events and emotions into the 15-track project. Along the way, she hopes sharing her pain helps others heal.
Title track "On Top of the World" was inspired by a pandemic walk Alaina went on. Upset at what was going on in the world and in turn upset with herself, the line "hitting rock bottom sitting on top of the world" came to her. She took the idea to songwriters Jordan Reynolds and Sasha Sloan, and they transformed the concept into a song about a breakup.
MORE FROM FORBESNelly Embraces His Country Roots On 'Heartland'By Annie Reuter
"I had some pretty big life altering events … and I was the girl with the biggest personality, but I've also really struggled with depression," she says. "The last few years have been a time of discussing mental health more so that's why I named the project that — so I could share that story and then also the title 'Sitting Pretty on Top of the World' is just a really empowering title."
Album opener "It Was Me" has Alaina reflecting on a former relationship while admitting her insecurities and the harsh realization, "It wasn't you I didn't love/ It was me."
"I was just young, and I wasn't in a place of self-love or loving myself that I could accept love or give it properly," she says of her first relationship. "I wanted to say that for him. I don't know if he'll ever hear it, but it was such an important thing for me to say and it was so important that it went first because he came first in my story and he's a huge part of who I am to this day."
"It Was Me" begins with the sound of a needle drop on vinyl while album closer "Change My Mind" has the vinyl fade out. Alaina says the album as a collection was important to her, as was reconnecting with herself. Additional highlights include previous single "Getting Good" featuring Alaina's mentor Trisha Yearwood, who also wrote the foreword to her book, and feel-good single "Getting Over Him" with Jon Pardi, currently No. 36 on the Mediabase country chart. Having written 14 of the album's 15 tracks, Alaina bestows a little of herself and the lessons she's learned on each track.
"I finally got myself into a place of healing," she says. "This pandemic is still obviously affecting us all, but because I stopped, I was able to process everything I've been through, and I was able to find a lot of healing through that. I'm really proud of that and I'm proud of this project as a whole. I think it really represents healing and I know that's what we all need. It helped me get there, so hopefully it can help somebody else too."