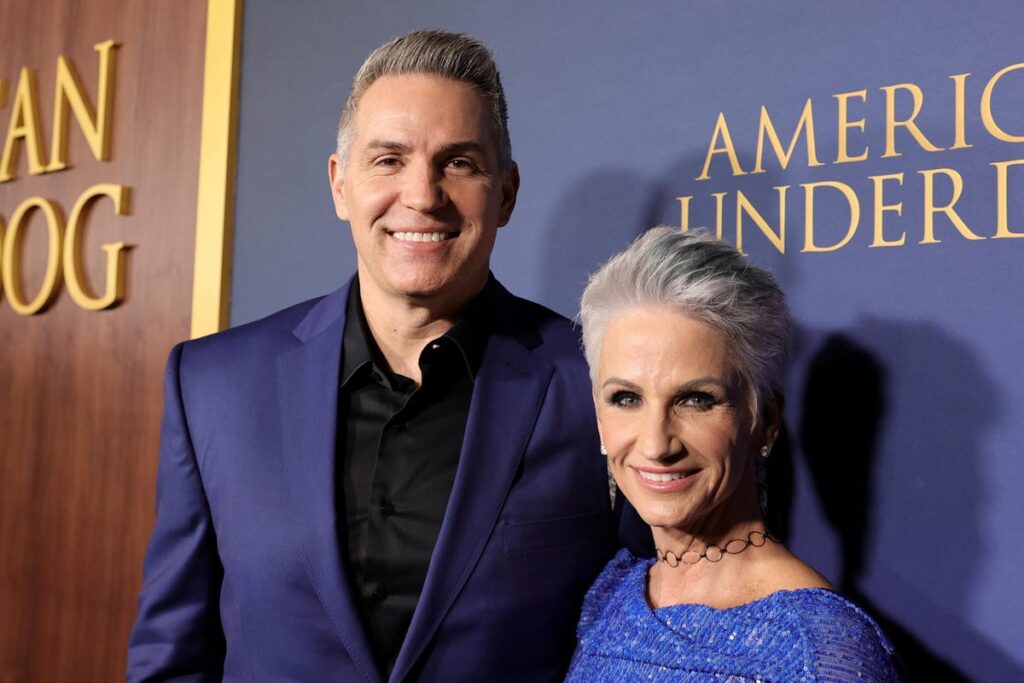 Kurt And Brenda Warner Talk 'American Underdog,' Their Family Of Faith, And Business Beyond Football
Kurt Warner is a beloved Super Bowl Champion, a NFL Hall of Famer, and now an Executive Producer of a major motion picture. Alongside his wife Brenda after 24 years of marriage, they have brought their remarkable true story to the big screen with the new Lionsgate film American Underdog, now playing in theaters.
With much of their lives documented in Kurt's 2000 bestselling book All Things Possible, I asked the happy and hardworking couple what the process was like bringing their journey from the page to the screen.
"The process was figuring out what exactly the story was," Kurt shares with me at Forbes. "When you're putting it on the big screen, what you realize is that you can't put your entire life into two hours. And so, that I think was the biggest challenge is being able to take the entire story, being able to take the book, and figuring out what was the angle – what was the right message that we wanted to share with the audience. It is been a long time coming. We've been working on the project for about ten years, trying to make sure that we did that."
American Underdog stars Zachary Levi and Anna Paquin as Kurt and Brenda Warner. The film takes moviegoers from Kurt's early football days at University of Northern Iowa and throughout his struggles striving to get noticed by the NFL. American Underdog also highlights the beginning of the couple's sweet love story and the sacrifices they made in pursuit of their passions.
Being such a personal story for the Warner family, I was curious what part of the cinematic storytelling was most important for Brenda (who is also an Executive Producer on American Underdog) to see translate authentically on-screen.
"For me personally, it was the relationship that Kurt has with our children," Brenda continues. "When I met him, I was divorced with the two children and one has severe brain damage and he's blind, so you know I had a lot of walls up. I was very much in the protective mode and when Kurt met my son and he was only about three years old then, those walls just really started coming down and the way that Kurt looked at my son and fell in love with him. Honestly, it was the first time I didn't have to explain his disability. It just really kind of shocked me but it also endeared me because there's something special about this guy, so that was important that they got that right for me."
Today, Brenda and Kurt have seven children at all different ages, something these parents have great pride knowing that American Underdog is a PG film that their entire family can enjoy together. They also share with me that their greatest hope is that moviegoers will get inspired to become an even tighter family after watching their family's story unfold on the big screen.
The Warners have always been vocal about their commitment to faith, with emotional scenes throughout the film that respectfully address that important part of their lives. So, I asked the Kurt and Brenda how they hold onto their faith after all these years, even with the public pressures and expectations that come with being a famous family.
"Bottom line is, I believe, you have to know who you are and why you're here," Kurt reveals. "I think from a faith perspective, the movie did a great job of meeting people where they're at. Brenda was in a different place than I was in our faith when we first got together and it was a journey for both of us. We want people to go into the theater and realize that same sort of thing – that we don't have to tell you where you need to be. Wherever you're at, it's something to explore and figure out what faith in that journey and that relationship means to you."
So, what is life like for the Kurt and Brenda these days? "We've got a son that's playing college football, so we're trying to get to see his games," Kurt says. "Other kids doing different endeavors, as well. Right now is about trying to jump into things that we're passionate about, things that we really enjoy doing. Retirement to me isn't sitting on the couch or playing 18 holes of golf every day. It's about having the freedom to do what you love doing, whether that's our passion for Treasure House, whether that's my passion for football, whether that's chasing after our kids – those are the things that we're passionate about that we love to do."
As Kurt mentioned, he and Brenda started Treasure House, a nonprofit organization that offers a unique active living community for young adults with cognitive and developmental disabilities. Kurt also founded QB Confidential, where he shares his secrets, knowledge, and expertise following his 12-season NFL career to help make better players, smarter coaches, and more informed fans. And though you can also now find Kurt as a NFL analyst, he has noticed his mindset toward business evolving this more than a decade since retiring from the game he loves.
"My business perspective is that for so long, my mind was on playing sports and being in the NFL and doing those sorts of things," Kurt continues. "As you advance and you move on, you come to realize that a big part of what you do is your platform, is your business, and being able to continue to hold onto that platform once your quote, unquote 'out of the spotlight.' That has really been where my mindset has changed over the years is that you love having the impact, you love having the voice to be able to touch the people around you. I think my mindset has changed a whole bunch from when it was tunnel vision on just playing sports to understanding how you're able to accomplish the things that you want to accomplish, primarily through the business that you are."
I wrapped up my conversation with Kurt and Brenda by asking them what message they might have for actors Zachary and Anna, who portrayed them on-screen in American Underdog.
Brenda went first by saying, "Oh my gosh, Anna Paquin rocked it! She gets me, she gets what I'm all about, and even if she doesn't like have the faith background that I have, she cared enough to get to know why I believe what I believe. I think she did a great job."
Kurt continued with, "I would say the same about Zach is that I love the portrayal. I love the emotions that he's able to bring out on the big screen, and I actually just love who the guy is. Once you get to know him and you know who he is, you can see that come to life on the big screen."