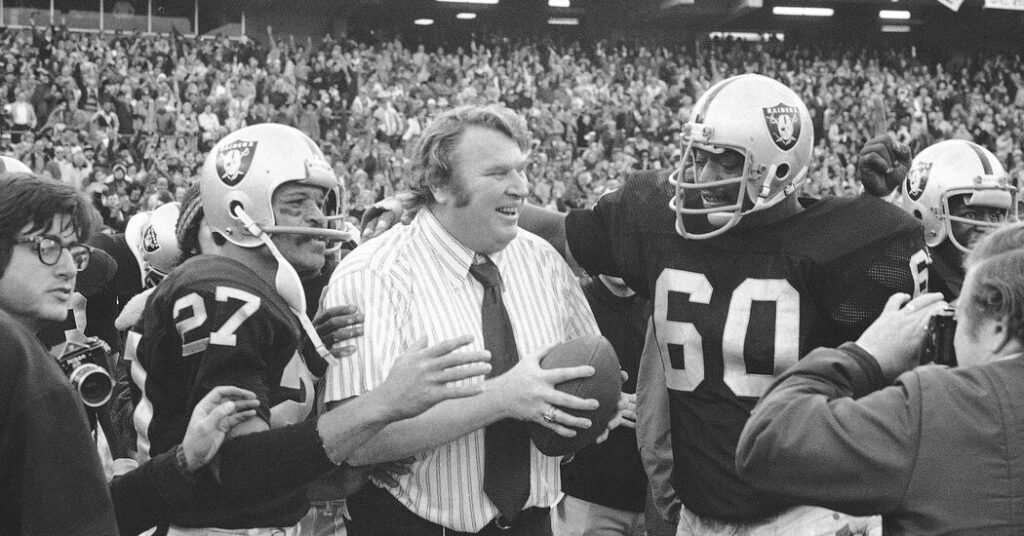 John Madden, Hall of Fame Coach and Broadcaster, Is Dead at 85
Madden, at age 32, inherited a team in 1969 that had gone a combined 25-3 the previous two seasons, and he maintained the Raiders' standard of excellence. Perhaps his greatest accomplishment was working as long as 12 years for Al Davis, the Raiders' irascible and Machiavellian owner — and staying close friends with him until Davis's death in 2011.
But when Madden retired, having been pummeled by ulcers and panic attacks and what is now regarded as burnout, he could boast of a résumé that included a Super Bowl XI demolition of the Minnesota Vikings in 1977; a .759 regular-season winning percentage (103-32-7), best among coaches who have worked at least 100 games; and an on-field view of some of the most controversial and memorable moments in football history: the notorious "Heidi" game (1968), the Immaculate Reception (1972) and the infamous Holy Roller play in 1978, his final season.
The thought of overseeing another minicamp, another round of draft preparation, bedeviled him. Lombardi coached for 10 years, and so would Madden.
"You traveled around but you never saw anything," Madden told The Washington Post in 1984. "Everything was an airplane, a bus, a hotel, a stadium, a bus, an airplane and back home. One day I said, 'There has to be more to life than this.'"
Bam!
And there was.
Working-Class Beginnings
John Earl Madden was born in Austin, Minn., on April 10, 1936, the oldest of three children, and the only son, of Earl and Mary (Flaherty) Madden. His father was a mechanic.
When John was 6, his family moved to Daly City, Calif., a working-class suburb of San Francisco whose proximity to the city offered adventurous escapes for sports-crazed boys. With his close friend John Robinson, who would become the head coach at Southern California and of the Los Angeles Rams, Madden hitched trolley rides into town and then sneaked into Kezar Stadium and Seals Stadium to watch football and baseball games.
His family was of modest means, but Madden was resourceful. He scrounged for gear in rummage bins and fashioned his baseball bats by taping together pieces found at semipro games. Opportunities for minor-league baseball beckoned — the Red Sox and the Yankees expressed interest — but Madden, from his time caddying for the well-heeled at the San Francisco Golf Club, had come to equate success with a college education.