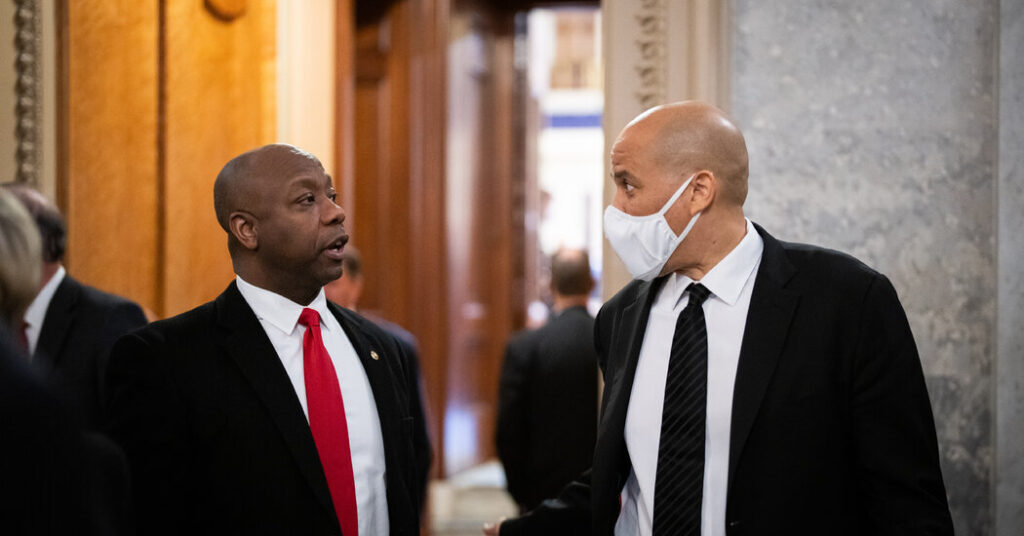 'I Will Not Sit Quietly': 3 Black Senators in Spotlight on Voting Rights
Speaking for "Americans from the Deep South who happen to look like me," the conservative Republican recounted the Jim Crow era that his grandfather had lived through, when literacy tests, job losses, beatings and lynchings kept Black Southerners from the polls. The Georgia law is nothing like the "Jim Crow 2.0" that President Biden and other Democrats have called it, he said.
"To have a conversation and a narrative that is blatantly false is offensive, not just to me or Southern Americans but offensive to millions of Americans who fought, bled and died for the right to vote," Mr. Scott said.
Understand the Battle Over U.S. Voting Rights
---
Card 1 of 5
Why are voting rights an issue now? In 2020, as a result of the pandemic, millions embraced voting early in person or by mail, especially among Democrats. Spurred on by Donald Trump's false claims about mail ballots in hopes of overturning the election, the G.O.P. has pursued a host of new voting restrictions.
That brought a sharp response from Mr. Booker. "Don't lecture me about Jim Crow," he said, adding: "It is 2022 and they are blatantly removing more polling places from the counties where Blacks and Latinos are overrepresented. I'm not making that up. That is a fact."
But it was Mr. Warnock who brought to the debate the names of his own constituents: a woman who has not been able to vote for a decade because of long lines and constantly moving polling places; a student who could not vote for him in 2020 because the epic waits near her college would have made her miss class; another who waited eight hours in the rain to cast her ballot.
"One part of being a first of any kind is thinking, 'How do I educate people?'" said Minyon Moore, who was a political director in the Clinton White House and a senior aide to Hillary Clinton. "I see that as a badge of honor, not a burden, and I know that Senators Warnock and Booker do, too. They have a responsibility to educate and explain. If they don't do it, who will?"
Mr. Warnock, too, brandished his biography, which included growing up in the Kayton Homes housing project in Savannah, Ga., the youngest of 12 children. His mother picked cotton in Waycross, Ga., as a child, he said, and "the 82-year-old hands that used to pick somebody else's cotton helped pick her youngest son as a United States senator" in 2021.
It was difficult enough when he beat the incumbent Republican, Kelly Loeffler, by about 93,000 votes with a huge minority turnout; this November will be worse with the state's new law, he said.