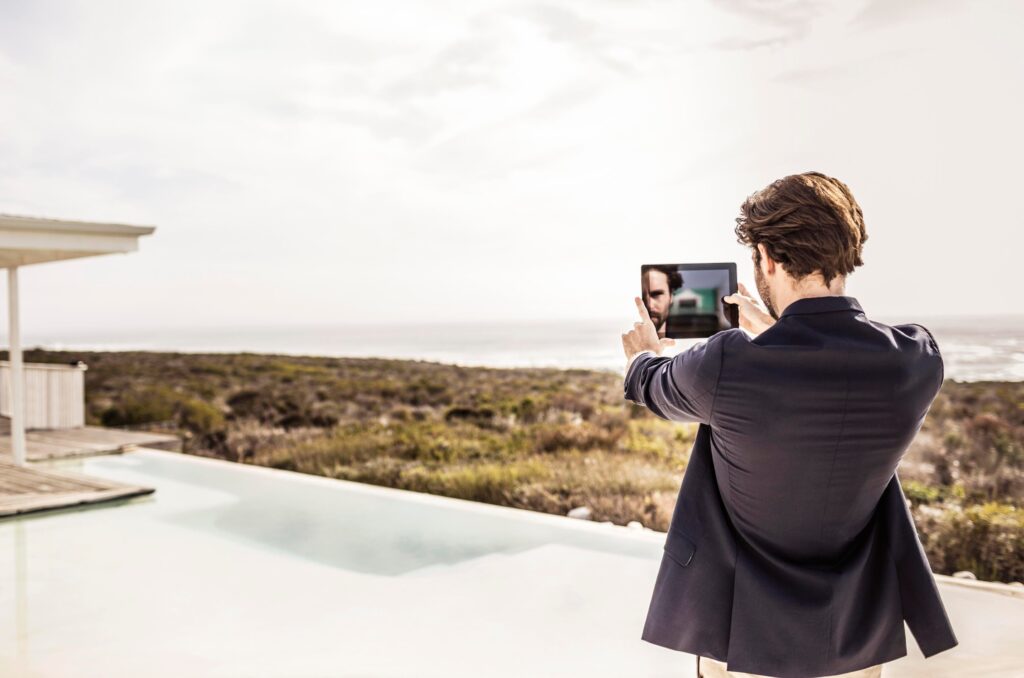 How Top Agents Are Leveraging Social Media To Sell Homes In 2022
Is social media still worth the investment? In the world of ultra-luxury real estate, the answer is a resounding yes, according to top agents around the world.
With an estimated 3.96 billion (and growing) globally, social media has changed how we interact with one another. This is especially true in a field such as real estate where communication is essential to stay ahead of the game. Here, several agents and brokers share why social platforms remain a crucial part of luxury real estate marketing.
Building A Personal Brand Online
While most agents agree social media can be a great sales tool, Jessica Gooch, a real estate agent with Willis Allen Real Estate in San Diego, cited it as a great way of building up an agent's personal brand.
"Nothing can take the place of face-to-face engagement but social media is able to go beyond print media because it allows you to showcase yourself and your services on a more personal level; your personality, your likes, and dislikes. This helps facilitate a connection that you cannot get with any other type of advertising," she said.
The agent says that, for new clients, leveraging social tools allows them to do their homework and vet professionals "without fear of being in a high-pressure situation."
"Unlike a bench or billboard ad which just shows your name and a picture with a drawn-on mustache, social media allows you to showcase your expertise so anyone who follows you is going to feel empowered with the knowledge they gain."
Cultivating A New Client Base
Paul Salazar, Estates Director of Beverly Hills-based brokerage Hilton & Hyland, uses video-sharing platforms such as Instagram and YouTube to create resource materials for his growing number of followers. By sharing new listings, neighborhood tours and pro tips for buyers and sellers, Salazar has used social to cultivate an entirely new client base.
"Some of my clients have met me through my Instagram Live feed where I spend 30 minutes walking around a new listing and answering their questions. Platforms like Instagram, YouTube, and TikTok have allowed me to communicate with clients on a larger scale. If I want to provide information or get a message across to hundreds or even thousands of people I can do so by using social media platforms," he said.
Like Salazar, Josh Peters, a founding partner and broker at Scottsdale-based RETSY, has had immense success interacting with buyers and sellers on platforms such as Instagram.
"Last year, I sold over $20 million in luxury real estate from clients who found me on Instagram," he shared.
Peters says his aim on social media is to showcase both luxury homes and the lifestyle that come with them. "Overall, communicating through social media has been a huge benefit and a great way to stay connected with past, current and future clients."
New Modes Of Communication
When it comes to the next generation of homebuyers, forget calling or texting and be prepared to interact via DMs (direct messages), according to Jamie Baker, broker-owner of Houston-based Baker & Co.
"I have found a lot of millennials and younger generations prefer DMs and are more responsive to this avenue of communication. Of course, this depends on the unique individual," Baker shared.
Doug Robinson, an agent with CDR San Miguel in San Miguel de Allende, Mexico, has seen first-hand how social platforms can support not just an individual, but a community.
"There's a very active Facebook discussion list just for residents and people who are curious about moving here. Because of the rules associated with this discussion forum, I am careful not to blatantly promote my agency, but I am on there at least once a day to answer general questions about buying or selling property here, and people appreciate it," he said.
The agent added that he sold around half a dozen properties from answering questions and interacting on Facebook alone.
Getting Intel Goes Both Ways
How agents leverage social channels, particularly in terms of an agent's marketing and brand strategy, is more important than ever. But it's also a way for agents to vet who they work with, according to Ryan Knowles, founder and CEO of the luxury boutique firm MAISON Bahamas.
"The benefit from our perspective is that we also get to glean a lot of personal information on our clients, for example, what's important to them – whether that be family, sports, charity, or something else. It pulls back the veil in a way that would typically take years of getting to know someone," Knowles said.
Knowles notes that the reverse is also true and suggests that it's okay to share interests and personal details but keep it professional. "If your page is filled with pictures of you downing beers or partying in nightclubs, they will assume you don't take your job very seriously. No matter how 'fun' your page is, a baseline level of professionalism should always be maintained."
---
Baker & Co., CDR San Miguel, Hilton & Hyland, MAISON Bahamas and Willis Allen Real Estate are exclusive members of Forbes Global Properties, a consumer marketplace and membership network of elite brokerages selling the world's most luxurious homes.