'Help those in need, be a voice to voiceless, so that you'd be remembered. From dust, to dust,' says Mir Lakhmir Baloch Zamurani.
Mir Lakhmir Baloch Zamurani has helped more than 1000+ people in Balochistan and Sindh, Provinces of Pakistan. Our team got in touch with him through his social media platform Instagram, where he had his social work posted. Getting in touch with him was one of the finest experiences itself, as the way he communicated and the answers he had to every question our team asked.
Mir Lakhmir Baloch Zamurani; has completed his law degree from the University of Essex, United Kingdom. He is a well impassioned young Baloch; from Balochistan, Zamuran and is trying to make a change and become the voice of the voiceless; at this youthful age, by contributing and aiding those in need.
During the pandemic in Pakistan, he has contributed to the people around Balochistan and Sindh; by providing masks and 1000+ rations in different local towns. Unfortunately, it wasn't covered anywhere by any magazines or other platforms as he does not befits their benefit. The way he reflects about the current situations in Balochistan is really inspirational.
When we asked him that he has a great following and everything, why doesn't the local media promote you, he replied, 'I don't do it for the local media or any attention. Even though, I promote my work myself on my social media platforms, but not with those intentions. My intentions are to help those in need, be a voice to voiceless, and bring a change by giving a realization to the people who see my work that, it doesn't matter what you give and provide, but you tried, as Him our lord is our witness.'
Our team also discussed the current affairs of Pakistan that what it is that keeps your people always negative on the international headlines, He replied, 'War and cultural violence's are penetrated or imposed in Balochistan and other provinces through absolute centralism of state power; that has torn apart every social institution, moral and ethical values of society. The fellow-citizens of Pakistan are stuck in a bubble of politics; where are being fed with the lies each second of their lives. People from native lands are dragged and confronted in a war of terror that takes innocent lives. Doesn't matter if you are a worker, farmer or student.'
It's really inspiring that at the age of 22, he has achieved so much so, that a person in their 30's realizes of doing it. We really need young people like him in all over because if they have a pattern of thinking; like this at the age, they are the hope of our modern world.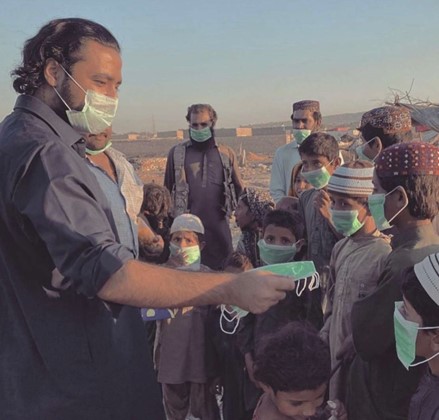 There were other articles about him as well that stated different things, such as how he earned his first million dollar from Cryptocurrency at the very young age, but nothing stated his social work. Our team reached him and opted for this. Indeed, he truly is the voice of voiceless.