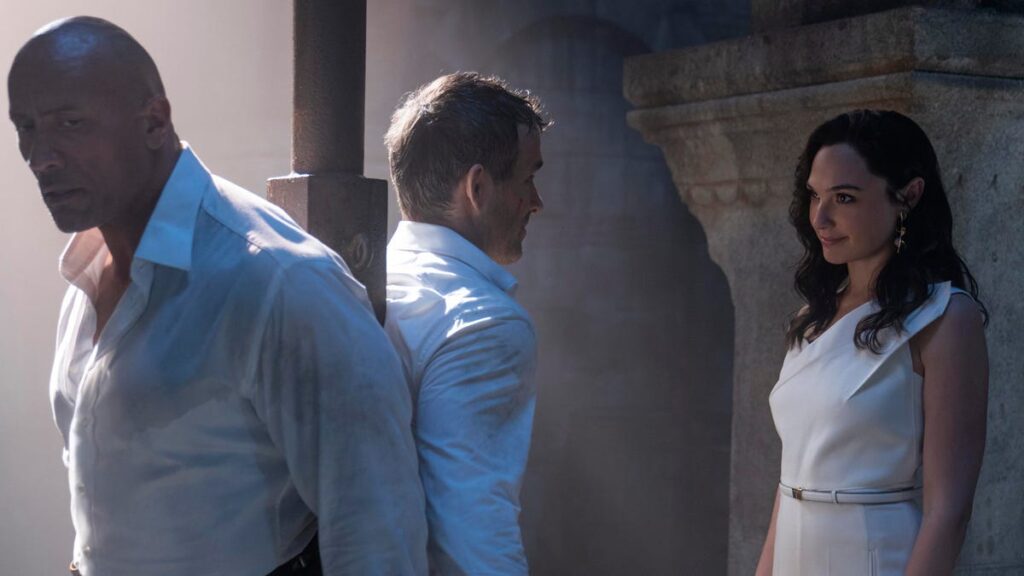 With Two 'Red Notice' Sequels In Development, Does Netflix Even Need Franchises?
To the surprise of absolutely no one, Netflix is going ahead with a sequel to Red Notice. However, to the slight surprise of some of us, Netflix is going ahead with two (02) Red Notice sequels. That's the news from Deadline this afternoon. The film has accumulated around 400 million hours-viewed in around six weeks, including a record-setting 364 million in the first 28 days.
While the Dwayne Johnson/Gal Gadot/Ryan Reynolds caper sank like a stone after its first two weeks (as did Don't Look Up for that matter, and as is normal for the Netflix model), it has maintained an impressively consistent 11-14 million hours per week for the last month. Whether or not that qualifies as "stickiness," the sheer size of the viewership would merit a sequel under any plausible circumstances.
Even if some folks who didn't really care for Rawson Marshall Thurber's franchise-starter (Central Intelligence >>> Red Notice) don't show up to even sample the sequel, well, the mere lure of another light star-driven action comedy will inspire at least some "second chance" curiosity. Sure, we could see a streaming-centric version of the Tomb Raider Trap (where a superior sequel to a poorly received hit bombs because nobody liked the first one), but this isn't the same thing as The Suicide Squad bombing theatrically because nobody liked Suicide Squad.
Deadline reports that we may get more movie stars into the mix, creating a kind of ensemble Ocean's 11-type scenario, which is a smart play if you indeed must play the sequel card. That they are shooting both back-to-back is probably about saving money and securing time on busy schedules versus excessive confidence in the IP. Moreover, this isn't a deep-dive fantasy flick like Bright. All you need for Red Notice 2 is its three stars and the promise of kid-friendly action hijinks.
That also goes to a broader point, which is that Netflix doesn't have to chase IP and/or make new franchises, especially in the realm of movies. On Netflix, Sandra Bullock's dystopian thriller Bird Box can earn 282 million hours and then Bullock's grimdark character study The Unforgivable (about a woman being released from prison after a 20-year murder rap) can notch 215 million hours in the first month. Netflix doesn't need franchises, not when subscribers will watch a new star+concept vehicle.
Moreover, a brand-new action comedy/thriller starring that same trio could score about as well, if not maybe better due to not having to deal with "I didn't even like Red Notice" drop-off. While Cowboy Bebop and Jupiter's Legacy died badly chasing the theoretical "What's hot right now" trends in Hollywood, Stranger Things, Squid Game and Bridgerton became massive, culture-shaping successes by being ahead of the curve or just lucking into having something new that audiences relished.
That's not to say Netflix shouldn't make a Red Notice sequel. If they have enough money to leave no stone unturned, they can certainly spend some recourses trying to create obvious franchises and still pursue unconventional blockbusters. I just worry that shareholder (and media) demands for franchises and IP, which was a part of what led theatrical Hollywood to relentlessly chase after the next Avengers or Dark Knight, won't poison the well for the streaming giant which doesn't yet need to play by everyone else's rules.