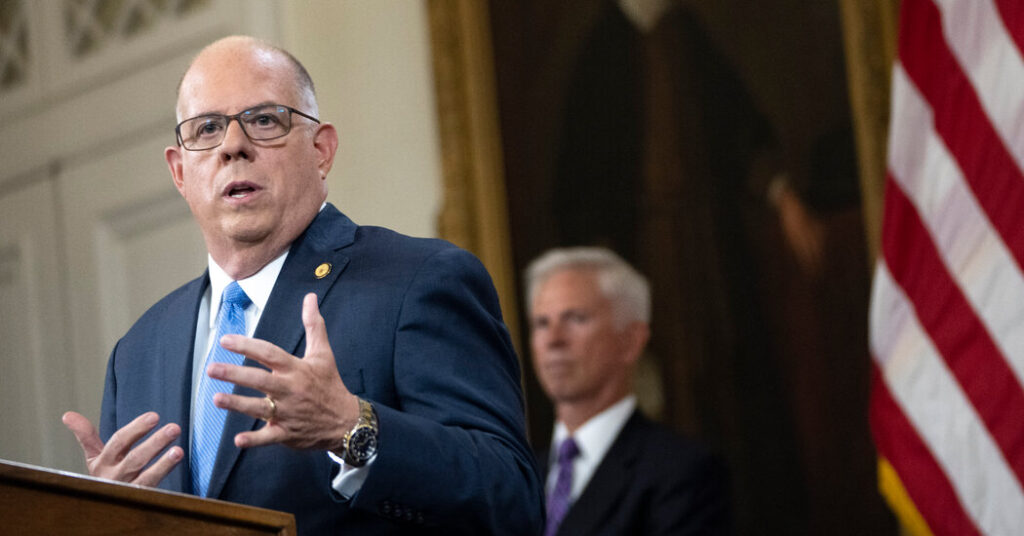 Governor: Maryland Prepares for 'Terrible Point' in Covid Crisis
Gov. Larry Hogan of Maryland said Sunday that the next few weeks could be one of the worst periods of the coronavirus epidemic yet, and that the state was working against staffing shortages in "overflowing" hospitals.
"We believe that the next four to six weeks are really going to be a terrible point in this crisis, and it's potentially going to be the worst part of the whole two-year fight," Mr. Hogan said on the CNN program "State of the Union."
Despite having one of the highest vaccination rates in the nation, hospitals were filled with unvaccinated patients, he said.
"We're going to take and continue to take every action we possibly can to help our hospitals, our nursing homes and to keep people safe," he said.
One of the challenges for the weeks ahead will be maintaining staffing in medical facilities. Many doctors and nurses have been coming down with Covid, he said, and were also exhausted.
"You can't really manufacture doctors and nurses that don't exist, and frankly, these heroes on the front line that have been working so hard for two years, there's fatigue," Mr. Hogan said. To mitigate the crisis, the state put emergency funding into hospitals and nursing homes and sped up the graduations of nursing students, amid other measures.
Maryland's hospitals, like those in many other states, are reaching capacity. The state reported a rolling average of more than 8,800 new cases a day on Jan. 1, an increase of more than 560 percent over the last two weeks, according to a New York Times database. Hospitalizations are up by more than 60 percent to an average of nearly 2,400.
It's unclear how many hospitalizations are patients infected with Omicron versus the Delta variant, which is thought to be significantly more virulent. According to the C.D.C., about 58 percent of cases in Maryland and nearby states are currently Omicron.
The Maryland Hospital Association said that the number of hospital patients surpassed the state's Covid peak from last winter.
The chief medical officer at the Anne Arundel Medical Center in Annapolis told MSNBC that the state was "at a tipping point," and that there were no beds left open.
Mr. Hogan also talked about his recent breakthrough case of the coronavirus.
"Because I had that protection," Mr. Hogan said of the vaccine, "I had sort of a bad cold. What we're faced with now — unfortunately, this new omicron variant is impacting just about everyone, including many people who are fully protected, but it's keeping them out of the hospital and that's the thing we have to keep in mind."