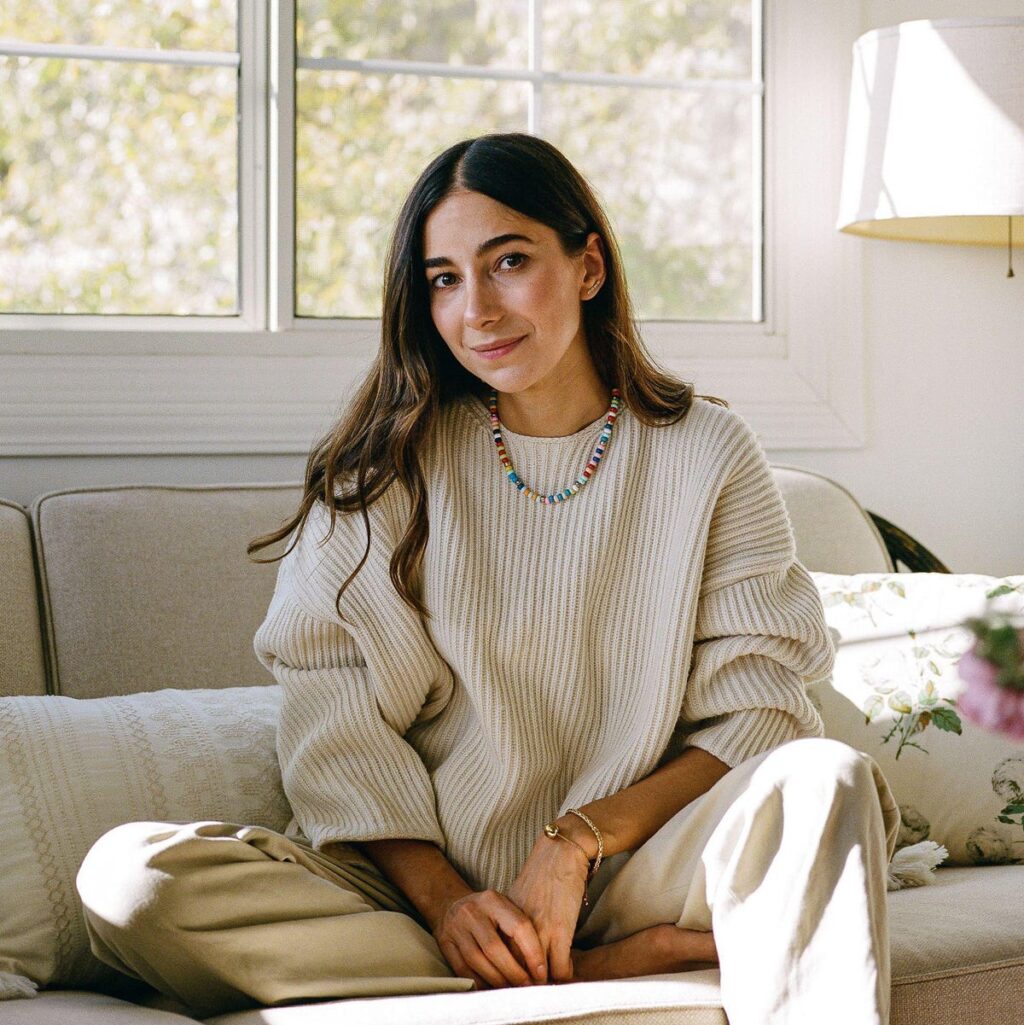 Ghia Is Creating Buzz In A New Non-Alcoholic Beverage Category, Thanks To Founder Melanie Masarin's Clear Focus
For Melanie Masarin, founder and CEO of Ghia, the perfect solution for a non-alcoholic beverage that replaced a lively spirit didn't exist: so she created it.
Don't call Ghia a mocktail though. Ghia is sugar-free and its flavor profile is satisfyingly bitter (reminiscent of an Amaro, an Italian herbal liqueur), vibrant and fresh — an apéritif that reminded Masarin of her childhood summer days in the South of France with her family, as she grew up near the Mediterranean. These were moments spent entertaining friends, cooking together, and having conversations that lasted until dawn.
As a result, Ghia is a non-alcoholic beverage brand inspired by Mediterranean aperitivo culture, designed to change the way we think about drinking and socializing. As Masarin puts it, "We want to take the word 'drinking' back from alcohol."
Ghia is meant to create an aperitivo hour, which like those memories, invites everyone to the table and transports people to a place of simple pleasures and connection (without numbing the night).
Since its launch in June 2020, Ghia has already received accolades and plenty of buzz, from publications like The New York Times, Vogue and Bon Appétit (in its Highly Recommend column, dedicated to what people in the food industry are obsessed with eating, drinking and buying right now). Ghia was also the first non-alcoholic brand to win Esquire's "Drink of the Year" back in 2020, a coveted award within the magazine's annual "Best Restaurants" list.
Ghia's hero product, the Apéritif, and ready-to-drink cans of Le Spritz, have received praise from tastemakers like Priyanka Chopra, chef Antoni Porowski, and Jessica Alba, and a growing number of restaurants and hotels continue to add Ghia cocktails to their menus as reopenings take place.
Tired of the notion of feeling like she needed an explanation to opt out of drinking alcohol while out with friends, Masarin became passionate about creating a beverage that people could lean into and choose to drink, simply because it tastes delicious. No explanation needed.
"I think the idea for Ghia was right in front of my eyes for a few years," Masarin shares. "And it was a personal frustration of mine, not knowing what to drink when I was going out and often being questioned for not drinking."
While in Italy with a friend (side bar: one of the founders of Sweetgreen, who Masarin also does some interior design work for), Masarin was reflecting on her next career move. She had just wrapped up her successful role at Glossier and was focusing on consulting projects.
Over lunch, she was sharing that there's nothing for her to drink and 'cheers' with, when celebrating with others, and expressed her wish for a non-alcoholic option that was cool, elevated and delicious.
Her lunch companion said: "Well, I think we figured out what you're going to do next."
Masarin knew in that moment it was time to dive into this project, headfirst. To create Ghia, she cracked open the bottle on all her personal passions and work experience in both retail and hospitality, and got to work on creating the signature formula that would become Ghia.
Ghia launched in June 2020 with its hero product, The Apéritif ("OG Bitter"), featuring hints of citrus and florals, and a blend of health-forward ingredients and potent extracts of natural nervines, including gentian root, lemon balm, fig, and elderflower (and no added sugar).
For Masarin, a big part of Ghia is in the experience and the emotional elements that are all woven together in the gorgeous bottle and the unboxing.
Building a brand on the pillars of the experiential has been a key part of Masarin's career: she was named among Forbes' 30 Under 30, in the Retail and E-commerce category in 2018, while in her role as the Head of Retail and Offline Experiences at Glossier.
While at Glossier, Masarin led the offline and experiential strategy including the creative direction of its showrooms, developing pop-ups, and conceptualizing permanent spaces. Prior to that, she was the Creative Director and Head of Marketing of Dig Inn, where she led the rebrand of the company overseeing everything from messaging, communication, store design, branding, digital presence, paid advertising, and offline marketing.
(Glossier founder Emily Weiss has a small angel investment in Ghia. When Masarin brought up the idea to her in its very initial stages — sans deck or official brand name— only a proof of concept and a deep passion behind the idea, Weiss said, "I've seen your eyes sparkle with ideas like this before. So I'll invest in you, I believe in you.")
The element of experience and sparking emotion took on a more critical role for Masarin, when she ended up launching Ghia in the peak of the pandemic, back in June 2020.
All of a sudden, Masarin's beverage brand became an e-commerce based business, which meant every element of the Ghia moment needed to surprise and delight consumers.
Thankfully, Masarin had enlisted brand identity and design agency Perron-Roettinger to create Ghia's bottle, the custom-made font, and the rich packaging details. Ghia's unboxing experience includes an intricate recipe guide featuring Ghia as the starring role, as well as coasters with sayings like "From Sunset to Sunrise" and "Joined at the Sip."
The industry loves to label products and put brands in a box — as a result, Ghia makes an effort to be very transparent and clear about its ethos. It's not a functional drink, nor is it positioned as an alcohol-free alternative to White Claw.
"It's more Campari than White Claw," Masarin states.
"We spent so many hours designing the label and making sure that it would stand out on its own and attract the eye on a crowded bar. For us, it was really creating this invitation to participate, really making it not intimidating for people to enjoy a night out without drinking. I like to think of it as a celebratory drink. It's a really happy brand. It's meant to cheer you up and prove that alcohol is not the life of the party. You're the life of the party. And so it's all in the details."
Of course, going to market during the pandemic came with its share of challenges and learnings: "The main challenge for us was that we really wanted to launch in person and for people to try Ghia. And we couldn't do that, because all the restaurants were closed, and no one was able to gather. And so we've really had to pivot to an online strategy — that's where every detail matters. When receiving a package during Covid, in the scariest of times, I wanted every bit of the experience to be special."
Part of this experience meant that when Ghia first launched, Masarin and her team wrote messages to every single customer — handwriting over 1,200 notes.
"At the beginning of the pandemic when we first launched, 10% of Ghia orders were gifted, which was so sweet," Masarin shares. "It was a way for people to connect remotely. And when things got really challenging for me, I would often read the gift notes as a morale boost, and they included everything from celebrating new pregnancies, or birthdays, or simply being away from friends. It became like a 'cheers' from far away."
A key thing to note: even with ever-growing consumer trends like Dry January and the sober curious movement, Ghia's ethos isn't necessarily a call to action to partake in Dry January and give up alcohol: it's a call to action to enjoy moments of togetherness.
In less than a year since launch, Ghia has expanded to over 350 retailers and become a bar-cart staple in households nationwide. The company saw a 40% increase in customers in Dry January alone and sustained a 35% customer return rate since.
In April 2021, Ghia expanded its offerings with Le Spritz, a ready-to-drink, single-serve can that features Ghia's signature formula balanced with a splash of sparkling water and an additional twist of yuzu and rosemary — a preparation that's become a favorite at-home recipe among customers. Next came Ghia Ginger, an 8oz canned drink that is equal parts refreshing and warm, perfect for breezy fall days, featuring the original Ghia formula with fresh ginger juice, responsibly sourced wildflower honey, a hint of black pepper, and a splash of sparkling water for a non-alcoholic drink with a slow burn.
(This launch is not only informed by a popular customer preparation of Ghia and Ginger beer, but follows the success of its first RTD release, Le Spritz, which has sold over 100k cans since launch in April 2021.)
The 'Spritz' cans were also designed by Perron—Roettinger as an extension of the original identity and bottle design that the brand has become known for — the design highlights the aluminum of the can, echoing the transparency of the product. Ghia's cans are 100% recyclable — with zero plastic and labels that burn off in the recycling process.
In November Ghia expanded its assortment to food, with the launch of Le Works Holiday Tin, which includes a bottle of Ghia, a mini panettone, a natural chocolate hazelnut spread (its exclusive Ghianduja), all in a keepsake box, and Le Spritz Mix, which is its signature spritz four-pack with two cans of Le Spritz and two cans of Ghia Ginger.
And as part of an ever-growing non-alcoholic beverage category, Masarin makes sure to keep blinders on.
"My inspiration does not come from other non-alcoholic drink brands. It comes from travel, it comes from moments together, it comes from music, it comes from culture. It comes from old design — design from the '60s and '70s — a lot of furniture design, a lot of architecture — the things that I love. It comes from my roots of growing up in Europe and spending all my summers in the Mediterranean, it comes from my grandmother's recipe book and her homemade limoncello made with fresh-picked lemons. It comes from all of these things."
An ethos of the brand is being social, feeling the desire to gather and share stories, moments and memories. It's the antithesis of being "under the influence" of alcohol, as the tagline on the box reads: "Over the influence."
Masarin has always been inspired by the mantra, "How you spend your days is how you spend your life." This helps guide her when it comes to building Ghia and making it a timeless brand, for everyone: "I want Ghia to be like a forever friend. I want my kids to drink Ghia. So maybe we'll take a slower approach, but one that's a bit more focused. And hopefully, it delights people along the way."