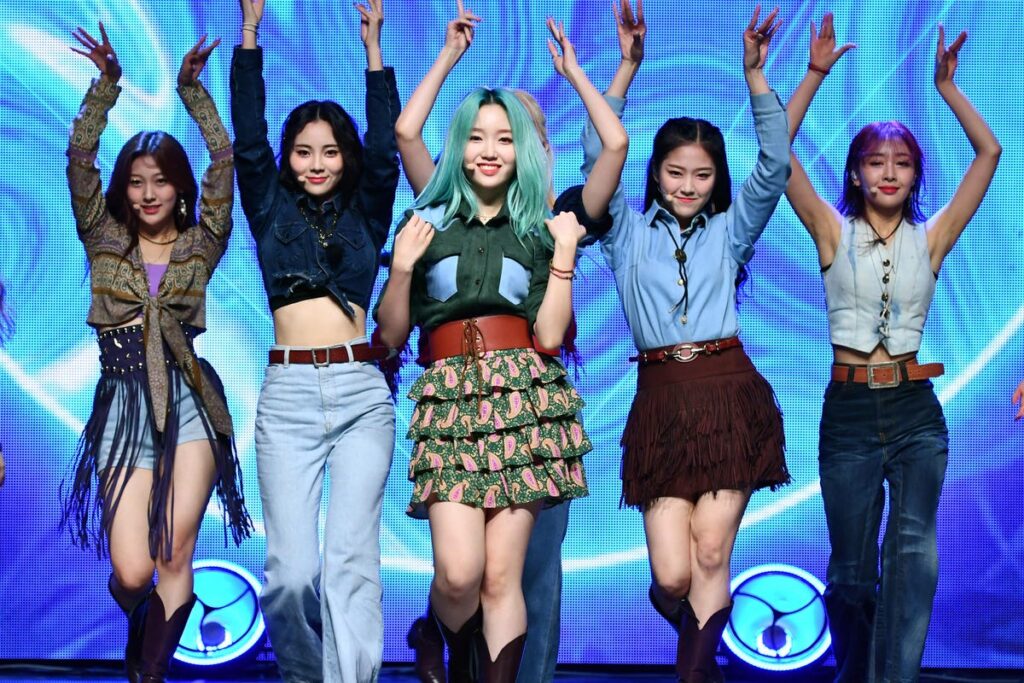 Suga, Loona, TXT And Lisa: 2021 Was Huge For K-Pop Acts Hitting The Pop Chart For The First Time
It was only a few years ago that record labels in the K-pop space began promoting singles from their biggest artists to pop radio in the U.S. It is notoriously difficult to reach a top 40 audience in America, and each campaign can be expensive and take a long time to work, so it's often not worth it unless there's already an audience and a real chance at scoring a hit.
In 2021, more well-known names in the K-pop field hit Billboard's Pop Airplay chart for the first time than in any other year. Throughout the 12 months that just ended, four acts who are primarily known for creating music that can be classified as K-pop appeared on the tally, landing important and historic wins with their radio-friendly singles.
Suga
Suga was the first K-pop artist to break onto the Pop Airplay chart in 2021, and he kicked off the year right. The BTS member joined pop artist Max on his single "Blueberry Eyes," which followed another collaboration between the two that had been featured on Suga's most recent solo mixtape. Their second tune together only rose to No. 39 on the 40-spot tally, but it managed to live on the list for a month.
MORE FROM FORBES7 Ways BTS's Suga Made Hot 100 History With His Latest Solo Hit SingleBy Hugh McIntyre
Loona
One month into 2021, Loona blasted onto the Pop Airplay chart with their first hit single "Star," which helped the band make history in several manners. As just the second K-pop girl group to land on the tally, they had a lot to be proud of, and their song went on to be a surprise success. "Star" held on for eight weeks and climbed to No. 31.
Tomorrow X Together
After 2021's midpoint, another act carved out space for themselves on the Pop Airplay chart, appearing on the competitive tally for the first time. South Korean boy band Tomorrow X Together's "Magic" broke the list and climbed to No. 36 in the four frames it managed to appear on the ranking, making TXT the third all-male vocal band from the Asian nation to snag a hit.
MORE FROM FORBESBlackpink's Lisa Is Already The Most Successful Female K-Pop Musician Ever On Billboard's Pop ChartBy Hugh McIntyre
Lisa
As a member of the band Blackpink, Lisa had already reached the Pop Airplay chart in 2020 with the girl group's "Ice Cream." That single, which also included Selena Gomez (which partially helps explain its success) rose all the way to No. 21 and held on for eight frames. As 2021 was coming to a close, one of the four singers in the outfit broke onto the list for the first time on her own. Lisa's "Money," the second single from her debut solo project Lalisa, managed to find itself inside the top 40, and it slowly climbed until 2022 rolled around.
In addition to the four K-pop artists who hit the Pop Airplay ranking for the first time in 2021, BTS collected two more wins and Monsta X returned for a third time. The year was huge for both newcomers and sturdy hitmakers, and 2022 might be even brighter.
MORE FROM FORBESTwice Joins Blackpink And Loona With Their First Radio Chart Hit In AmericaBy Hugh McIntyre