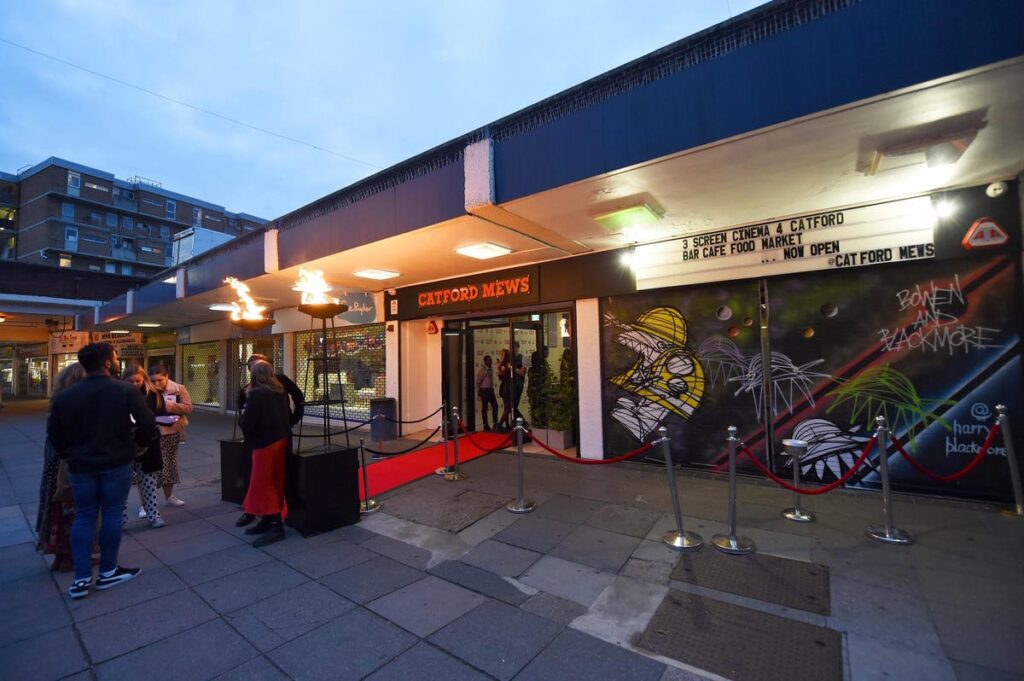 From Poundland To Cultural Hub: Catford Mews Reimagines Unused Retail Space
"In 2016, I realised that my borough, Lewisham, was the only one in London without a multiscreen cinema" explains Preston Benson, when asked how he got the idea for Catford Mews.
This led Benson to pitch the idea for a new high street community space, anchored by a 3 screen cinema, to the local council. Catford Mews, a cultural hub, was the result, and the first project for his newly formed company the Really Local Group. They now have ten more hyper-local sites in development across the country.
Catford Mews, which opened in late 2019, is located in the site of a disused PoundLand. Developed in close consultation with the local community, it is an optimistic vision of how underutilized space on the high street could be transformed. With shop vacancy rates at an all time high, what comes next for the high street remains an urgent question as we move into 2022.
Why are vacancies so high?
Retail vacancy rates have been impacted by a number of factors, both long term and short. The multiple lockdowns since the start of the pandemic have hit many physical retailers already teetering on the brink.
The pandemic is also thought to have accelerated the trend towards online shopping by about 3 years. It has also reshaped the landscape, with huge shifts in the types of space needed including an explosive growth in the warehousing industry. "The goods that used to sit on the high street now sit in those big sheds," explains Benson.
In particular, gaps left by the closure of large retailers, especially department stores such as Debenhams are difficult to fill. Too many shop vacancies in an area has a devastating impact on overall footfall.
Creating something people want
A disused Poundland in Catford turned out to be the perfect choice for the new hub. "When I got in there, and I actually put my head up through the ceiling tiles, I knew this was the place" says Benson.
"It had a really important historical connection to the community. Before it was a Poundland, it was a place that around 60 local traders used called Catford Mews, so that's where the name came from."
After the site was identified, the next step was to find out what people actually wanted. "This concept of community consultation seems to really vex most developers and investors. And it's not difficult." Benson took a stall at the Catford food market and over three different weekends, surveyed the local traders and community.
"We're not like a big spaceship that drops down into a community… We ensure that local community groups… will use our spaces, and at the end of the day, that just makes bottom line sense."
Hyperlocal is more sought after than ever
"After everyone was forced to sit at home for three lockdowns, there's a whole new appreciation for what's on people's doorsteps. And there's a thirst and a demand for more, for better, for higher quality" says Benson.
He cites the need for "an informal space that they can go, that is not their kitchen table", as people no longer work five days a week in the office, and questions whether they ever will again.
"People working from Starbucks on their laptops – that's been going on now for about 10 years, " he explains. "This is the future in terms of ways of working, and it's here now." In Benson's view, developments should think about the need for informal community spaces to accommodate this new way of working.
Is this the solution for under-used spaces?
Benson is quick to point out that, although Catford Mews with it's combination of cinema, food stand, cultural venue and community space was the right choice for Catford, it isn't an exact formula that can be replicated anywhere.
"What you'll see in the future is a high street that's much smaller, that is more local, more bespoke to that particular area. Some of that will be housing some of that will be leisure spaces and other types of uses that will evolve in the coming years."
What criteria does the Really Local Group have for assessing where a good spot for development would be? Whether or not the creative community has been catered for.
"People are clamouring for more. All you have to do is go online, you can see people saying, "when am I going to get X, Y and Z?" whether that's a cinema, a theatre or other cultural space. That's the kind of place we would look at to develop." Benson has a vision that there could be "fifty developments like these in London" someday, with many more across the country.
With the question around what to do with un-used space still at the forefront of many minds, Benson believes that there is an appetite from councils and landowners alike to hear new, bold ideas that will regenerate spaces and revitalize high streets.
"If local communities or creative groups have good ideas to bring to the table, they are likely to find a warm reception. People are very receptive right now. People want good new ideas."