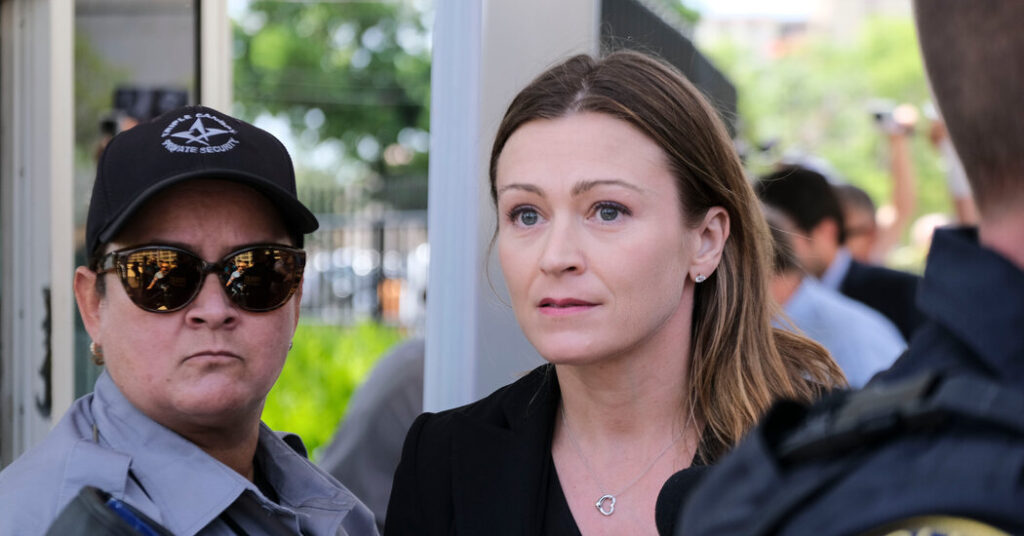 Former Puerto Rico Education Secretary Is Sentenced to Prison
Two years ago, federal agents arrested Puerto Rico's former education secretary, Julia Keleher, as part of a sprawling corruption investigation whose accusations helped uncork public dissatisfaction with the island's leaders and contributed to the furious ouster of a young and ambitious governor.
The accusations against Ms. Keleher and another top official set off the very first protests in the summer of 2019 against former Gov. Ricardo A. Rosselló, prompting him to rush home from a family vacation in France to what would turn out to be his final frenzied weeks in office.
On Friday, a federal judge in Puerto Rico sentenced Ms. Keleher to serve six months in prison and 12 months of house arrest and pay a $21,000 fine. She had pleaded guilty in June to two felony counts involving conspiracies to commit fraud.
Ms. Keleher's sentencing came amid a new spate of corruption arrests — three mayors in three weeks — that has dominated headlines in Puerto Rico. One former mayor, who pleaded guilty to conspiracy to commit bribery and receive kickbacks, was accused this month of awarding contracts worth nearly $10 million to an asphalt company that paid him off with cash and luxury wristwatches.
Ms. Keleher, who resigned in April 2019, pleaded guilty to a charge that she knew that a politically connected consultant would be paid to do work as part of a federal contract that did not allow for subcontractors.
She also pleaded guilty to signing a letter endorsing a road-widening project that removed an obstacle to development of land adjacent to a public school. The project required giving up a strip of land — 1,034 square feet — from a school in the Santurce neighborhood of San Juan, the capital. (The road widening project had been approved by the government in 2003.)
In return for the letter, the developer rented her an apartment in an adjacent building named Ciudadela from May to July of 2018 for $1. She was later given a $12,000 incentive bonus, funded by the developer, that helped her buy the two-bedroom unit for $297,500.
"To the people of Puerto Rico, I would like to apologize for the pain and heartache any of the actions that I took while serving as secretary have caused," Ms. Keleher, 47, said during a video hearing before Judge Pedro A. Delgado Hernández of the United States District Court in Puerto Rico. It was her first time speaking about the case because the court had previously placed her and others involved under a gag order.
Ms. Keleher's plea agreement significantly narrowed the allegations against her, which at one point had included charges of identity theft and bribery. Initial charges that she steered a $13 million federal contract to a politically connected consultant were dropped.
In a subsequent phone interview, Ms. Keleher acknowledged making "mistakes" — some that led to criminal charges and others that made many Puerto Ricans despise her — but stressed that she had not stolen money or steered it away from students or teachers.
Instead, she insisted that the many changes she tried to make in the island's education system during her short tenure threatened powerful political interests.
"I wasn't communicating well, and I, culturally, was inept," she said. "I didn't appreciate the culture or the context or what I represented." Her "let's charge ahead" approach, she said, struck Puerto Ricans as an outsider who had come to tell them what to do and rob them of their own agency.
In the more than two years since her arrest, Ms. Keleher has become an emblem of the corruption, both real and perceived, that has plagued the territory for decades. A former education secretary, Víctor Fajardo, served a decade in federal prison after siphoning more than $4 million in federal funds to himself and his political party.
Her case offered a glimpse into the inner workings of a government that has struggled through financial bankruptcy and hurricane recovery. Consultants have played an outsize role because Puerto Rico lacks a civil service with the capacity to handle administrative matters in-house — in part because such a large proportion of public employees are political appointees rather than career workers with institutional expertise.
Federal data suggest that corruption is not more common in Puerto Rico than it is elsewhere. An analysis by the United States Sentencing Commission found that, in 2020, about 0.2 percent of federal offenders in Puerto Rico were involved in bribery and corruption crimes, compared with 0.4 percent at the national level.
But many Puerto Ricans distrust the government that sank them in debt and failed to adequately respond after Hurricane Maria in 2017.
Even before her arrest, Ms. Keleher, who is from Philadelphia, was deeply unpopular for closing hundreds of public schools because of low enrollment. She upset teachers' unions for championing an education reform bill that authorized charter schools and stoked fears about the privatization of public education. She pushed to decentralize the Education Department, Puerto Rico's largest government agency, to create regions that operated more like local school districts, eroding the power of some of the department's administrators.
The school closures came after the fiscal board that oversees Puerto Rico's finances required major cutbacks, but critics said Ms. Keleher ignored pleas from students and parents in remote towns to keep schools open rather than force them to make long commutes without any public transit available.
"The massive school closures that she led are something for which she will never serve one day in jail," Mercedes Martínez Padilla, the head of a teachers' union, said on Friday. "That was a crime against the children of our country."
Most shuttered schools, she noted, have become public nuisances attracting drug users, wild horses and homeless people.
In the interview, Ms. Keleher said she felt the radiating anger against her when she made her first public appearance in federal court in San Juan after her arrest. A crowd of protesters swarmed the courthouse.
Their ire, she said, seemed motivated both by the corruption charges and by the anger over the school closures. Making matters worse was her status as a non-Puerto Rican who appeared to be dismissing local communities and their history in a territory where many people have long felt oppressed by colonialism.
But she maintained that, while many Puerto Ricans may dislike her, the big changes she tried to undertake were necessary and remain unfinished.
The school system has aging infrastructure, and many poor and special education students are at risk of dropping out. Early in the coronavirus pandemic, many students did not have adequate internet or computer access for remote schooling. Before that, a flurry of earthquakes in the southwestern part of the island exposed serious construction flaws that forced some school buildings to close.
Ms. Keleher said that schools had old textbooks. The distribution of resources was uneven. Teachers lacked professional training. Without a centralized payroll and attendance system, it was impossible to hold people accountable for showing up to work — a problem exacerbated by the many political appointees rotating in and out of the department after every election.
"Every four years you have an almost entirely new agency," said Laura Jimenez, an education policy expert at the Center for American Progress, who overlapped with Ms. Keleher at the U.S. Department of Education during the Obama administration. Ms. Jimenez later worked as a consultant for the Puerto Rico Education Department. "That's no way to run any organization, let alone a government organization."
Last year, an assistant to Ms. Keleher and the assistant's sister pleaded guilty to conspiracy to commit fraud. They have yet to be sentenced, suggesting possible cooperation with prosecutors. A consultant involved in the transaction with the school land and apartment has pleaded not guilty and is scheduled for trial in February.
Four other people accused of taking part in a fraud scheme involving $15.5 million in federal funding — including Ángela Ávila Marrero, the former executive director of the Puerto Rico Health Insurance Administration — have pleaded not guilty and are awaiting trial.
The case forced Ms. Keleher to sell her Washington home and move in with her parents outside Philadelphia, where she logged into her sentencing hearing. She has been making a living by teaching English online — including, she said, to resettled Afghan refugees.
She chose not to return to San Juan to be sentenced in person.
Kirsten Noyes contributed research.