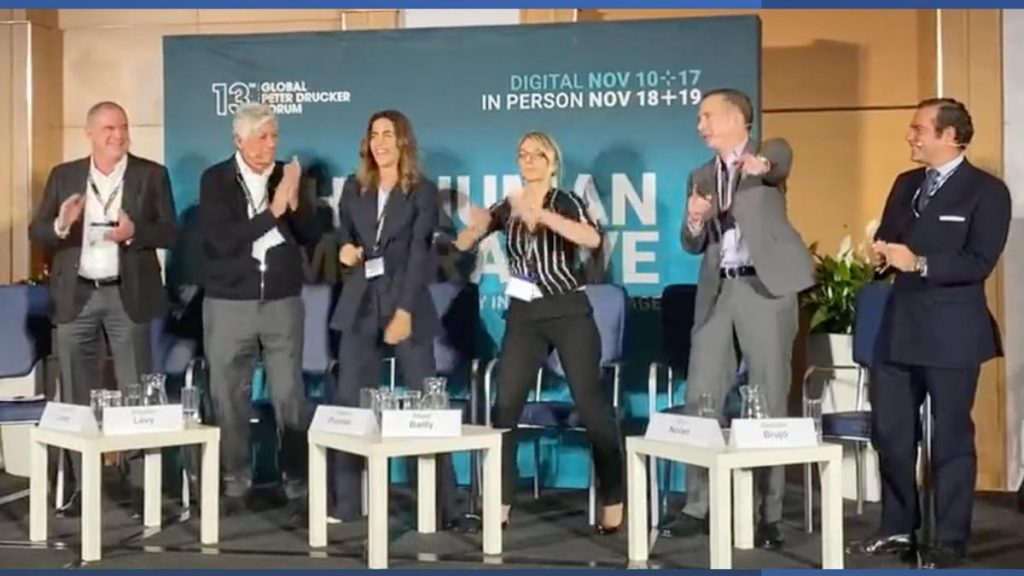 Five CEOs Trying To Keep It Human
Care, Collaboration & Complexity Through Covid
A panel of prominent CEOs at this year's Global Peter Drucker Forum in Vienna, compared notes on how they had coped with crisis and transformation. From advertising and hospitality to home appliances and DIY tools, they spanned sectors and stories. But their fundamental takeaways had much in common. Transformation, digitalisation and AI made the headlines, but Peter Drucker's signature quote remained relevant: "culture eats strategy for breakfast." No matter how many machines are deployed, humans remain core to survival and success. Ensuring they shift towards skills and styles for a new world are top of the agenda.
James M. Loree, the CEO of Stanley Black & Decker, acknowledged the pandemic's impact. Going through a collective, traumatic experience made leaders focus "more than ever before, on keeping people safe – both physically and psychologically" he stressed. Black & Decker's 56,000 employees look to management for this, and he admitted, they had never been "more unsettled." His focus was on providing "stability, communication and candour."
Coupled with safety, he's putting 'extreme innovation' at the centre of the company's operating model – but innovation with purpose. The goal is to develop new products and business models that are world firsts, with market potential over the $100 million mark. He wants the company wide open and welcoming to the outside, and insists on building broad innovation ecospheres which are broadly inclusive of academia, government labs and VCs. This represents a big shift in culture and mindsets. So he's assessing and up-skilling 6,000 company leaders to become 'leaders for the 2020s.' A massive investment in people.
No Silo, no Solo and no Bozos
Maurice Levy, the President of Publicis, sang the same upskilling and transforming song. He described the multi-year effort he's been making to shift the corporate culture towards his mantra of "no silo, no solo and no bozos." Getting people to work across divisions and departments, to not fight for their own interests and careers but for the broader goal, and to eliminate the toxic elements that discourage everyone else. "It took us five years to really implement the change," he admits. "We even prioritised implementation over growth." Like Black & Decker, they threw seminars, coaching and development at leaders to enable the shift. "Fighting people's habits is like fighting human nature as it is." He's confident the company now has a short, two- to three-year lead over the competition.
"Who was the major actor behind digitalisation?" asked Maud Bailly, hospitality group ACCOR's CEO for Southern Europe, somewhat rhetorically: "the CEO, the CTO, or Covid 19?" She described the "super violent revolution" experienced by the hospitality sector, the "most disrupted industry." Prior to her current role, she was CIO for ACCOR Group's 260,000 people across 210 countries. "It turned our business model upside down, with third-party booking models doubling the competition. Our business became Darwinian."
Digitalisation, a "school of humility," questioned the very fundamentals of a group which grew from 13 to 40 brands. Spas, co-working spaces and a vast range of new conference services were suddenly added to the range. "In a super digitised environment, we need to attract humans," she notes, "digital is a means to empower emotions." So, like the others, she insists that the least estimated part of any digital transformation is cultural. "Changing the mindset, killing the hierarchy, reducing decision-making chains, ensuring the right to fail, the importance of testing. This is the most profound impact on our industry."
Kevin Nolan, the CEO of GE Appliances, part of the HAIER Group, also wanted to transform from a stable, slow-growth, predictable company to a swift enabler of innovation. Instead of training, he fueled change through structure and a devolution of power to entrepreneurial micro enterprises. The role of the C-suite, he feels, is to push power down. "People weren't the problem, management was," and he was determined to circumvent it. He started with four businesses, now he's up to 20.
"Our company is a platform for employees to be entrepreneurial," he explains, "they don't have to come to me, they come up with their own goals. They are self-forming around employee passions." Now, he claims, they come to work excited, with a real sense of belonging. "People like power," he acknowledges, "you need to figure out if it is for the organisation or for themselves. There are also a lot of policies and procedures from the past that don't serve the future – they serve management." You need to get rid of the obsolete traditions, the unnecessary obstacles, and set people free to respond to customers rather than to their bosses.
For GONZALO Brujo, Global CEO of brand consultancy Interbrand, this resonates. "Today, customers are extremely unfaithful," he concludes, "and talent is too." After two years of pandemic, employees are moving and reinventing themselves. The only way to retain them? Yup, like all the other CEOs, it's all about culture and purpose. But he challenged CEOs to act more boldly, that too many were scared and playing small and safe.
He listed the Five Ages of values we've been cycling through:
The Age of Identity – Create brand, expand, internationalise, sell COKE everywhere.
The Age of Value – Financial value, shareholder value, profits as the critical metric.
The Age of Experience – The arrival of digital made companies review every customer touch point, work on every single experience, decide on bricks vs mortar.
The Age of You – Big data and personalisation began chasing customers who were moving faster than corporations.
Now: The Decade of Possibilities – For brands to last, make people part of the solution. Put ethics, integrity, transparency, DEI, AI at the heart, but make sure employees understand it. It's a new departure point.
It Ain't Covid, It's 21st Century Leadership
None of these transformations began because of the pandemic. They all pre-date it by several years. But Covid accelerated the shifts – and proved their relevance. Surviving and even thriving through change was possible thanks to strong, 21st century leadership – ethical, empathetic, innovative, and data-driven. It's powered these companies through. But leaves them asking themselves – and us – some fundamental questions.
It was also true for the Drucker conference itself, which just squeaked through before Austria's imminent national Covid lockdown on Monday. The conference has itself become a flexible hybrid of online and offline, responsive and co-created. Its loyal following, always an enlightening mix of leaders and thinkers, has danced through change, ever inviting new and better questions.
The One Question CEOs Need To Ask Next?
Each CEO was asked to leave us with a question:
James M. Levee: "Are we ready to make the massive reinvestment required to decarbonize the world?"
Maurice Levy: "Are we teaching our shareholders that Mr Friedman is really dead?"
Maud Bailly: "What did we learn, and how can we insure we don't forget it too rapidly? The worst risk is amnesia."
Kevin Nolan: "We need to all stop asking when will things get back to normal. Let's find better ways to do the future."
Gonzalo Brujo: "What's your next iconic move? That will make you different and relevant in the long run?"
Peter Drucker knew that the future lay not in answers, but in asking better questions. Dates for 2022 are November 16-18. See you next year in Vienna?