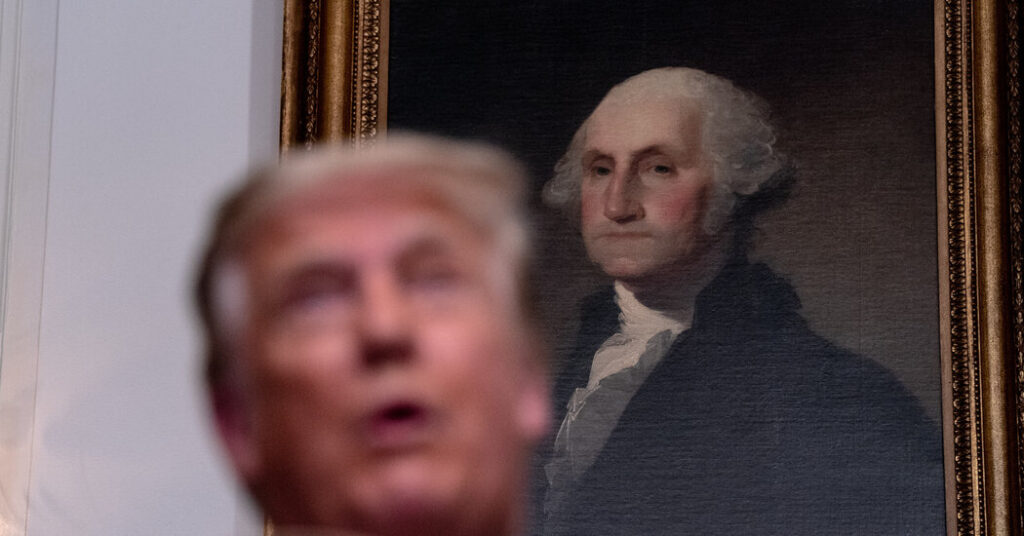 Why Millions Think It Is Trump Who Cannot Tell a Lie
Lane Cuthbert, along with his UMass colleague Alex Theodoridis, asked in an op-ed in The Washington Post:
How could the "big lie" campaign convince so many Republicans that Trump won an election he so clearly lost? Some observers wonder whether these beliefs are genuine or just an example of "expressive responding," a term social scientists use to mean respondents are using a survey item to register a feeling rather than express a real belief.
In their own analysis of poll data, Cuthbert and Theodoridis concluded that most Republicans are true believers in Trump's lie:
Apparently, Republicans are reporting a genuine belief that Biden's election was illegitimate. If anything, a few Republicans may, for social desirability reasons, be using the "I'm not sure" option to hide their true belief that the election was stolen.
Al-Gharbi sharply disputes this conclusion:
Most Republican voters likely don't believe in the big lie. But many would nonetheless profess to believe it in polls and surveys and would support politicians who make similar professions because these professions serve as a sign of defiance against the prevailing elites. They serve as signs of group solidarity and commitment.
Poll respondents, he continued,
often give the factually wrong answer about empirical matters not because they don't know the empirically correct answer but because they don't want to give political fodder to their opponents with respect to their preferred policies. And when one takes down the temperature on these political stakes, again, often the differences on the facts also disappear.
One way to test how much people actually believe something, al-Gharbi wrote, "is to look out for yawning gaps between rhetoric and behaviors." The fact that roughly 2,500 people participated in the Jan. 6 insurrection suggests that the overwhelming majority of Republicans do not believe the election was stolen, no matter what they tell pollsters, in al-Gharbi's view. He continued:
If huge shares of the country, 68 percent of G.O.P. voters, plus fair numbers of independents and nonvoters, literally believed that we were in a moment of existential crisis and the election had been stolen and the future was at stake, why is it that only a couple thousand could muster the enthusiasm to show up and protest at the Capitol? In a world where 74 million voted for Trump and more than two-thirds of these (i.e., more than 50 million people, roughly one out of every five adults in the U.S.) actually believed that the other party had illegally seized power and plan to use that power to harm people like themselves, the events of Jan. 6 would likely have played out much, much differently.
Whatever the motivation, Isabel V. Sawhill, a Brookings senior fellow, warned that Republican leaders and voters could be caught in a vicious cycle:
There may be a dynamic at work here in which an opportunistic strategy to please the Trump base has solidified that base, making it all the more difficult to take a stance in opposition to "whatever Trump wants." It's a Catch-22. To change the direction of the country requires staying in power, but staying in power requires satisfying a public, a large share of whom has lost faith in our institutions, including the mainstream media and the democratic process.
Jake Grumbach, a political scientist at the University of Washington, noted in an email that the big lie fits into a larger Republican strategy: "In an economically unequal society, it is important for the conservative economic party to use culture war politics to win elections because they are unlikely to win based on their economic agenda."
"There are a number of reasons why some Republican elites who were once anti-Trump became loyal to Trump," Grumbach said. He continued:
First is the threat of being primaried for failing to sufficiently oppose immigration or the Democratic Party, a process that ramped up first in the Gingrich era and then more so during the Tea Party era of the early 2010s. Second is that Republican elites who were once anti-Trump learned that the Republican-aligned network of interest groups and donors — Fox News, titans of extractive and low-wage industry, the N.R.A., evangelical organizations, etc. — would mostly remain intact despite sometimes initially signaling that they would withhold campaign contributions or leave the coalition in opposition to Trump.
Frances Lee, a political scientist at Princeton, took a different tack, arguing that Republican members of Congress, especially those in the Senate, would like nothing better than to have the big lie excised from the contemporary political landscape:
I disagree with the premise that many senators buy into the big lie. Congressional Republicans' stance toward the events of Jan. 6 is to move on beyond them. They do not spend time rebuking activists who question the 2020 outcome, but they also do not endorse such views, either. With rare exception, congressional Republicans do not give floor speeches questioning the 2020 elections. They do not demand hearings to investigate election fraud.
Instead, Lee argued, "Many Republican voters still support and love Donald Trump, and Republican elected officials want to be able to continue to represent these voters in Washington." The bottom line, she continued, is that
Republican elected officials want and need to hold the Republican Party together. In the U.S. two-party system, they see the Republican Party as the only realistic vehicle for contesting Democrats' control of political offices and for opposing the Biden agenda. They see a focus on the 2020 elections as a distraction from the most important issues of the present: fighting Democrats' "tax and spend" initiatives and winning back Republican control of Congress in the 2022 midterms.
Paul Begala, a Democratic strategist, argues that
Trump lives by Machiavelli's famous maxim that fear is a better foundation for loyalty than love. G.O.P. senators don't fear Trump personally; they fear his followers. Republican politicians are so cowed by Trump's supporters, you can almost hear them moo.
Trumpism, Begala wrote in an email, "is more of a cult of personality, which makes fealty to the Dear Leader even more important. How else do you explain 16 G.O.P. senators who voted to reauthorize the Voting Rights Act in 2006 all refusing to even allow it to be debated in 2022?"
Begala compares Senator Mitch McConnell's views of the Voting Rights Act in 2006 — "America's history is a story of ever-increasing freedom, hope and opportunity for all. The Voting Rights Act of 1965 represents one of this country's greatest steps forward in that story. Today I am pleased the Senate reaffirmed that our country must continue its progress towards becoming a society in which every person, of every background, can realize the American dream" — to McConnell's stance now: "This is not a federal issue; it ought to be left to the states."
Republican politicians, in Begala's assessment,
have deluded themselves into thinking that Trump and the big lie can work for them. The reality is the opposite: Republican politicians work for Trump and the big lie. And they may be powerless to stop it if and when Trump uses it to undermine the 2024 presidential results.
It is at this point, Begala continued, "where leadership matters. Trump stokes bigotry, he sows division, he promotes racism, and when other G.O.P. politicians fail to disavow Trump's divisiveness, they abet it. What a contrast to other Republican leaders in my lifetime."
Like Begala, Charles Stewart III, a political scientist at M.I.T., was blunt in his analysis:
There's generally a lack of nuance in considering why Republican senators fail to abandon Trump. Whereas Reagan spoke of the 11th Commandment, Trump destroyed it, along with many of the first 10. He is mean and vindictive and speaks to a set of supporters who are willing to take their energy and animus to the polling place in the primaries — or at least, that's the worry. They are also motivated by racial animus and by Christian millennialism.
These voters, according to Stewart,
are not a majority of the Republican Party, but they are motivated by fear, and fear is the greatest motivator. Even if a senator doesn't share those views — and I don't think most do — they feel they can't alienate these folks without stoking a fight. Why stoke a fight? Few politicians enter politics looking to be a martyr. Mainstream Republican senators may be overestimating their ability to keep the extremist genie in the bottle, but they have no choice right now if they intend to continue in office.
Philip Bobbitt, a professor of law at Columbia and the University of Texas, argued in an email that Republican acceptance of Trump's falsehoods is a reflection of the power Trump has over members of the party:
It's the very fact that they know Trump's claims are ludicrous — that is the point: Like other bullies, he amuses himself and solidifies his authority by humiliating people, and what can be more humiliating than compelling people to publicly announce their endorsements of something they know and everyone else knows to be false?
Thomas Mann, a Brookings senior fellow, made the case in an email that Trump has transformed the Republican Party so that membership now precludes having "a moral sense: honesty, empathy, respect for one's colleagues, wisdom, institutional loyalty, a willingness to put country ahead of party on existential matters, an openness to changing conditions."
Instead, Mann wrote:
the current, Trump-led Republican Party allows no room for such considerations. Representative Liz Cheney's honest patriotism would be no more welcome among Senate Republicans than House Republicans. Even those current Republican senators whose earlier careers indicated a moral sense — Mitt Romney, Susan Collins, Richard Burr, Roy Blunt, Lisa Murkowski, Robert Portman, Ben Sasse, Richard Shelby — have felt obliged to pull their punches in the face of the big lie and attempted coup.
Bart Bonikowski, a sociologist at N.Y.U., describes the danger of this political dynamic:
In capturing the party, Trump perfectly embodied its ethnonationalist and authoritarian tendencies and delivered it concrete results — even if his policy stances were not always perfectly aligned with party orthodoxy. As a result, the Republican Party and Trumpism have become fused into a single entity — one that poses serious threats to the stability of the United States.
The unwillingness of Republican leaders to challenge Trump's relentless lies, for whatever reason — for political survival, for mobilization of whites opposed to minorities, to curry favor, to feign populist sympathies — is as consequential as or more so than actually believing the lie.
If Republican officials and their voters are willing to swallow an enormous and highly consequential untruth for political gain, they have taken a first step toward becoming willing allies in the corrupt manipulation of future elections.