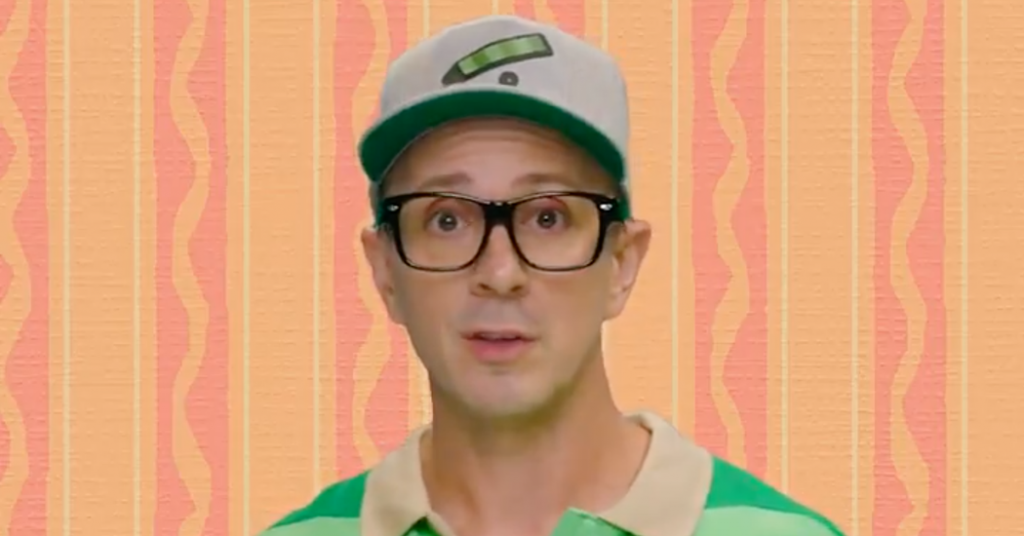 First Host of 'Blue's Clues' Returns, Striking a Chord With Grown-Ups
One day in 2002, Steve Burns packed up a bulging backpack and suitcase, said farewell to a speckled blue dog and a room of cartoon furniture, and disappeared into a two-dimensional school bus.
An era of the children's television series "Blue's Clues" was suddenly over, leaving countless young viewers bereft of a genial host who encouraged them through their TVs for six formative years.
Aside from occasional appearances in spinoffs, Mr. Burns was largely absent from "Blue's Clues." His sudden departure became a source of intrigue and rumor as dedicated fans grew up, found one another and wondered — often online — what actually happened to him.
On Tuesday, in a Twitter video posted by Nick Jr., a Nickelodeon channel for young children, Mr. Burns returned. Donning the same striped lime-green rugby shirt he used to wear, he addressed his now adult viewers in character.
Speaking about his departure almost two decades ago, he said, "I realize that was kind of abrupt. I just kind of got up and went to college. And that was really challenging, by the way, but great because I got to use my mind and take a step at a time, and now I literally am doing many of the things that I wanted to do."
Then, in the positive tone that defined his character, Mr. Burns urged viewers to reflect on their own paths: "And then look at you, and look at all you have done and all you have accomplished in all that time. And it's just — it's just so amazing."
His reappearance struck a chord among many viewers, raising feelings of nostalgia and childhood comfort, especially juxtaposed with global crises like the coronavirus pandemic and extreme weather linked to climate change. In less than 24 hours, the video had been watched nearly 20 million times.
Mr. Burns acknowledged some of the challenges that his former viewers might have faced.
"We started out with clues, and now, it's what? Student loans and jobs and families?" he said. "And some of it has been kind of hard, you know? I know you know."
He added that he wanted to thank viewers, saying their support continued to help him. "I guess I just wanted to say, after all these years, I never forgot you. Ever," he said.
Mr. Burns, now a producer and musician, could not immediately be reached for comment. But in the years since he left the show, he has spoken about his complicated relationship with fans and the program, which he hosted in his 20s. He has said that he felt conflicted about the imaginary relationship millions of young viewers believed they had with him.
"Kids thought I was their friend for real," he said in a 2010 live performance for The Moth, a storytelling organization.
"I started to think, I'm saying these wonderful things to kids, I'm saying: 'You are so smart, and you can do anything you want to do.' But I couldn't help thinking, you know, is that true?" Mr. Burns continued.
As "Blue's Clues" grew in popularity, reaching more than 14 million viewers each week at one point during his tenure, Mr. Burns also began experiencing what he described as an identity crisis.
"I was starting to really seriously think, as great as this is, they might have the wrong guy here, maybe this should be a teacher or a child development specialist or something," he said.
His departure from the show led to some wild speculation among fans. Mr. Burns's Instagram handle, @steveburnsalive, appears to cheekily refute rumors of his death. He said in a HuffPost interview that as creators of the show moved on to other projects, he felt that "it was simply time to go," and joked to Nickelodeon that he "refused to lose my hair on a kid's TV show."
But as Mr. Burns revived his "Blue's Clues" persona on Tuesday, many fans on social media said that his message struck just the right tone, managing to transport them back to a time of childhood innocence while acknowledging the realities of adulthood and its challenges.
The video was a particularly poignant reminder of the past for Chuck Gaffney, a 37-year-old computer programmer and voice actor in Rocky Point, N.Y., who said he had been grieving the recent deaths of his younger brother and cousin. The show had been a favorite pastime for many of his seven younger siblings.
"Time might have moved on but our hearts have not. Seeing messages like this — that there are people there for you — is comforting," he said in an interview. "We ought to remember being there for each other."
Mr. Gaffney said he planned to introduce the show to his 2-year-old daughter.
"Blue's Clues" ended in 2006, but the show was rebooted in 2019 as "Blue's Clues & You!" It is hosted by Joshua Dela Cruz, the franchise's first Asian American host. A new season is set to air in October.