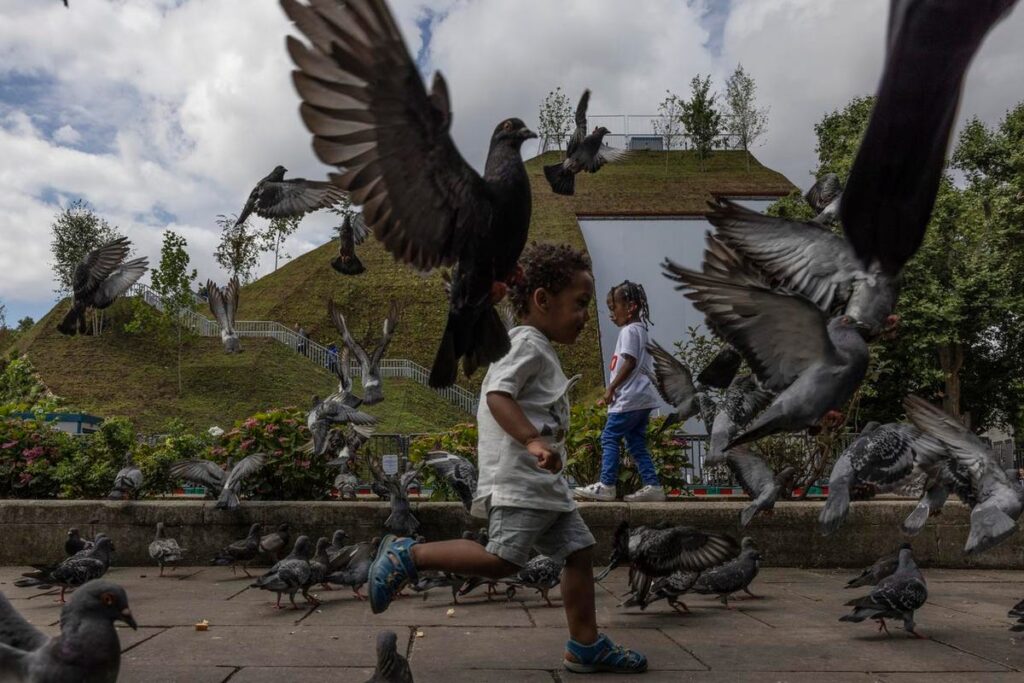 Farewell To London's 'Worst Tourist Attraction' Amid Resignations, Controversy And Derision
All good things come to an end. Thankfully, so do bad ones. For farewell it is to "London's worst tourist attraction" as the derided Marble Arch Mound closes its doors on Sunday evening after five underwhelming months and over eight million wasted dollars.
No doubt inspired by New York's High Line and its recently-completed Little Island, with ambitions to link the westernmost end of Oxford Street with Hyde Park just as Fifth Avenue flows into Central Park, any comparisons with New York landmarks end there.
Instead, a top architectural practice was paid a small fortune to create the Marble Arch Mound project, which flopped embarrassingly and expensively.
The fall guy was Elad Eisenstein, former director of the Conservative-led council's Oxford Street district program – an extensive $203 million project designed to help boost footfall and spending in London's ailing West End shopping district – who was handed a $300,000 a year salary in October 2020 but resigned for "personal reasons" in fall 2021, months after the artificial hill opened.
With the cost and reputational damage both spiralling out of control, Westminster made the Mound free-to-enter and the announcement of its closure this morning has inevitably seen tickets snapped up for the death throes of its brief tenure.
The tale of how we got to here is, like the path to hell, paved with good intentions.
The Marble Arch Mound
The Marble Arch Mound was designed by Dutch architects MVRDV and commissioned by Westminster City Council in a move to attract visitors back to the West End as London began to move out of lockdown, in a bid to create a quirky tourist attraction linking Oxford Street and Hyde Park.
Close to West End landmark department store Selfridges and a flagship Primark, plus the Adidas LDN flagship, the idea was to create a pop-up natural attraction affording views across London and into the park.
However, it wound up costing three times its original budget and upon opening in the summer of 2020, entry was made free after it was widely mocked on social media for its underwhelming views, not least because in-leaf summer trees largely obscured the view into the park.
Some plants dislodged and slid down the slopes and the young trees wilted in the summer heat, while the grass failed to grow evenly and hoardings around the base and viewing platform made it look more like a building site, as did the framework within the internal structure.
Mound Project Lacked Transparency
As the Mound rapidly turned into a PR disaster, a fall 2020 report by the council's chief executive Stuart Love found that senior officers at Westminster City Council were repeatedly warned the $8 million viewing platform would be more expensive than planned but overlooked expert advice, with a basic lack of project management.
The real cost has been to the retailers in the embattled West End, who desperately needed much more focused initiatives after international travel restrictions continued to decimate overseas visitor numbers and with late-year restrictions and a fresh wave of omicron emptying the UK capital.
Describing the Marble Arch Mound as a "disaster from start to finish," Labour councilor Paul Dimoldenberg said: Now we find out that the officer responsible for this financial debacle was paid $300,000 a year, even more than the council's chief executive. The leader of the council needs to explain why she signed off such an enormous salary."
A spokesperson for the council countered that the artificial hill had "done what it was built to do – drawn crowds and supported the recovery in this part of London. We're really pleased that over 242,000 people have visited to see the Mound and the terrific light exhibition inside."
A Pivotal Year For West End
Amid the furor, Jace Tyrrell, CEO of New West End Company (NWEC), confessed that 2022 will be "pivotal" in NWEC's ambition to return to $13.5 billion annual turnover by 2025 and admitted: "It was a hard end to 2021, with us once again being marred by restrictions that have severely hindered the key festive trading period that our district so heavily relies on."
The West End does at least have some reasons for cheer, with what Tyrrell described as an "abundance of construction and transformation", including the opening of the much-delayed Elizabeth Line in the first half of 2022 and completion of a number of public realm projects. Oxford Street District Transformation has a $6.8 billion investment pot while NWEC and Westminster City Council have their own $203 million transformation plan.
Retailers and shoppers will hope that the money is spent rather more wisely than on the Marble Arch Mound.