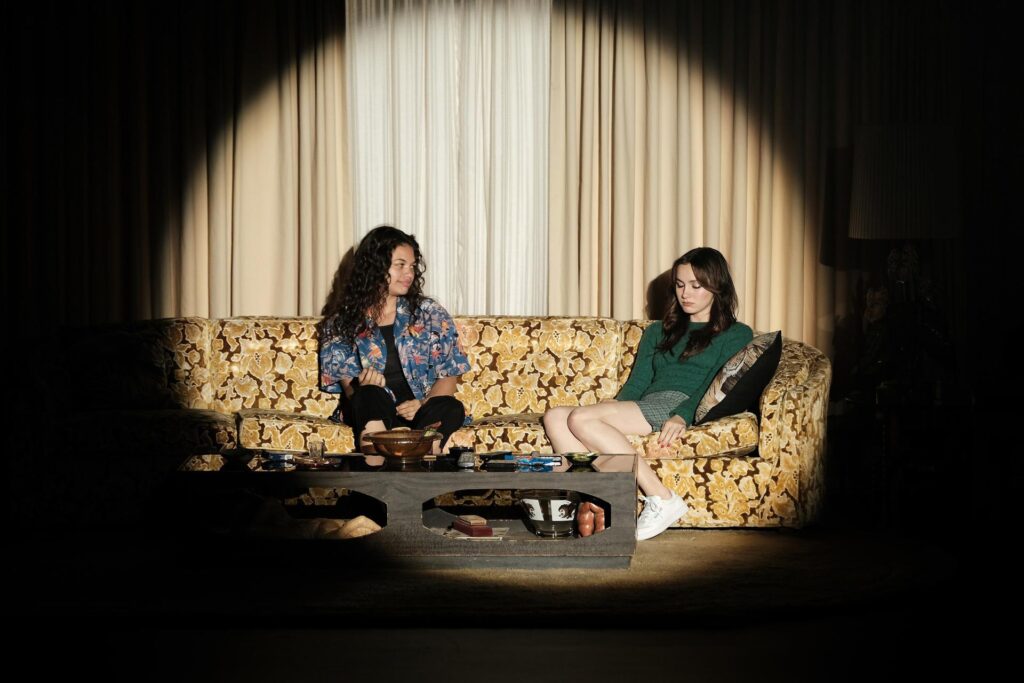 'Euphoria' Season 2, Episode 7 Recap: Lexi's Passive-Aggressive Masterpiece
"The Theater And It's Double" finally sees Lexi's big play come into fruition, which she's been writing in the shadows for this entire season, and seemingly, thinking about for much of her teenage life.
It proves an interesting, unexpected direction for the penultimate episode of the season, proving to be much more than a pretty highlights reel, featuring a few plot twists, dream sequences, and small character moments, here and there.
Fiction blends seamlessly with reality in a series of scenes that keep us on our toes, constantly questioning if what we're watching is real, an exaggeration, Lexi's opinion, or all of the above.
A few missing pieces prove illuminating, such as the conflict between Maddy and Cassie, showing Maddy's fiery temper slowly fading into sadness and disappointment. There's also a brutally honest moment with Rue and her mother, as the latter explains that Gia needs to be mothered now – Rue has used and abused every ounce of empathy, and there's not enough left for both of them.
Lexi's intimate moments with Rue and Maddy show the unexpected depth to their relationship; surrounded by hard-partying extroverts, Lexi has always struggled to stand out, being more of an observer than a participant. As we see backstage, the sudden rush of power has gone straight to Lexi's head, as she seems oddly comfortable in the role of tyrannical director.
But the play proves to be less of a coherent story, and more of a soapbox from which Lexi can blast her opinions about her friends and family to the entire school – she certainly makes no attempts to be subtle.
The moment where the cast and characters are revealed to be near-identical matches for their "inspirations" is hilarious, as the girls realize their dirty laundry is about to be aired in front of the whole school; of course, Cassie has more reason to fear than most.
It proves to be a hell of a show, a high school play with a Broadway budget, highlighting Cassie's daddy issues, the speech outlining her intense dedication to Nate being the stuff that misogynists dream of. Did it really happen, or did Lexi put the words in Cassie's mouth? It's unsettlingly accurate, either way.
Amusingly, Lexi put a tremendous amount of effort into a homoerotic musical number created with the sole intention of humiliating Nate – and it works. Keeping up the appearance of being aggressively straight seems to be the way Nate maintains control over his life (just like his daddy), and Lexi shatters that image, humiliating him in a way no other character has really managed to do.
Indeed, Nate gets so unsettled by his portrayal that he storms out and blames Cassie, telling her to move her stuff out of his room – did Lexi just magically resolve Cassie's toxic relationship? Or did she magnify the problem by shining a spotlight on it?
While Euphoria often leaves a lot of room for ambiguity (not a bad thing!), I'm curious as to what series creator Sam Levinson really thinks about Lexi's gossipy play, and how he wants the audience to feel about it. Against Nate, the play feels like a victory; in the eyes of Cassie, it's a devastating humiliation. Maybe Cassie wasn't always the best sister, but did she really deserve this?
Lexi's hand-wringing over the morality of her play rings pretty hollow, as she is seemingly seeking validation from Fez rather than seriously questioning her actions. As Fez in his infinite wisdom observes, the level of "inspiration" a writer can mine from their personal life really depends on the play. Sure, fiction can shine a light on reality, give a little context to chaos, but Lexi is just plucking immensely personal stories and airing them out to the public, with no effort to conceal their origin at all.
Of course, Fex doesn't get to see the play; his side-story with Faye and Ash provides the tension in this episode, as the ever-suspicious Ash seems to smell trouble, while Faye appears morally conflicted.
We'll have to wait for the finale to know the fate of Fez, as well as the ending to the play, which seems destined to be disrupted by Cassie, who is ready to erupt in an explosion of fermented hormones and hot tears – which is pretty much what she's done this entire season.
The finale is approaching, and Lexi just threw a cluster bomb into a group of unstable, melodramatic teens, which seems almost suicidal – surely, it was more fun to observe from a distance?
Check out my recap of the previous episode of Euphoria here