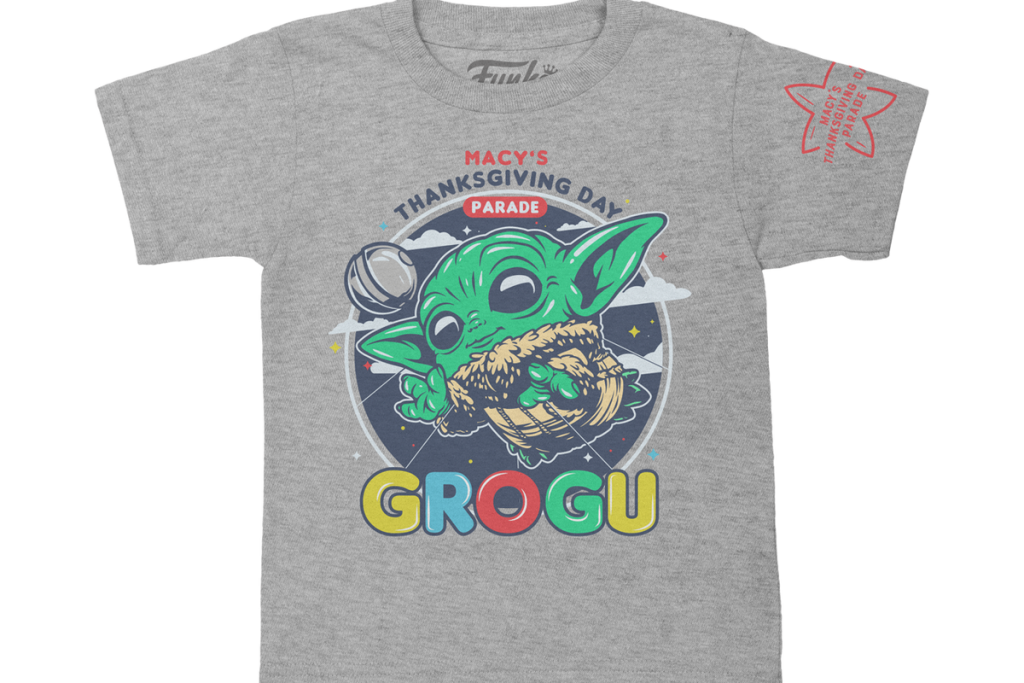 Collectibles Brand Funko Reaches New Heights With Record Sales, Macy's Balloon
Collectible toy company Funko FNKO has more than doubled its sales over the past five years by keeping its finger on the pulse of pop culture. Now, the Everett, WA-based Funko has achieved its own pop culture status symbol. One of its collectible figures will join other pop culture stars as a Macy's M Thanksgiving Day parade balloon.
A Funko Pop! figure of Grogu, the character commonly known as Baby Yoda from the hit Disney+ DIS series The Mandalorian, will be turned into a 41-foot-high, 37-foot-wide, and 29-foot-long helium balloon that will float above the streets of Manhattan during the parade, Funko, Macy's, and Mandalorian production company Lucasfilm announced today.
For Funko CEO Brian Mariotti, the balloon is a fitting symbol for Funko's soaring results over the past year. The publicly-traded company reported the three best quarters in its history, in Q4 2020 and Q1 and Q2 in 2021, and is projecting 2021 sales of $915 million, up 15% over pre-pandemic 2019.
"It's a validation of all the things we've done right," said Mariotti.
Mariotti jokes that he is negotiating for the right to ride on top of the balloon. Mariotti and a large contingent of Funko employees plan to be in New York for the parade.
"We're insanely excited for this opportunity. It really is a slice of Americana," he said.
The Grogu balloon will be part of the parade for at least three years, according to the terms of the deal.
Mariotti bought Funko in 2005, introduced the bestselling Pop! vinyl figures with their signature oversized bobbleheads and big eyes in 2010, and took the company public in 2017. While the initial IPO was a disaster, with shares plunging more than 40% from the initial IPO price of $12, the stock this year has rewarded the company for recovering from a pandemic that closed most of the retail stores where its products were sold. It closed at $18.87 Wednesday, and one analyst recently set a $25 target for the stock.
During 2020, Funko ramped up its direct-to-consumer sales through its Funko.com website and launched its European e-commerce site, Funkoeurope.com in Fall, 2020, three years ahead of the original schedule.
Its direct ecommerce sales have grown from less than 4% of the business in 2018 to 11% this year, Johanna Gepford, senior vice president, direct to consumer, at Funko, said. In the last 18 months, Gepford said, e-commerce sales have become a larger revenue source than any single retail account.
Virtual comic-cons
"The most impressive element of Funko's recent success is how quickly the company was able to rebuild and expand its direct-to-consumer business during the pandemic," said James Zahn, deputy editor of The Toy Book and Senior Editor of The Pop Insider. Previously, Zahn said, Funko had been increasingly tethered to live events, like comic-cons, to drive sales. When the first comic con cancellation occurred at the beginning of the pandemic, Funko immediately created a virtual event, and quickly rebuilt their websites to better sell products, and host virtual events, Zahn said.
The Funko Macy's Grogu balloon will be replicated in a limited edition Funko Pop! figure that will be sold primarily through Funko's direct-to consumer channels – its websites and its two Funko retail stores, in Everett and Hollywood. It also will be sold at the Macy's Herald Square flagship in New York.
A big part of Funko's strategy is keeping supply limited for its collectibles. "You don't want to over-produce," Mariotti said. "Having your product sitting on shelves and being clearanced out all the time because you're trying to take every last penny from every one of your retail partners is just not the way to go."
"We're obsessed with sell-through, not sell-in," he said, and would rather retire a product than over-produce it.
Funko isn't revealing how many of the Macy's Parade Grogu figures will be produced, but Gepford said limited editions exclusives often sell out within 30 minutes of going on sale.
Funko also will be selling t-shirts, hoodies, and other clothing items featuring the Grogu balloon.
A few years ago, Zahn said, Funko might have been viewed as a niche collectible company, but its recent rapid growth means it is being taken a lot more seriously. "Few companies have been able to connect with consumers of all ages the way that Funko has," he said. "And as Funko continues to expand into new categories, it's taking more space at retail and rightfully raising a few eyebrows as to which categories its team might tackle next."