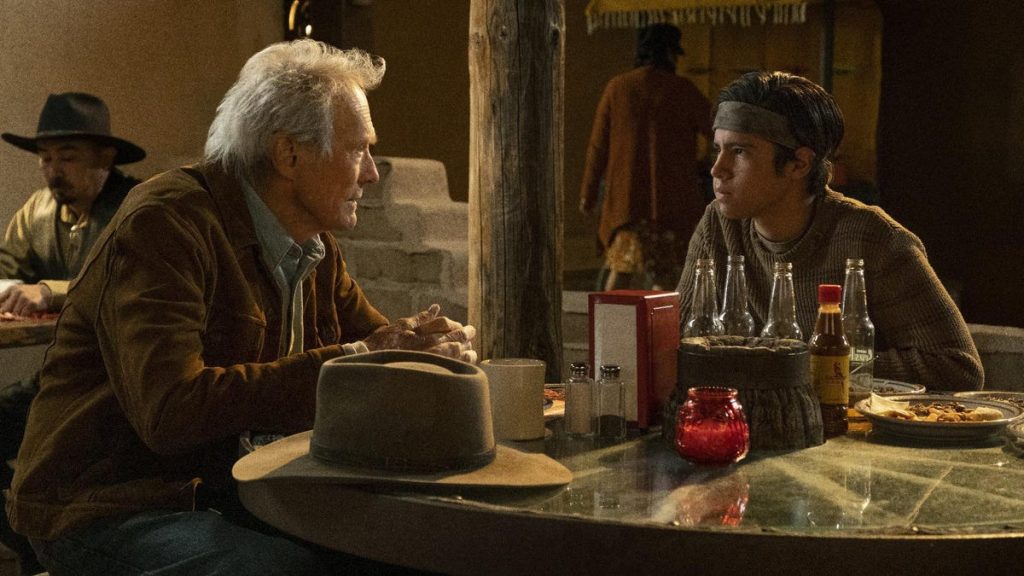 Clint Eastwood Easily Tops 'Tammy Faye' And 'Cop Shop' At Friday Box Office
In box office news that isn't about Shang-Chi, Clint Eastwood's Cry Macho opened with around $1.59 million on Friday, setting the stage for a $4.54 million domestic debut. That's obviously well below the standard for Clint Eastwood-starring flicks, although it's not that far off from Richard Jewell (which he directed but in which he did not star), which opened with $4.7 million in December of 2019. Movies that star Clint Eastwood (whether or not he directs them) tend to (save for star-driven exceptions like Sully and American Sniper) perform better than the ones in which he merely directs. Robert Lorenz's Trouble with the Curve opened with $12.5 million in 2012 while Eastwood's The Mule opened with $17.5 million in 2018.
The film, which of course debuted simultaneously on HBO Max, was never going to break out as there's little action and no high-profile co-stars (Trouble also starred Amy Adams and Justin Timberlake). It's still a disappointment, with or without a Covid curve, but at some point, the marketing allure of "See Clint Eastwood onscreen… one last time" was going to wear off. I'm old enough to remember when Gran Torino was his swan song in late 2008/early 2009. That said, in a normal theatrical year, this pretty-damn-good dramedy would be a "for the love of the game" WB release with a screen icon who has worked with them for most of his career since (at least) Dirty Harry in 1971.
As always, I'm hopeful that the film (which obviously plays to older audiences) will over index on HBO Max, but that's a conversation for Monday afternoon. Open Road opened Joe Carnahan's Cop Shop into 3,005 theaters this weekend, to admittedly middling results. Covid curve notwithstanding, the (surprisingly well-reviewed) Gerard Butler/Frank Grillo/ Alexis Louder action thriller earned $950,000 on Friday for a likely $2.475 million debut weekend. That's obviously not good, and maybe in a normal time the grindhouse flick might have opened a bit better (Butler is generally a B-movie action star when the movie is cheap enough to succeed on a $15 million debut), but the film is arguably a victim of a further post-pandemic divide between the haves and have-nots.
Searchlight Pictures unofficially began the Oscar season yesterday with The Eyes of Tammy Faye. Michael Showalter's biopic drama, detailing the rise and fall of infamous televangelists Jim Baker (Andrew Garfield) and Tammy Faye (Jessica Chastain), earned just $250,000 in 450 theaters. That positions the flick for a $630,000 opening weekend, which could mean the end of the film's (or even Chastain's) Oscar prospects. That said, even more so amid Covid, this one was always doomed to be more blogged about than actually seen. Unless Dear Evan Hanson (which I seem to like more than most critics) over-performs next weekend, the first potentially commercial "Oscar flick" will be Ridley Scott's The Last Duel. That Jodie Comer/Matt Damon/Adam Driver/Ben Affleck medieval melodrama opens courtesy of 20th Century Studios on October 15.
In holdover news, Free Guy earned another $1.333 million (-11%) to push its cume to $104.7 million. The Ryan Reynolds/Jodie Comer comic fantasy should earn around $5 million (-10%) in weekend six for a $108.4 million 38-day cume. Its continuing strength amid competition and a shortened theatrical window will determine if it ends with $115 million or $120 million. Universal's Candyman topped $50 million yesterday right as it debuts on PVOD. Nia DaCosta's horror sequel earned $1 million (-29%) on Friday for a likely $3.47 million (-27%) fourth weekend and $53.138 million 24-day total. Is that good enough for a well-liked $25 million R-rated horror flick? Sure. Is it less than everyone was hoping and likely part of why Universal gave Halloween Kills a day-and-date Peacock release? Also yes.
Alas, Warner Bros. and New Line's Malignant earned $810,000 (-60%) on Friday for a likely $2.5 million (-54%) weekend and $9.62 million ten-day cume. If the grosses were larger, I'd be able to defend a 54% drop for a divisive, R-rated horror flick. Sure, the James Wan-directed gem is a cult classic in the making, but I mourn what the next phase of horror might have looked like if this one had broken out at least to the level of Saw or Insidious. Focus' The Card Counter understandably dropped 67% for a $140,000 Friday. The pretty solid Paul Schrader "slow cinema" flick is arguably a "for fans only" offering, and as such its $440,000 (-58%) weekend and $1.914 million ten-day cume is not a surprise.