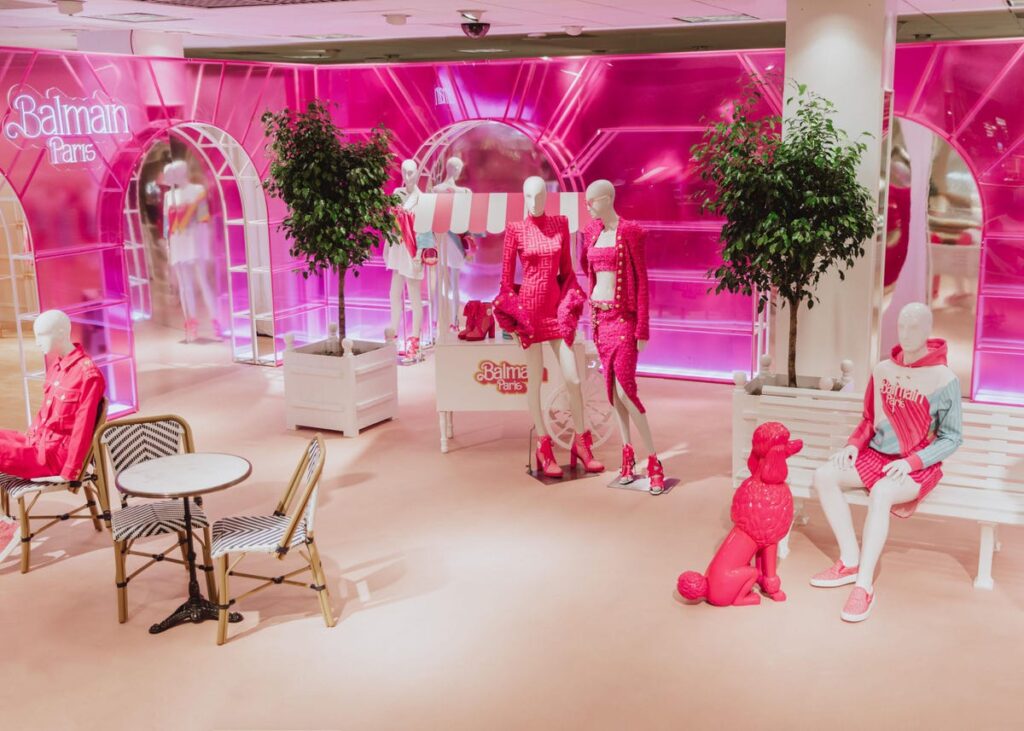 Balmain X Barbie Gets Its First Retail Location At Dallas Neiman Marcus
She may be a Balmain X Barbie girl, but she's now in Neiman Marcus's world. The collaboration— between America's best-loved fashion doll Barbara Millicent Roberts aka Barbie and Balmain, the 75-plus-year-old Parisian brand that introduced "New French Style" by Pierre Balmain and led by the boundary-pushing designer Olivier Rousteing for the last ten years—will now offer visitors to the Dallas location a physical experience.
Open from January 13th until January 30th. The bathed-in-pink pop-up will take customers on a trip to Barbie's world with a Parisian twist. A clear, bright rose-tone plastic structure will mimic the glass pavilion of Paris' Grand Palais, where shoppers can sit for a selfie on 'Parisian' park benches for an experience that also recalls the famous Tuileries Gardens.
Other highlights of the physical experience include a live DJ set, a cotton candy machine and photo ops with a life-size Barbie doll box. The pop-up celebrates the ten-year relationship between the luxury retailer and the designer who took the reins of the Parisian house at the young age of 24.
TODOROVICH'S STORE PLAN
"We have heard from many of our customers that they want to have fun with fashion again. The special partnership between Balmain and Barbie does that and more," said Lana Todorovich, President and Chief Merchandising Officer for Neiman Marcus. "We are thrilled to partner on an exclusive pop-up experience that celebrates the excitement of playing dress-up and brings a modern multi-cultural take on the Barbie brand."
Todorovich and the Neiman Marcus team were eager to feature the collection after seeing it in Paris. "The joyful collection is playful, unisex, it celebrates diversity and speaks to a powerful message of inclusion," she continues in an interview for this piece. She notes the store made a substantial investment in the collection, with customer response already showing a positive reaction since the collaboration hit stores one week ago. The collection, which features RTW, accessories, shoes and jewelry, ranges in price from $295 for a T-shirt to $8,495 for a maxi monogram dress, $1,395 for a boat neck dress, and an oversize denim jacket for $5,350.
The retailer has customers the world over but deep roots in its hometown. The location for the pop-up boasts a significant footprint to host their loyal luxury clients, some of which already purchased the entire collection, causing the tony retailer to double its plan on the first day. "The format of the store works perfectly for creating experiential moments as we did with other brand partners such as Prada and Maison Francis Kurkdjian. We knew it would be the perfect location to immerse the customer into the French Balmain Barbie experience fully,' she adds.
BALMAIN PLAYS BARBIE
For Rousteing, the project was exciting but also poignant. "Interpreting the codes of Barbie; pink, glamour and sexy and bringing it to 2022 was what was interesting in this project. Pink and body-con dressing can be for men too," Rousteing explains in response to an exclusive interview. "Growing up, you are pushed into stereotypes by adults, and it's important to break those when you grow up. A Ken can dress as Barbie and Barbie as a Ken." He also states the Barbie/Ken coupling can be redefined to address different gender identities or sexual preferences.
The jewelry and handbags are delivered gender-neutral and propose a design opportunity. "I love playing with the macro and micro world; everything is mini in Barbie's world so imagine that on a real human. Or the opposite, a macro bag," he continues. "I love this complexity and paradox. On top of that, I wanted to bring a clear inclusivity message."
Like many in fashion, Barbie was influential when growing up, but the French designer personally didn't have any. "My parents didn't allow it, or at least they didn't like it," he says of playing with Barbies, adding "Sometimes I purposely avoided playing with my cousin's Barbie."
He would like to change this toy gender assignment. "It's a pity in today's world that boys need to play with cars and only girls need to play with Barbies. You need to feel free to play with Barbie no matter who you are," he asserts, stressing the need for Barbie's dreamworld to include everyone.
Rousteing also feels the coupling of Balmain X Barbie is crucial to bring brand awareness of Balmain to Gen Z and beyond. Especially in the digital space where they live and play. This collaboration will also feature three different one-of-a-kind Barbie and Ken NFTs to be auctioned off online. Styled with a complete look from the collection, each of these Balmain x Barbie avatars comes accompanied with a bespoke, Barbie-sized Balmain x Barbie ensemble for a singular digital and physical pairing.
BARBIE'S PARENT (COMPANY)
The collaboration was years in the making, with Balmain and Barbie having several conversations. Knowing they wanted to do something different and unexpected, they waited until the time was just right to bring the collaboration to life. Collaborating with a world-renowned Parisian designer demonstrates the dolls' brand reach. "Given how brands like Barbie relate to multiple generations and inspire so many artists, we see enormous opportunity to extend Barbie into unexpected places. With partners like Balmain, under Olivier Rousteing's creative direction, we can show the world how Barbie can authentically translate to categories like adult apparel," says Richard Dickson, President, and Chief Operating Officer, Mattel.
The creative digital space is also a comfortable space for the toymaker. Its Mattel Creations site features the iconic brands under the (coincidentally) 75-plus-year-old toymaker's umbrella which serves as a place to collaborate with global creators and 'stretch our IP' according to the COO. "We collaborate with today's most world-renown artists, designers, and pop culture influencers to remix Mattel's iconic toys into entirely new inspired designs, offered directly to the consumer through MattelCreations.com. It is 'toys as art and art inspired by toys' with a highly collectible nature," he says, adding, "We know that toy collectability today exists both IRL and digitally. As we are in the business of staying relevant, we will be accelerating our NFT rollout strategy" The first Mattel NFT launched with Hot Wheels in 2021, with Balmain following for 2022. "We are harnessing the power of the digital advancements to invite all fans to experience the art, with three exclusive collectors owning a piece of iconic fashion history<" he notes of the Balmain X Barbie NFT's.
While capturing Gen Z may be Balmain's goal, Mattel hopes do the opposite, noting the limitless ways they deliver the iconic toy brands to adult fans in new ways. "As part of our Mattel Playbook, Barbie shows up everywhere our fans are, whether it be adult fans on Barbie's TikTok or children looking up to Barbie Vlogger as a role model on YouTube Kids,' says Dickson. Rousteing's inclusivity goals also align with Mattel's who, today, boast the most inclusive and diverse dolls in the world. "We offer the greatest amount of choice in body shape and skin tone. In our Fashionistas line, the top five most popular dolls in 2021 include a Black doll with an afro and a doll that uses a wheelchair."