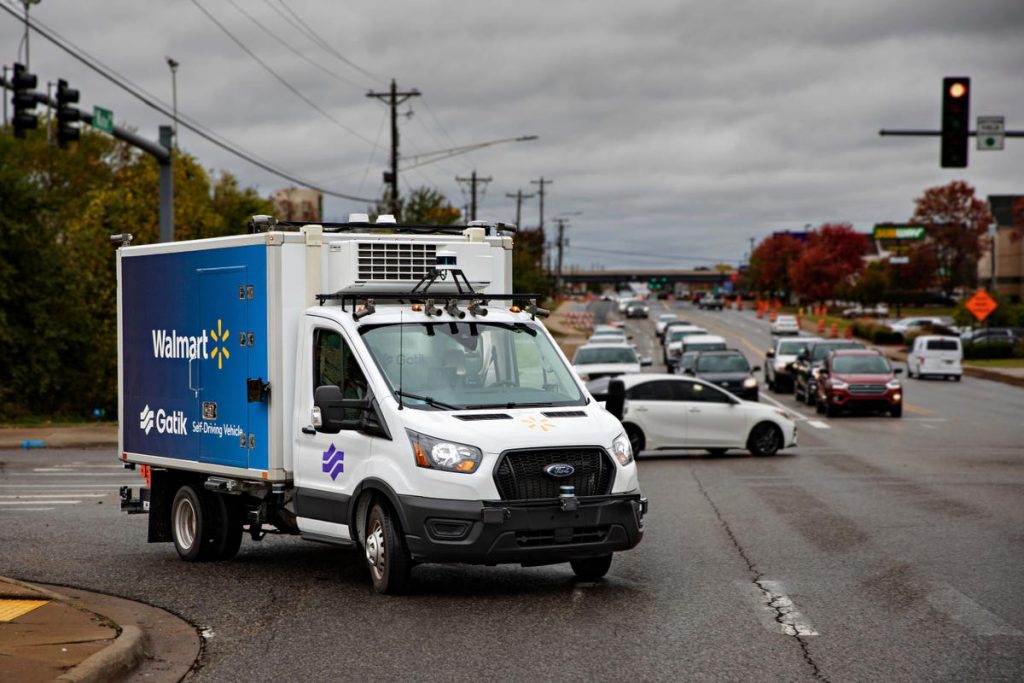 Gatik's Driverless Trucks Set To Scale For Walmart, Launching In 12 Markets
Honk if you see a driverless truck in Bentonville, Ark. It's probably Gatik's autonomous delivery vehicle making the trip from one of Walmart Inc.'s Super Centers to a Neighborhood Market. The Mountain View, Calif.-based Gatik, claims its middle mile delivery solution is the world's first autonomous vehicle to operate without a safety driver behind the wheel.
Gatik CEO Gautam Narang said there is a human in the equation supervising the route. The company has been operating autonomous vehicles for the last three months. "We're doing four to six runs daily, seven days a week," he told me. "This is our first market. We've been doing this for the last 12 months.
Narang admitted,"We've had a lot of heads turning. Now, it's part of everyone's life. We've kept the general public informed and educated them."
Autonomous trucks work well in unique B2B situations, Narang said, adding that the service isn't designed for deliveries to consumers at this time. "That's not the use case," he said. "We target B2B logistics for a distribution center to a dark store to multiple retail locations.
Narang said last mile delivery to consumers' homes is still a few years away, but he expects Gatik to reach the milestone sooner. The company's driverless trucks unlock the advantages of autonomous delivery, including increased speed and responsiveness when fulfilling e-commerce orders, increased asset utilization and enhanced safety for all drivers.
"Through our work with Gatik, we've identified that autonomous box trucks offer an efficient, safe and sustainable solution for transporting goods on repeatable routes between our stores," said Tom Ward, senior vice president of last mile at Walmart U.S. "We're thrilled to be working with Gatik to achieve this industry-first, driverless milestone in our home state of Arkansas and look forward to continuing to use this technology to serve Walmart customers with speed."
"Arkansas and Gatik have shifted into the future with Gatik's self-driving delivery trucks," said Arkansas Governor Asa Hutchinson. "It's fitting that Arkansas, which is home to the greatest retail companies in the world, is the launching pad for this innovation in retail delivery."
"This milestone signifies a revolutionary breakthrough for the autonomous trucking industry," said Gautam Narang, CEO and co-founder of Gatik. "Our deployment in Bentonville is not a one-time demonstration. These are frequent, revenue-generating, daily runs that our trucks are completing safely in a range of conditions on public roads, demonstrating the commercial and technical advantages of fully driverless operations on the middle mile. We're thrilled to enable Walmart's customers to reap the benefits."
Gatik and Walmart in December 2020 received the Arkansas State Highway Commission's approval to remove the safety driver from Gatik's autonomous trucks, following the completion of 18 months of successful operations.
As part of its roadmap for removing the safety driver, Gatik went through a comprehensive stakeholder engagement strategy, involving state and local leadership and emergency services, and will continue to hold ongoing informational workshops concerning its ground-breaking autonomous operations.
Gatik in 2019 had a 100 percent safety record ​​across multiple operational sites in North America, including Arkansas, Texas, Louisiana and Ontario. Gatik focuses exclusively on fixed, repeatable delivery routes to maximize safety, using proprietary, commercial-grade autonomous technology that's purpose built for B2B short-haul logistics.
By constraining the operational design domain, Gatik has been able to achieve the safe removal of the safety driver much more quickly than other applications, such as passenger transportation or B2C delivery. The complex urban route in Bentonville involves safely navigating intersections, traffic lights and merging on dense urban roads.
As retailers increasingly opt for hub-and-spoke distribution models to meet consumer needs, the middle mile has emerged as a critical component of the supply chain, Garang said. In the last decade, shorter, urban routes have become more important, with 65 percent of all routes under 500 miles and routes under 100 miles growing by 37 percent in the past decade. Gatik's autonomous solution helps increase efficiencies and to consumer needs by delivering on the promise of autonomy today.
Narang said the autonomous vehicles follow posted speed limits, and never exceed them, even if traffic is moving faster. The trucks stay in the far right lane of most roadways.
"Depending on the time of day, we can adjust the driving style," he said. "We're the first and only company doing this on a commercial route on a daily basis. Others have promised to be operational by 2023 or 2024. We started our B2B routes in 2017.
Gatik said autonomous vehicles are among the main trends in retail at the moment due to the labor shortage.