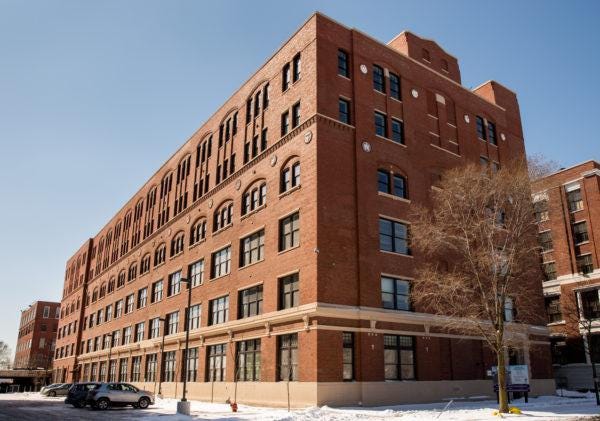 Adaptive Reuse Can Help Add ESG And Wellness-Friendly, Affordable Housing Stock
One of the most pressing real estate (and social) issues today is the shortage of affordable housing. "Due to housing production lagging demand over many years, housing affordability is a growing challenge for moderate and lower income households throughout the U.S.," observes Christopher Ptomey, Executive Director of the Urban Land Institute's Terwilliger Center for Housing. Fortunately, one of the other real estate issues – trends, really – is adaptive reuse.
Office Conversion Opportunity
Can converting some of the 50,000-plus vacant U.S. properties – particularly office buildings that may remain empty as more employers allow remote work – into residential units address the need? "When located in dense, highly walkable neighborhoods that are near transit and amenities — such as public parks, grocery stores, and schools — conversion from office to residential can be helpful in addressing the country's affordable housing shortage," says Center for Active Design CEO Joanna Frank.
Adam Ducker, CEO of real estate consulting firm RCLCO, agrees. "This could be an extremely effective way to increase our production of affordable housing. It would convert buildings that are under-utilized, or at risk of being obsolete, into new units." Not easily though…
Office Conversion Obstacles
"The challenge – and the reason we have seen so little office to residential conversion – is because it is not inexpensive," Ducker points out. "In fact, it is not necessarily even cheaper than new construction today." Government programs are one option for making these conversions more prevalent, he suggests, and these may be an appealing option to local planning boards that want to increase downtown activity, walkability, and transit-accessible housing.
"This would be a very good way to provide affordable housing in an employment-rich location, which is where most aging office buildings are located," Ducker adds. The other advantage of office to apartment building conversion, he observes, is that it takes advantage of existing infrastructure, (including water, electrical, broadband, sidewalks and fire hydrants, etc.).
There are more benefits, Ptomey comments. These downtown conversions are "less likely to face neighborhood opposition than construction in established residential neighborhoods," as California is seeing with strenuous objections to its recent housing laws, and "increasing diversity of uses within a neighborhood can increase its economic resilience."
The challenges to this model that he sees are unpredictable construction challenges driving higher costs and rents, frequently incompatible floor plans, the lack of interest among commercial building owners to become residential owners, (making sales necessary to achieve these conversions), and regulatory hurdles providing disincentives. The latter issue is being addressed by highly-motivated officials seeking ways to increase housing stock in their regions.
Office Conversion Success Story
One project that successfully overcame an array of challenges to transform a vacant, decrepit office building to appealing, affordable housing was the Lofts on Arthington in Chicago, developed by Mercy Housing Lakefront. "Years of community disinvestment and decline following the relocation of the Sears Headquarters complex led to many challenges," reads the ULI Americas' description of the award-winning development. "Various attempts to redevelop the Sears complex have taken place with limited success, and over time the building had deteriorated considerably."
Despite the delays and increased restoration costs, the project ultimately created 181 affordable homes in March 2017. To enhance quality of life for these low and moderate income residents, the Lofts building includes an exercise room, laundry on each floor and community meeting spaces for youth and wellness programming.
Challenges Vs. Need
Mark Angelini, MHL's President, shares some of the requirements of conversions like this one:
Full assessment of the HVAC system (including air handling and circulation capacity consistent with COVID-19 improvements in more frequent fresh air intake and circulation thru units and common areas);
Remediation and insulation needs, both in terms of safety and comfort;
For class b/c buildings, window replacements may be needed to support reduced energy consumption;
In addition, existing plumbing risers may require significant reconfiguration to meet the needs of residential occupancy.
Though this project succeeded, the developer cautions that many buildings are not suitable for efficient conversion, much less offering wellness enhancements like the Lofts'. Think of office conversions as an "arrow in the quiver" of housing need, he cautions, "not a sole solution."
We won't know how much office space will be available until we fully emerge from the pandemic, Angelini further notes. "Hybrid office work is here to stay and will inevitably lead to smaller, reconfigured office space requirements, but the extent of space taken out of office use will not be clear for a few years."
Additional Wellness Opportunities
For building owners and managers who want to take on a conversion project, CfAD's Frank offers additional ideas for increasing its wellness potential that align with her organization's respected Fitwel standards:
Promote higher quality indoor air by establishing and implementing a tobacco and smoke-free environment in and around the building.
Support active transportation by implementing both short-term and long-term bicycle parking.
Provide opportunities for social interaction through on-site gardens and the activation of other gathering areas, such as outdoor courtyards, rooftops, or indoor break rooms where people can engage with one another.
Promote mental restoration by integrating biophilic design elements, such as greenery, water features, or natural ventilation — all of which connect indoor and outdoor environments.
Support maternal and early childhood health by integrating lactation rooms or stations.
Affordable Wellness Advantages
Why might you want to go beyond basic in developing affordable housing projects? Properties that fit into an Environmental, Social, Governance framework are more valuable, insurable and potentially easier to fund. Wellness design is an ESG feature and certifications like CfAD's Fitwel can help developers access financing discounts, such as Fannie Mae's Healthy Housing Rewards.
Additional Housing Opportunities
Other options for increasing affordable housing stock are partial office tower conversions, with some floors going residential and others remaining office space. This is already happening, Angelini points out.
Hotel to studio conversions are another approach with built-in-advantages: "The development community seems to find the hotel to residential (studios) conversion more economically manageable," comments RCLCO's Ducker. Many cities have already taken advantage of unused hotel rooms during the pandemic and other crises to house their homeless populations. To make them ESG and wellness-friendly, upgrades may be needed.
Conclusions
The pandemic has driven home in the most painful way possible the urgent need for safe, wellness-friendly housing as a public health and ESG imperative. Elected officials and policy makers across the country should be looking at the best options for increasing its availability, including adaptive reuse, while preserving quality of life considerations for its housed residents.