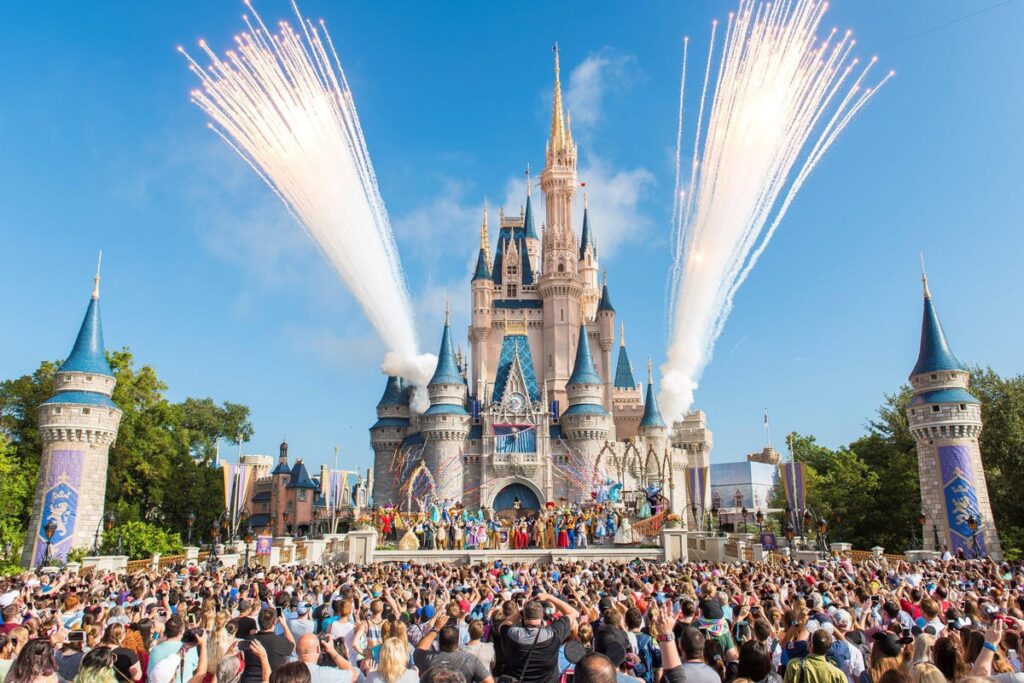 Year In Review: Walt Disney World Hit Major Milestones In 2021
Walt Disney World DIS made history this year by celebrating its 50th anniversary on October 1, 2021. While the 18-month celebration is still taking place there were other things that helped Walt Disney World push its way through 2021 with relative ease. The theme park resort in Orlando, Florida was open for the duration of the year, unlike it's California counterpart, which didn't open with rides and attractions until April 2021. After another hard year due to the ongoing coronavirus pandemic, international travel restrictions, and supply chain issues, Walt Disney World continued to hit major milestones in 2021.
Walt Disney World was open for all of 2021
The biggest benefit to the resort complex was that it was open for the entirety of 2021. This allowed travelers to create their own bubble within the Walt Disney World resort if needed. While face covering rules have fluctuated throughout the year, it hasn't seemed to impact the parks being busy most days. There have been many days that the park pass reservation system calendars have shown no availability for guests.
The park pass reservation system has been a sticking point for some visitors though, especially when it comes to park hopping, which is when people can go from one park, say Magic Kingdom to Disney's Hollywood Studios, but only after 2:00 p.m. There have been complaints about the system being flawed, especially with the continued "three buckets" which divide up park reservations between those staying at an official Walt Disney World Resort, those with day tickets, and those with annual passes. Some "buckets" will fill up faster than others on certain days leaving some guests without the ability to make park reservations for the park they really wanted to experience.
Walt Disney World's 50th anniversary
Throughout the year Walt Disney World had been preparing for one of the biggest celebrations in the resort's history, its 50th anniversary. The celebration kicked off October 1, 2021, and is set to last for 18 months. Throughout the anniversary season Walt Disney World has brought out plenty of new food and merchandise options for guests to enjoy, as well as new nighttime spectaculars at both EPCOT and Magic Kingdom with Harmonious and Disney Enchantment, respectively.
As part of the 50th anniversary EPCOT also debuted a new attraction in the expanded France pavilion, Remy's Ratatouille Adventure. The 3-D trackless attraction takes riders through a cartoonish version of Paris, as seen through the eyes of Remy, the adorable rat from Disney and Pixar's Ratatouille. The attraction opened with plenty of fanfare. The new section of the France pavilion is also home to a new hybrid table service and quick service window restaurant that specializes in authentic French crepes.
The 50th anniversary celebrations will continue throughout the entirety of 2022 when Walt Disney World has more big openings and announcements in store for fans.
Disney Genie Service
The new Disney Genie service rolled out just after the start of the 50th anniversary at Walt Disney World with mixed reviews. The service is meant to make a park day customized to your family, but some fans have said the My Disney Experience app addition is hard to navigate and isn't super user-friendly. When the service first launched Disney took away the easy-to-use "My Plans" section of the app where visitors could see their entire vacation laid out by day and time. Disney quickly added that section of the app back to the regular user interface and changed the name to "Future Plans", but there's now a pop-up asking users if they are really looking for "Today's Plans" through Disney Genie.
The language around Disney Genie has been confusing for some guests, and will likely take Disney years to re-educate visitors on the new lingo for park terms. For instance, Disney Genie is the free service that can aggregate plans for at the parks and resorts, along with likes and dislikes to create a schedule for the day including when to eat and when to hop in line for attractions. Disney Genie+ is the paid skip-the-line service that took over the free FastPass service and is more like Disneyland's previous MaxPass service. Then there are the Lightning Lanes, which are the new FastPass lines, and Individual Lightning Lane purchases, which are rides you pay extra on top of Disney Genie+ to experience.
While the service still has its quirks, Disney is continuing to work out the kinks to make the guest-facing interface easier to navigate throughout the day and allow the algorithm to make better suggestions.
Annual Pass Program
In August Disney announced it was resuming sales of its annual passes, but with some modifications to the previously sold passes. The new passes are divided up into four different pass types, ranging in style from Florida resident-only passes to passes for anyone, regardless of where they live. The new pass structure allows for a certain amount of park reservations in the "annual pass holder" segment of reservations depending on the type of annual pass someone has.
The new program has done well enough that in November Walt Disney World paused the sale of new annual passes for all pass types excluding the Pixie Dust pass, which is still available to Florida residents. There's currently no word on when annual pass sales will resume, though current passholders who are in their renewal window can renew to any pass level they want.
Looking forward to 2022
2022 is also primed to be a big year for Walt Disney World. Not only will the resort continue to celebrate its 50th anniversary, but it will also bring back more guest-favorite entertainment like the nighttime show Fantasmic! at Disney's Hollywood Studios and the Festival of Fantasy afternoon parade at Magic Kingdom. Over at EPCOT, the highly anticipated Guardians of the Galaxy: Cosmic Rewind coaster will start sending visitors into the cosmos with the beloved characters from the Marvel franchise. In March, Star Wars: Galactic Starcruiser will take visitors on their very own two-day, two-night Star Wars-themed adventure in a highly themed cruise-like experience, including a day to experience Star Wars: Galaxy's Edge.
There's plenty more to look forward to with the Disney D23 Expo taking place in September in Anaheim, California. The Disney expo is where fans can learn about what's going to be taking place at the parks over the next few years, and what new attractions, resorts, and experiences the teams at Walt Disney Imagineering are dreaming up.