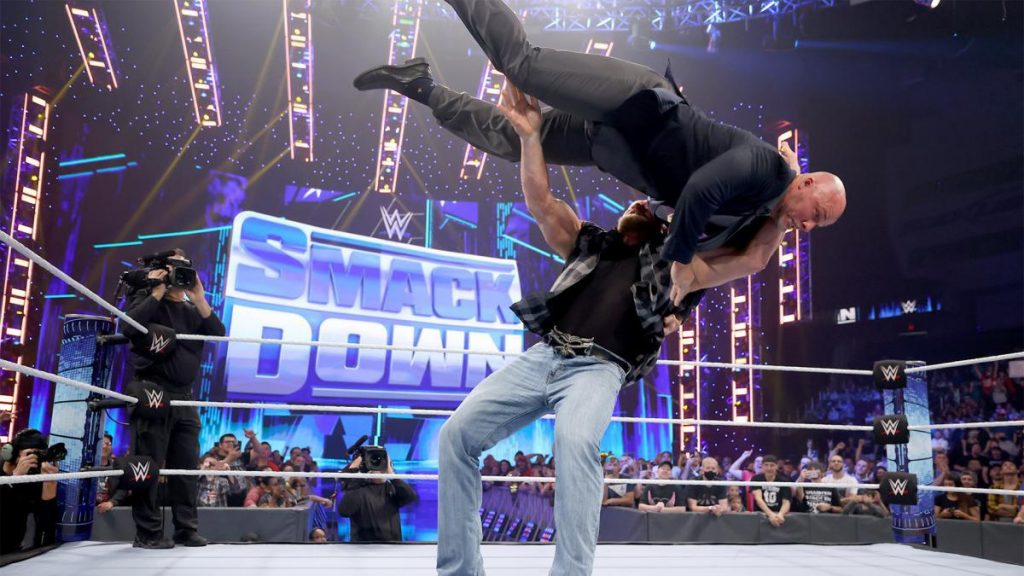 WWE Vs. AEW Ratings: Rampage Down 8%, SmackDown Replay Beats Dynamite In Fast Nationals
WWE and AEW extended the wrestling wrestling wars for an extra week following a hotly contested head-to-head battle last Friday, one that saw SmackDown on FS1 win in total viewership while AEW Rampage won head-to-head in the 18-49 demo.
With the MLB ALCS ending in six games, and no Game 7 on Fox, the network opted to air a replay of WWE Friday Night SmackDown to go head-to-head with AEW Saturday Night Dynamite. Per fast national data—as I first reported—the SmackDown replay garnered a higher total viewership than Dynamite's first-run show on TNT, with SmackDown drawing 578,000 overnight viewers while Dynamite drew a total overnight viewership of 515,000. The demo numbers are not yet available.
Dynamite, which aired on Saturday last week, was down 21% from last week's overnight number of 649,000. It'll be interesting to see how SmackDown's latest counter-programming effort directly impacted Dynamite's viewership when the quarter-hour breakdowns are released. Per Dave Meltzer of the Wrestling Observer Newsletter, last week's head-to-head war did not have any significant impact in terms of one show taking a sizable audience away from the other.
MORE FROM FORBESAEW Dynamite Results: Winners, News And Notes On October 23, 2021By Alfred Konuwa
"Smackdown likely cost Rampage 31,000 viewers over the half hour and 25,000 in 18-49, or 5.1 percent and 7.7 percent in 18-49," said Meltzer.
"AEW cost WWE no total viewers but did cost them 3.5 percent in the key demo. So the crossover between the two shows wasn't large."
In the final ratings numbers from Friday, AEW Rampage drew 533,000 viewers while SmackDown's first-run broadcast garnered 2,249,000 total viewers in its return to Fox per Brandon Thurston of Wrestlenomics. Rampage was down 8% from last week, while SmackDown saw an increase of 160% after being preempted to FS1 last week. Compared to SmackDown's last Fox broadcast on October 8, the show was up 5% from 2.147 million.
WWE SmackDown vs. AEW Rampage | October 22, 2021
Friday Night SmackDown Total Viewership—2,249,000
Friday Night SmackDown Viewership in 18-49 Demo—759,000 (.58 rating)
AEW Rampage Total Viewership—533,000
AEW Rampage Viewership in 18-49 Demo—288,000 (.22 rating)
WWE SmackDown Replay vs. AEW Dynamite (Overnight Data) | October 23, 2021
WWE SmackDown Total Viewership (Replay)—578,000
AEW Dynamite Total Viewership—515,000
SmackDown's Crown Jewel fallout featured a very controversial main event as Charlotte Flair and Becky Lynch's title exchange ceremony went awry. After both appeared to go off script, Becky Lynch and Charlotte reportedly got into a heated exchange backstage, which resulted in Charlotte being escorted from the building by WWE officials.
SmackDown also advertised an appearance by Brock Lesnar, who was featured in a big angle opposite Roman Reigns. After running roughshod on the WWE roster and officials, Lesnar was (kayfabe) suspended indefinitely by Adam Pearce. For Pearce's troubles, Lesnar delivered multiple F5's to the WWE official in what was an angle similar to his storyline suspension the night after WrestleMania 31. Coincidentally enough, that 2015 angle aired the night after Lesnar's first match against Roman Reigns.
AEW Rampage kicked off its world title eliminator tournament as Orange Cassidy defeated Will Hobbs. With AEW executives suddenly having to address its glaring diversity issues, showcasing an all-white tournament field after just one match won't be a great look for AEW's optics. Thankfully, AEW's TBS Championship tournament offers a far more eclectic field with rising star Jade Cargill as one of its favorites.
Dynamite also featured an instantly classic main event between PAC and Andrade El Idolo. Dynamite, meanwhile, featured a third showdown between Cody Rhodes and Malakai Black as Rhodes finally exorcized his demons with a polarizing win over Black.