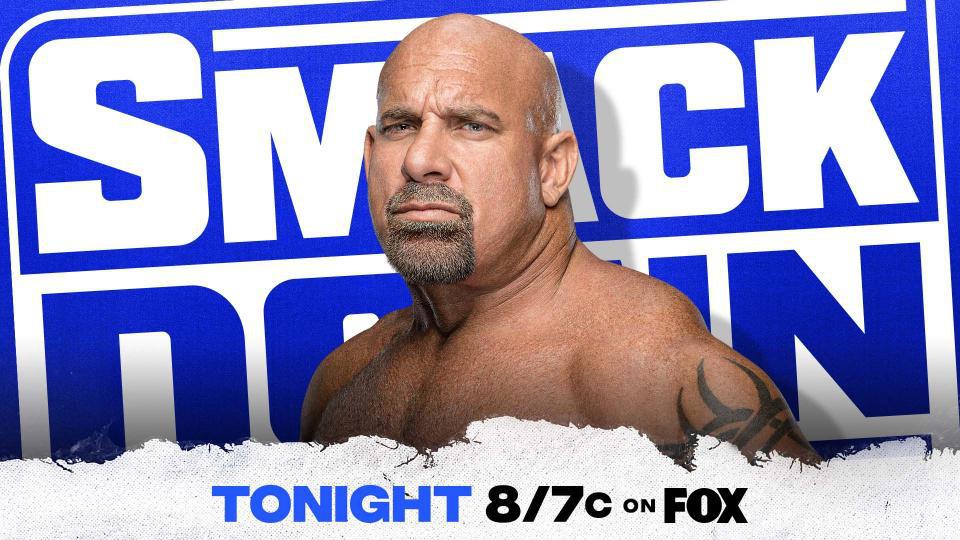 WWE SmackDown Results: Winners, News And Notes On February 11, 2022
WWE SmackDown advertised an appearance by Bill Goldberg, Charlotte Flair defending the SmackDown Women's Championship against Naomi, Natalya vs. Aliyah inside a Dungeon and "In-Zayn" with Sami Zayn featuring Shinsuke Nakamura.
Last week's broadcast of Friday Night SmackDown garnered 2.151 million viewers.
February 4, 2022—2.151 million
January 28, 2022—2.217 million
January 21, 2022—2.255 million
January 14, 2022—2.174 million
January 7, 2022—2.271 million
WWE SmackDown Venue: Smoothie King Center (New Orleans, La.)
Tickets Distributed: 5,809
Available Tickets: 594
WWE Clears $1 Billion Amid Sale Rumors (Pro Wrestling Bits)
WWE SmackDown Total YouTube Viewership Last Friday: 8,905,371 (Up from 5,718,347)
Most-Viewed: Goldberg Challenges Reigns (2,968,593 views)
Least-Viewed: Sheamus vs. Ricochet (166,735 views)
Median Viewership: 426,193 views
WWE SmackDown Results | Friday, February 11, 2022
Naomi Lays out Sonya Deville
Naomi will finally receive a fair fight as, at the behest of Vince McMahon, Sonya Deville isn't allowed to interfere. This stipulation should have been mandated by Naomi, however, not Vince McMahon.
The conspiracy theorist in me feels Sonya Deville's power is being threatened on television because she took a picture with AEW star Anthony Bowens.
Los Lotharios def. The New Day
g ApThe New Day was once again introduced as Big E and Kofi Kingston, not The New Day.
In no universe should Big E and Kofi Kingston be losing to Los Lotharios. WWE has shown it is inept in creating new stars, so chances are these losses will prove to be more costly to Big E and Kofi Kingston than beneficial to Los Lotharios.
Roman Reigns Calls out Goldberg
Paul Heyman and Roman Reigns' chemistry somehow improved in their time apart, and they did a great job playing off each other.
Roman Reigns had a fire line in response to Goldberg's win-streak when he said "if I was in WCW, everybody would be winning. Because they'd still be in business."
Natalya def. Aliyah
As if I needed any, Aliyah is more proof that WWE has no idea what it's doing when it comes to creating new stars. She's an undefeated babyface whose wins were tainted and when it came time to have a legitimate victory, she tapped out in less than three minutes. A disaster in storytelling.
After the match, Xia Li came to Aliyah's aid, so this whole time Aliyah was just a set-up wrestler for Li. If WWE's goal is to make a new star in Xia Li, Li should run for her life.
In-Zayn with Sami Zayn featuring Shinsuke Nakamura
Sami Zayn was in rare form in this segment, where he even got to lay out both Rick Boogs and Shinsuke Nakamura.
I feel Sami Zayn needs to be the next Intercontinental champion, but similar to Shinsuke Nakamura, he may be another IC champion who rarely defends the belt since Zayn typically appears in non-wrestling segments.
Happy Corbin def. Cesaro
Happy Corbin was announced as "the undefeated" Happy Corbin. I had no idea he was undefeated as Happy Corbin, but the fact that WWE is playing that up tells me WWE is building up something big for WrestleMania. Possibly Drew McIntyre?
Goldberg Appears Backstage
This was a backstage segment, which had to have disappointed this crowd.
Corey Graves appeared solo on commentary to create the illusion that Cole was backstage, live, with Goldberg.
Charlotte Flair def. Naomi—WWE SmackDown Women's Championship
This match will be better than most matches at WrestleMania 38, including the main event between Charlotte and Ronda Rousey.
This match roped me in so well, I was legitimately disappointed when Naomi ultimately lost. This was one of the best television matches you'll see all year.
Sonya Deville and Naomi appear destined for a WrestleMania match, and now that Naomi has been rejuvenated, it suddenly seems interesting all over again.
Ronda Rousey appeared to almost slip on her way to the ring, but continues to receive massive reactions.