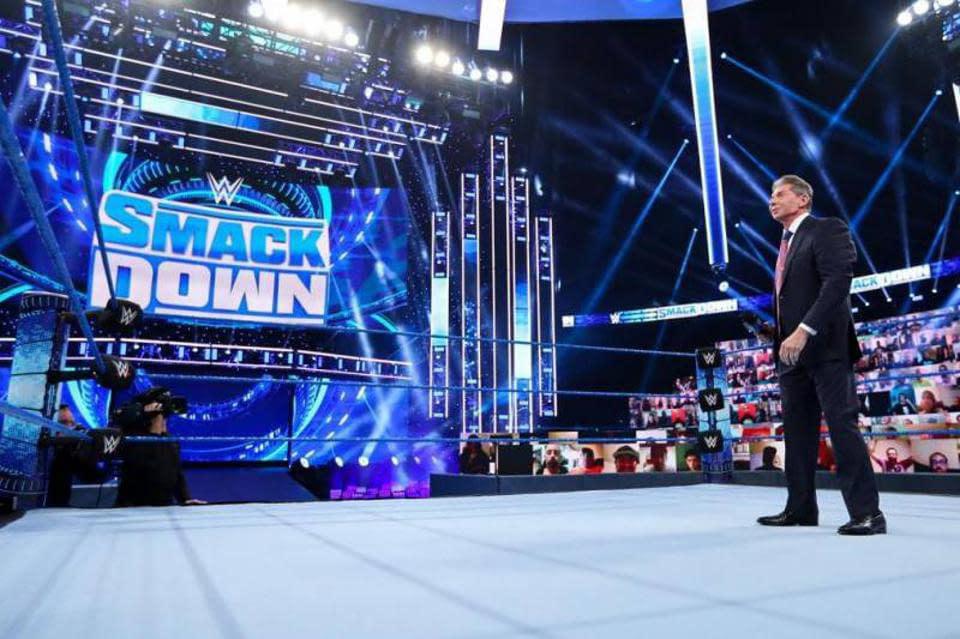 WWE Live Events Are Being Threatened By Omicron Variant
As COVID-19's Omicron variant wreacks havoc across the United States to close out 2021, WWE has joined the litany of sports organizations and live touring promotions forced to take precautions.
Amid an apparent outbreak, a number of WWE talent and staff have tested positive for COVID-19 after feeling "run down" coming out of last week's live event per PWInsider (h/t Wrestling Inc). PWInsider has since reported that additional WWE talent and staff tested positive for COVID-19 on Wednesday.
"As of this afternoon [Wednesday, December 22, 2021], WWE still expects to go forward with all the United States live events next week but there have been a lot of calls and 'a lot of running around,' according to one source, trying to stay ahead of the situation as they receive additional details on talents and staff who may not be cleared to travel this weekend," read the report.
"A number of talents have confirmed to PWInsider.com they were contacted and asked to get themselves tested today out of an abundance of caution."
WWE has postponed its December 30 live event in Laval, Quebec as the event is now set to take place on March 6, 2022. In addition, WWE postponed tapings for Raw, SmackDown and two Supershow live events in Canada.
MORE FROM FORBESWWE SummerSlam 2020 To Be Held At Amway Center 'ThunderDome' With Virtual FansBy Alfred Konuwa
During the darkest days of the pandemic, WWE was forced to scrap its live event tour in favor of the WWE ThunderDome, which housed virtual fans. Running the ThunderDome came at a decreased cost to WWE, which reportedly paid $450,000 for the venue from August 21, 2020 through the end of October 2020. WWE typically pays over a million dollars per episode to run Raw and SmackDown in front of live crowds.
Still, during its Q2 2021 earnings report, WWE cited the ThunderDome for a decrease in operating income compared to running events out of its Performance Center early on in the pandemic.
"Operating income was $46.3 million, a decrease of 17% or $9.4 million, primarily driven by increased television and event-related production expense due to WWE ThunderDome and WrestleMania 37," read WWE's earnings report.
"In the prior year quarter, WWE produced all televised content, including WrestleMania 36, from its lower production cost training facility. The decrease in operating income was also driven by an increase in personnel expense, which includes $8.1 million in severance expense primarily related to the combination of WWE's television, digital and studios teams into one organization for a more unified content strategy and more streamlined content production, as well as higher compensation expense as employees returned from furlough."
The Omicron variant has brought about something of a deja vu from 2020, when public gatherings nationwide were shuttered one-by-one due to the onset of the highly contagious coronavirus. Though millions of Americans have since been vaccinated and boosted, reducing the severity of a COVID-19 diagnosis, live touring promotions are taking every precaution in anticipation of a grim winter amid the sudden arrival of Omicron.