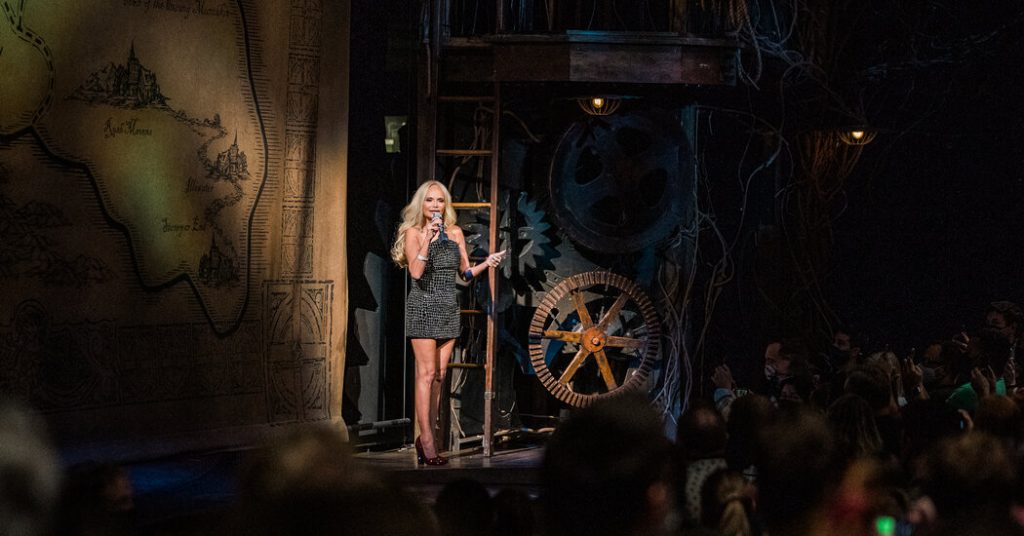 'Wicked' Returns With a Surprise Guest: Kristin Chenoweth
"Ladies and gentlemen," a disembodied voice announced from the stage, bringing the crowd, which had gathered for the reopening of "Wicked," to its feet: "Kristin Chenoweth."
That brought an even louder roar from the audience, as Chenoweth, who originated the role of Glinda when the show opened on Broadway in 2003, strode out onto the stage of the Gershwin Theater.
"There's no place like home," she said, beginning with a suitably Ozian reference. "I wanted to be here to welcome New York and all of the theatergoers back to what is my favorite show. The excitement is palpable backstage. If I may, this has been quite a year, and we're still in it, right?"
She praised the work of the Actors Fund, an aid organization, and all the people who bring theater to life, onstage and off. "The people in the back, our ushers, our front of the house, the actors," she said, "things like this don't just happen; it takes a whole lot of people."
"I also want to say that my personal favorite relationship is between the audience and the actors," she said, "which is probably why I'm in therapy."
The audience burst into laughter.
Chenoweth brought a little star power to the return of "Wicked," which chronicles the frenemy-ship between Glinda the Good Witch and Elphaba, the Wicked Witch of the West. It is a revisionist back story for "The Wizard of Oz."
The musical, which opened on Broadway in 2003, has been seen by more than 60 million people in 100 cities around the world. It also became the first touring Broadway production to reopen since the pandemic, beginning on Aug. 7 in Dallas.
At the end of the night there was another surprise guest at the curtain call: Stephen Schwartz, who wrote its music and lyrics. Schwartz, who had watched the show from the audience, joined the line of glowing performers onstage, standing between Elphaba (Lindsay Pearce) and Glinda (Ginna Claire Mason), beaming with pride.
The applause was ear splitting.